Dhaka needs to fix its toilet crisis
Lack of public toilets in the capital and elsewhere is causing much suffering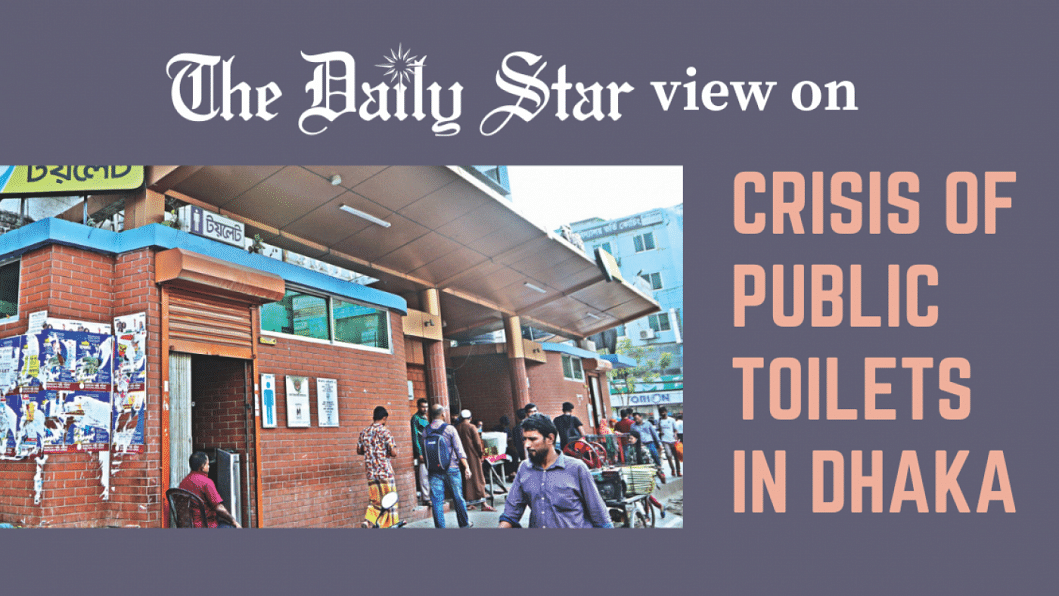 It is astounding that for a colossal city accommodating about 20 million people, Dhaka has only a little over 100 serviceable public toilets, spread across the 129 wards of its two city corporations. What's worse, there is no public toilet in 36 of the new wards, as revealed by a report of this daily. So many skyscrapers, shopping malls and flyovers, but so few public toilets – Dhaka's questionable display lays bare the grim underbelly of the development journey of Bangladesh. The problem is felt by the millions of people – including women, children, people with disabilities, etc. – who must be outdoors for hours each day, as well as a large group of homeless people occupying the streets at night, all requiring basic sanitation services.
According to an estimate, while most toilets in Dhaka North are in use, one-third of the toilets in Dhaka South are unusable, indicating a crisis within the crisis. The numbers vary, of course, as there is no proper documentation. What further compounds the toilet problem is the problem of toilets without proper hygiene. Most are poorly managed, with users complaining about lack of basic facilities. This is perhaps to be expected given that Dhaka North, as per another report, didn't spend a single penny on public toilets in the last fiscal year, while its southern counterpart spent only Tk 45 lakh on the construction of toilets during that time.
The two city corporations are responsible for the construction, renovation, maintenance and management of public toilets in the capital. Some NGOs also run mobile toilets. At the moment, a number of toilets are said to be in the process of being revamped, built or opened to the public. While this is good news, their impact is unlikely to be considerable, if the authorities do not improve overall toilet management and invest more in building and running them.
The importance of proper sanitation and hygiene cannot be stressed enough. Ensuring accessible sanitation is a core part of the Sustainable Development Goals (SDGs). Bangladesh, despite its progress in terms of access to clean water and sanitation over the decades, has been lagging behind other South Asian countries of late. According to the latest estimate by Bangladesh Bureau of Statistics, 1.23 percent of the population (or 2.03 million people) still openly defecate in the country. Although Dhaka recorded the lowest percentage in this regard (0.28 percent) among all divisions, it's not exactly a badge of honour either. The health implications of this are hard to ignore. Lack of public toilets is especially limiting for women and people with disabilities, with the "urinary leash" forcing many to stay indoors.
This is a totally undesirable situation for a country with a big economic ambition. We urge the authorities to take the toilet crisis seriously, not just in Dhaka but across the country. They must build enough public toilets for all outgoing men and women and must ensure those are properly maintained, with clean water on hand and sewage properly disposed of.