Air pollution crippling our nation
Government must take action locally and with regional partners to improve air quality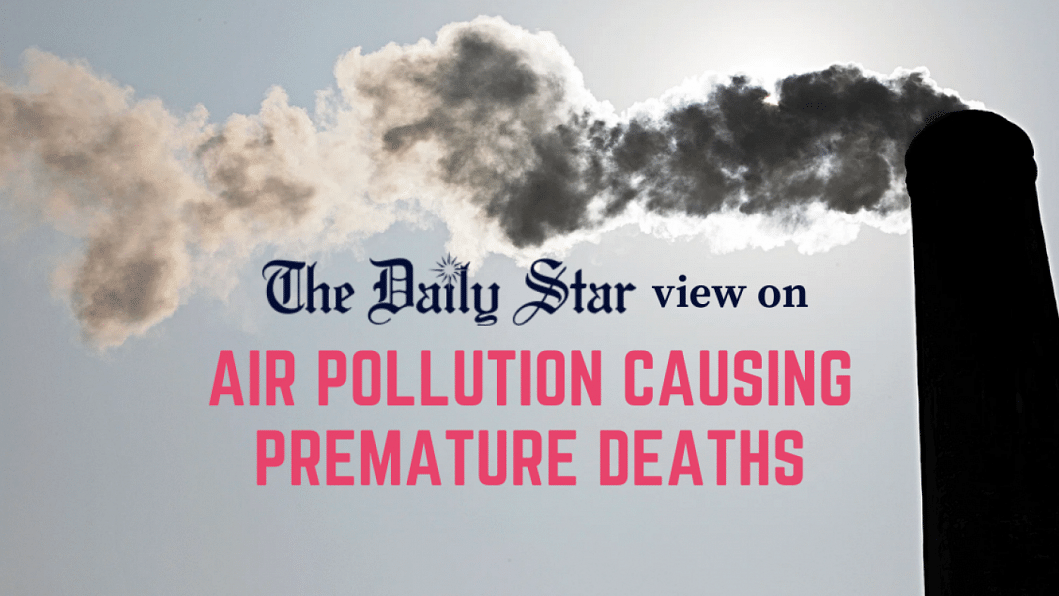 We are alarmed by a report of the World Bank that states that air pollution is causing about 20 percent of all premature deaths in Bangladesh. This comes at a time when we are witnessing massive air pollution in many cities, particularly Dhaka, Narayanganj, and Chattogram. Over the last few years, there have been a host of similar reports and studies, with Dhaka's air being adjudged to be the worst in the world repeatedly. Unfortunately, while we hoped that such alarming revelations would be met with appropriate response, the reality has been quite different so far.
In the absence of any substantive action from the government agencies responsible, air pollution in Dhaka has reached the most dangerous levels in recent times. As a result, residents have been suffering from various health complications. Reportedly, air pollution is causing the death of about 88,000 people every year in the country, while decreasing the average life expectancy of Dhaka residents by seven to eight years. The latest World Bank report also reveals exposure to extreme air pollution on a regular basis, with its impacts "ranging from stunting and reduced cognitive development in children, to respiratory infections and chronic and debilitating diseases". This is not only increasing our healthcare costs but also lowering the country's productive capacity. Moreover, poor air quality is contributing to a rise in premature births as well as babies born with low birth weight in Dhaka, as a recent study by the family planning directorate and icddr,b has found.
The question is, how long will the government treat air pollution with indifference when the health of the entire population is at such great risk? Evidently, the government has done little to check contributing factors such as vehicular emissions, fumes from factories and brick kilns, dust accumulation from ill-planned development projects, etc. You see black-smoke-emitting buses and trucks everywhere you look. You see open construction sites creating and spreading dust. There is no dearth of regulations to prevent such activities, yet the government is failing miserably to enforce them.
This must stop. Air pollution has reached a level that can no longer be ignored. The government, therefore, must take stern action to ensure people's health and well-being. With a strong political will, right policies, and timely and sustained interventions, it is possible to tackle air pollution, as cities even in our neighbouring countries have been able to do. The government should also work with its regional partners to check transboundary air pollution – which has been found to be one of the major irritants in our cities. Recently, Bangladesh, India, Nepal and Pakistan drew up the Kathmandu Roadmap for improving air quality. We only hope that any effort, local or regional, will be followed by proper execution and coordination to bring us the result we desperately need.