Theresa May in trouble over Brexit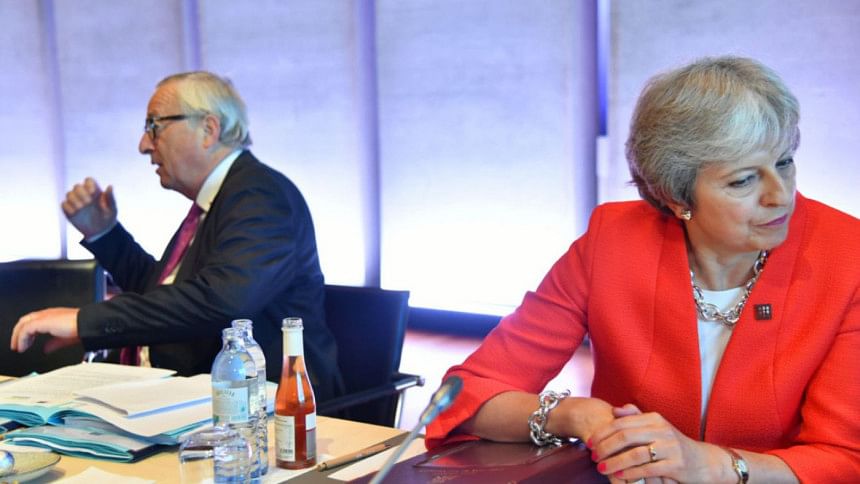 Britain's PM Theresa May is in deep trouble with the Brexit plan. She may not only be forced to agree to a second referendum over Brexit but may also lose her prime ministership.
To understand how British politics entered this phase of political turmoil, one has to go back to 2016. On June 23, 2016 Britain went for a referendum on whether to quit the European Union or continue to stay. It ended with 51.9 percent voting to exit the EU. That led PM David Cameron to quit and Theresa May succeeded him on July 13, 2016. In March 2017, Theresa May invoked article 50 of the Treaty of Lisbon beginning the process of leaving the Union. This article provides two years to complete the exit negotiations, which officially ends on March 29, 2019 unless it is extended by all EU members unanimously.
Over the past 18 months Theresa May has been negotiating the conditions of divorce with Brussels. It is now crunch time for Theresa May as only six months are left to leave the EU with or without a deal. At the crux of Brexit is Britain regaining its sovereignty from the EU.
Theresa May seems to be in a dilemma. She wants full sovereignty for Britain but at the same time retain almost all the benefits Britain had enjoyed as a member of EU's single market and customs union. With full sovereignty, Britain can have independent trade deals with any non-EU country but will no longer enjoy all the "four freedoms" (free movement of goods; services; capital; and people) of a single market. It will give Britain the right to cherry-pick from the four freedoms as it chooses. Trouble is May wants to have the cake and eat it too.
Negotiations over the past 18 months have shown that European leaders' attitude has hardened over Brexit. The British negotiating team in Brussels is seen as unreasonable wanting all the advantages without taking on the responsibilities. Besides there are serious divisions both within Theresa May's Conservative Party and the Labour Party. There are now three options for Theresa May: Hard Brexit, Soft Brexit, or No Deal Brexit. 
Hard Brexit means Britain giving up all access to the single market and the customs union; gaining full control over its borders; having the right to make trade deals with other countries; and applying its own laws within its territory. Soft Brexit means Britain maintaining a close relationship with the EU having access to its single market and customs union. However, it will not have members in the European Parliament and thus no British Commissioners in Brussels. No Deal Brexit means Britain crashing out of the EU without any deal which can lead to disastrous consequences. There may be chaos both within the EU and Britain affecting exports, imports, businesses, employment, food prices, wrangling at border crossings, cancellation of flights to and from Britain, etc.
After months of acrimonious infighting within the Conservative Party, Theresa May presented a divorce plan to her Cabinet colleagues at Chequers, her official country residence, on July 6, 2018. The Chequers Plan as it is now known has 12 points. It is actually a mix of hard and soft Brexit deal provisions. For instance, ending free movement of people from within the EU and taking control of borders (hard); UK-EU free-trade area with a "common rulebook" (related to standardised goods and services) (soft); leaving Common Agricultural Policy and Common Fisheries Policy (hard); restoring supremacy of British courts by ending jurisdiction of European Court of Justice (hard); no border between Northern Ireland and the Irish Republic (soft).
There are differing opinions about the Chequers Plan among Tory parliamentarians. Disagreements over the plan cost Theresa May two senior colleagues from the Cabinet. Foreign Secretary Boris Johnson and Britain's Chief Brexit negotiator David Davis resigned early July soon after the Chequers Plan was revealed. Both felt that the divorce plan was not strong enough to regain Britain's sovereignty. "British economy would remain locked in the EU, with no control over that system. We are truly headed for the status of colony," said Boris Johnson. He wanted a clean break from the EU.
Labour Party leader Jeremy Corbyn, a supposed eurosceptic, has hardened his position on Brexit. During the Labour Party's annual conference that ended in Liverpool on September 26, 2018, Corbyn said that Labour would vote against the Chequers Plan in the House of Commons. Corbyn apparently supports a customs union deal between UK and EU but has not given any concrete exit plan so far. He also announced that if Tories fail to get through the Chequers Plan in the parliament, he will press for snap polls, although the next election is not due before 2022. Corbyn also indicated if general elections cannot be held then a second referendum should be held. 
The call for a second referendum is growing louder with London Mayor Sadiq Khan, high-profile politicians, celebrities and non-Brexiteers pushing for it. To add to Theresa May's woes, Scotland and Northern Ireland are not in sync with the Chequers Plan.
At the informal EU summit at Salzburg (September 19-20), Theresa May was only allowed to attend lunches and dinner but not the formal deliberations. EU Council President Donald Tusk after the summit told the press that the 27 leaders unanimously decided to reject the Chequers Plan. It was humiliating for May when Tusk asked her to redraft the plan. To keep EU's unity, Brussels wants a deal that could be costly for the British economy which in turn will dissuade other restive members from trying to exit the Union. Naturally, Britain's position is becoming weaker as the deadline approaches.
Theresa May is clearly under a lot of pressure from her party MPs, the Labour Party, Brussels and non-Brexiteers. Whether or not she can get a deal passed by the parliament by the end of October 2018 and have it accepted by EU will determine her political future.
---
Mahmood Hasan is former ambassador and secretary of the Bangladesh government.
---
Follow

The Daily Star Opinion

on Facebook for the latest opinions, commentaries and analyses by experts and professionals.
To contribute your article or letter to The Daily Star Opinion, see our

guidelines for submission

.
---