Maldives turns over a new leaf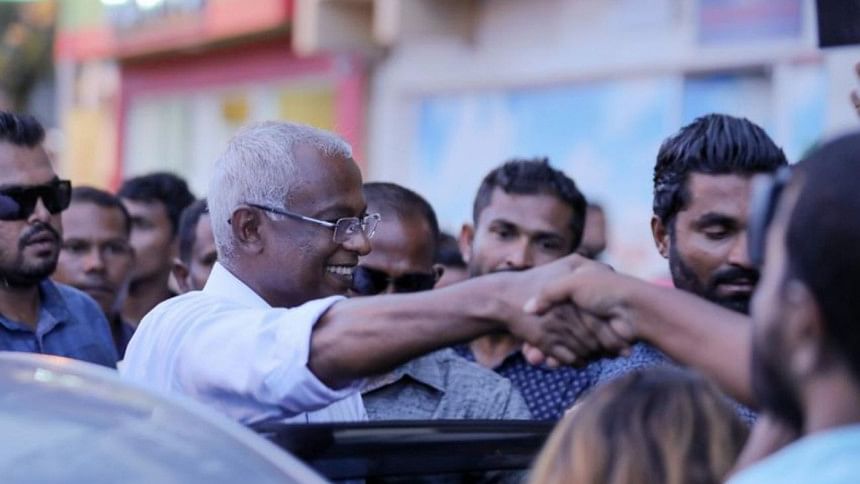 It has been a turbulent year for the paradise islands of Maldives. The presidential election held on September 23, 2018 was in many ways a referendum on incumbent President Abdulla Yameen's five-year autocratic rule. The election is seen as a halt to Maldives' democratic backsliding. 
According to unofficial results, President Yameen got 47.1 percent of the votes while the only other opposition candidate Ibrahim Mohamed Solih secured 58.3 percent votes. Ninety percent of the 262,000 voters (out of a population of 428,000) went to the polling booths to exercise their franchise. There are no allegations that the Maldives Election Commission has been incompetent in handling the election. 
Ibrahim Solih, popularly known as "Ibu", was first elected to the Majlis (parliament) in 1994. Solih played a leading role in forming the Maldivian Democratic Party (MDP) and is a veteran of the Maldives Political Reform Movement. Former President Mohamed Nasheed, who had to resign in February 2012 under disputed circumstances, wanted to run for the presidency. But in June 2018, the Maldives Election Commission declared Nasheed ineligible. Nasheed is convicted of terrorism charges and now lives in exile in Sri Lanka.
Yameen's autocratic tendencies drove the MDP, the Jumhooree Party, the Adhalaat Party and former President Maumoon Abdul Gayoom's faction of the Progressive Party to come together and push the candidature of Nasheed's brother-in-law Ibrahim Solih to unseat Abdulla Yameen. The decision to present a single candidate by the opposition parties actually changed the dynamics of the election. People saw an experienced parliamentarian as an alternative candidate which eventually undid President Yameen.
Many observers feared that Yameen, known for his undemocratic track record of muzzling the press, declaring state of emergency, sending opposition leaders and Supreme Court judges to jail would employ dubious means to stay in power. The election was closely watched by India, China, US, and EU.
New Delhi seemed relieved that Yameen lost the election and is quite upbeat at Solih's victory. PM Narendra Modi congratulated Ibrahim Solih on his victory and invited him to Delhi to discuss strengthening the friendship between the two countries. Delhi no doubt is keen to repair ties with Male which were strained under President Yameen. Solih also indicated that he would strengthen relations with Delhi. America too welcomed the victory of Solih—hoping that he will move away from Beijing's ambit.
Chinese foreign ministry spokesman also congratulated Solih and said that China respected the Maldivian people's verdict and wanted to consolidate the traditional friendship between the two countries. Beijing called for "continuity and stability" in the archipelago. One wonders if Yameen's defeat in the election is a setback for Beijing.
President-elect Solih said after the election, "The will of the people has spoken…For many of us it has been a difficult journey…But it has been a journey that has ended in the ballot box, because the people willed it…The people of Maldives want change, justice and stability." 
President Yameen, after the vote, said, "In front of the Maldivian people, my work was sincere. But yesterday the Maldivian people made their decision about me. So, I have decided to accept the results and stay in service to the people in any way I can." After conceding defeat, Yameen said he would hand over power to Ibrahim Solih on November 17, 2018 when his term ends. 
The election results bear significance because President Yameen since coming to power in 2013 moved out of the Indian sphere of influence and fostered closer ties with China. That strained relations between Delhi and Male. Yameen also pulled out of the Commonwealth in 2016 after the organisation accused the Maldives government of rights abuse and money laundering. That contributed to weakening of relations with the West.
The tussle between India and China over Maldives is because of its geostrategic location in the Indian Ocean. China wants to extend its naval reach in the Indian Ocean. Chinese investment in modernising the Maldives port is a component of Xi Jinping's Belt and Road Initiative. India sees this project as a Chinese attempt to establish a naval base in Maldives—a threat to India's security. The Americans are also suspicious that a Chinese naval facility in Maldives may become a threat to the US base in Diego Garcia.
Maldives under Yameen became heavily indebted to China. According to Maldives Independent, the debt amounts to USD 1.5 billion. This debt trap is seen as a threat to Maldives' democracy. The International Monetary Fund estimated that Maldives' total external debt was 42.8 percent of its GDP in 2018. Solih, before the election, said he would review all Chinese projects as there are concerns about repayment for Maldives' small economy of USD 4.22 billion (WB, 2016). How far Solih will be able to steer Male away from Beijing is something that remains to be seen.
Soft-spoken, consensus-builder Ibrahim Mohamed Solih is said to be a believer in the true spirit of democracy. But he will be faced with a foreign policy dilemma: to strike a balance between China and India. The other challenges that he will have to handle are to get Maldives out of the Chinese "debt trap" and restore the democratic institutions that were undermined by outgoing President Abdulla Yameen.
---
Mahmood Hasan is former ambassador and secretary of the Bangladesh government.
---
Follow

The Daily Star Opinion

on Facebook for the latest opinions, commentaries and analyses by experts and professionals.
To contribute your article or letter to The Daily Star Opinion, see our

guidelines for submission

.
---