Dawn of the second phase of Arab Spring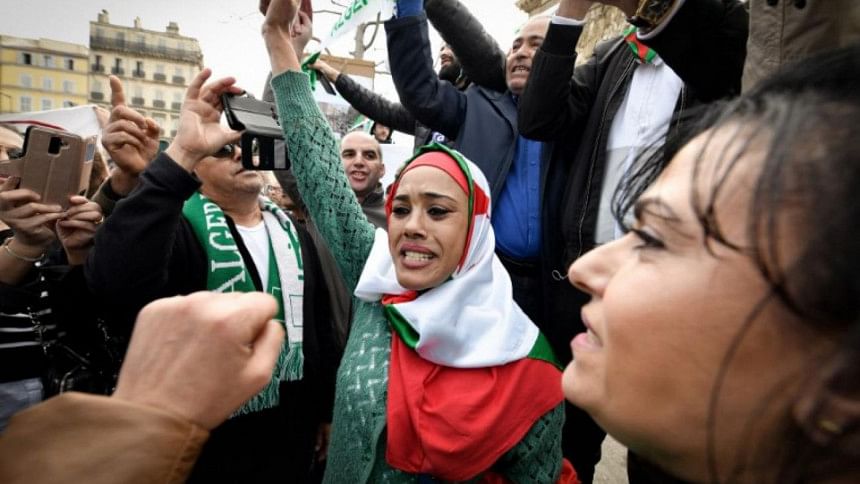 The second phase of Arab Spring has dawned on the Arab world. It is not a surprise that people in Algeria and Sudan have risen to demand changes in the leadership in their countries, while Libya is also locked in serious conflict over who should rule the country.
The "Smile Revolution" of Algeria dethroned President Abdelaziz Bouteflika on April 2, following persistent street protests that started in mid-February. Military generals, who helped prop up the ailing Bouteflika since 1999, played a crucial part in his departure. Protesting Algerians demanded transparent political transition and removal of all the figures of "le pouvoir" (the powers that be)—the clique of people who constituted Bouteflika's inner circle. Demonstrators have rejected interim president Abdelkader Bensalah, a close associate of Bouteflika. People also do not want any interference from the Army Chief General Ahmed Gaid Salah. 
But is Algeria prepared for the presidential election scheduled for July 4, 2019 under the old rules? The election has become uncertain as Algerian judges have decided to boycott supervising it saying the results have already been decided.
So far, the demonstrations have been largely peaceful without any conflict with the police and no recognisable popular leadership has emerged from among the protesters. It seems that the peaceful demonstrators have taken lessons from Egypt's Tahrir Square violence and have avoided confrontations with the state and also shunned interferences from outside the country.
The situation in Sudan is different. Economic mismanagement and the repressive autocratic rule of Omar al-Bashir led to his ouster. Demonstrations began in Khartoum and other cities in mid-December 2018 over tripling of bread prices, currency devaluation, high inflation, corruption and political repression. Protesters called for "freedom, peace, justice" and "the fall of the regime".
In 1989, then Brigadier Omar Hassan Ahmad al-Bashir seized power in a bloodless coup ousting the democratic government of Sadiq al-Mahdi. During his 30-year rule, al-Bashir oversaw two civil wars, a war of secession that led to the creation of South Sudan as a separate country, and the conflict in Darfur over which the International Criminal Court has accused him of genocide and massive human rights violations.
As daily protests continued in front of the presidency and army headquarters in Khartoum, clashes with the police left 49 protesters and policemen dead. On April 11, 2019, Defence Minister Awad Mohamed Ahmed Ibn Auf announced that Omar al-Bashir has been removed from power and detained by the army. Ibn Auf also announced a three-month state of emergency, nationwide ceasefire and suspension of constitution. He said the country would be placed under a two-year period of military rule to be followed by elections.
The difference with Algeria is that Sudanese protests are being led by the Sudanese Professional Association (SPA), an umbrella organisation constituting several professional groups. The SPA has rejected Ibn Auf's offer and called for immediate and unconditional transfer of power to a civilian government that would rule for four years. They have vowed to remain in the streets until their demands are met. Under immense pressure from SPA, the military has agreed to hand over power to a civilian government. On April 12, General Ibn Auf resigned as head of the Transitional Military Council (TMC) and was replaced by General Abdel Fattah al-Burhan Abdel Rahman.
The current situation in Khartoum is chaotic as protests continue and as students have taken on the role of the police. There is palpable tension between the SPA and TMC as talks so far have failed to agree on the modalities to set up the civilian government. The worry is TMC, for fear of losing control, may resort to violently putting down the protests as has happened in Egypt. 
The situation in Libya is very different. In 2011 the West-instigated protests against Moammar Gaddafi were followed by massive bombings of Libya by the Western powers that led to the killing of Gaddafi in October 2011, ending his 42-year rule. Since Gaddafi's death, Libya has not been able to pull itself together and move towards a stable society.
There are two centres of powers: first, the government in Tripoli led by Fayez al-Sarraj recognised by the UN Security Council, and the second in Benghazi led by warlord Khalifa Haftar who controls Libya's major oil fields. On April 11, Haftar launched a military offensive to conquer Tripoli which has already cost more than 200 lives. The irony is some major powers are actively involved in this war. Egypt and UAE have given Haftar military support to oust al-Sarraj and establish control over Tripoli. France, which is hungry for Libyan oil, has also been helping Haftar. The danger is that this conflict can degenerate into a full-scale civil war in this vast oil-rich country with a small population of around seven million.
In another significant development, Egypt's parliament has approved constitutional amendments that would allow President Abdel Fattah el-Sisi to stay in power until 2030.
People in almost all societies become restless and take to the streets when economic situations become unbearable and political freedom is stifled. Corruption among government leaders fosters resentment amongst citizens. But the most important element of this narrative is that people reach their breaking point and their demands give way to revolutions when they see the same person in power for decades.
A democracy cannot flourish overnight. A democracy needs democratic leaders, and it takes a long time, and a lot of discipline and endurance for leaders to mature so that they can reflect people's democratic aspirations. But age-old entrenched systems seldom let this happen.
The revolutions in Algeria and Sudan are still not over. Under pressure from protesters, Algerian and Sudanese military may put up a façade of civilian government. And, as in Egypt, the generals may find convenient excuses to usurp state power.
The first phase of the Arab Spring toppled several governments but failed to establish democracy. With the military preponderant in all Arab states, will the second phase of the Arab Spring also meet the same fate?
Mahmood Hasan is a former ambassador and secretary of the Bangladesh government.