70 Years After Partition
Seven decades of joy and pain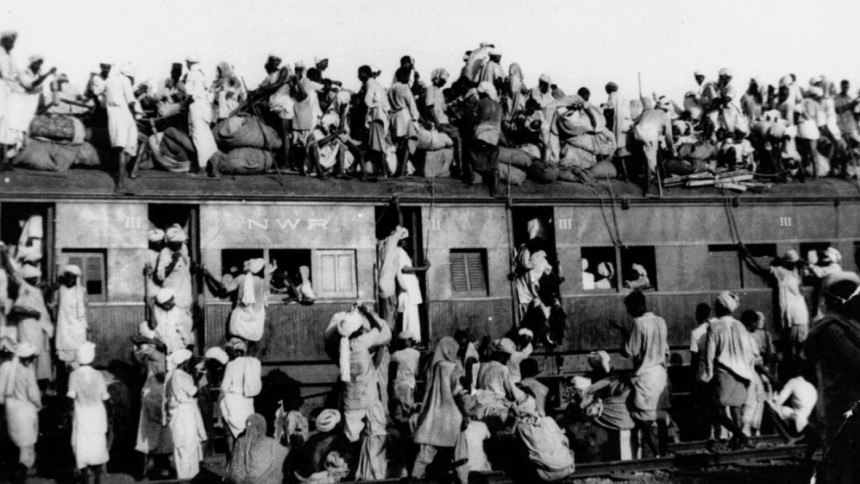 Independence celebrations bring to my mind the days I spent in my hometown Sialkot City. After earning a law degree I was settling down to be a lawyer, but partition upset my whole plan. It made me leave the place where I was born and brought up. It's a sad recollection whenever I think about it. But the silver lining is that personal relations between Hindus and Muslims were mostly unaffected. 
My father, who practised medicine, was stopped from migrating whenever he thought of moving out of Sialkot. One day, my mother and he decided to travel without letting people know. They boarded the train unnoticed. Sometime later, a few youngsters from the neighbourhood recognised them and requested them not to leave.
My father said that they were only going to meet the children who were already in Delhi and would return soon after. But the boys were insistent not to let them travel. After some time they relented and told my parents that they could travel by the same train a day later. They were frank enough to admit that there was a plan to kill all passengers at the nearby Narowal Bridge. And this happened. 
The following day they came to our place and told my parents that they could travel. They said they had made sure that their journey would be safe. Not only that, they helped my ailing parents to cross the bridge on foot and bid goodbye at the border.
I stayed back for a few days and took the other route to Wagah. A brigadier who had been transferred to India came to my father before he left and asked if he could do anything. My father looked towards me and asked the brigadier to take me across the border. I travelled in the back of the jeep which was full of luggage.
"Was partition necessary because one million people died on both sides? That bitterness still lingers. And people continue to live in hostility.
Sialkot is a little removed from the main road to Amritsar. But I was aghast to see the road was full of hundreds of people. One small stream was pouring into Pakistan and we, the bigger one, travelling to Amritsar. One thing was certain: there was no going back. I could smell the stench of dead bodies. People would make way for the jeep.
At one place an old Sikh with a flowing beard stopped us and begged me to carry his grandson to the other side. I told him that I had just completed my study and I could not afford to bring up a child. He said it did not matter and requested me to leave him at a refugee camp and he would catch up with him soon. I said no, and even today his helpless face haunts me.
At Sialkot, one wealthy Muslim, Ghulam Qadar, opened one of his bungalows and told my father to occupy it as long as he felt that things were not safe in the city. That bungalow itself became a refugee camp and at one time there were about 100 people living there. Qadar would provide rations to all of us. Our milkman was very regular in his supply.
When I crossed the border, I had only a small bag with a pair of trousers and Rs 120 which my mother had given me. But I had BA (Hons) and LLB degrees and was confident that I would rebuild my life. However, I was worried about my father who would have to start all over again at Jalandhar. And he became very popular within a few days and patients would flock in from morning to evening.
I travelled to Delhi where a maternal aunt was living at Daryaganj. Jama Masjid was quite near and I would eat there because good non-vegetarian food was available at a cheap price. That is where I met someone who took me in the Urdu paper, Anjam, and that is how I began a career in journalism. The rest is history. But I do not want to dwell on it. 
Was partition necessary because one million people died on both sides? That bitterness still lingers. And people continue to live in hostility. India and Pakistan have gone to war three times since, in 1965, 1971 and 1999. Even today, the border bristles with enmity and armed soldiers who are always ready to pull the trigger.
We have already celebrated the 70th Independence Day. But instead of having soft-borders, which I imagined, we have the barbed wires and patrolling all the time. The level of escalation on the long borders never subsides. The two countries are not on speaking terms. Foreign Minister Sushma Swaraj has said that there can be no talks with Islamabad when it encourages infiltrators.
Pakistan says that they are not the stakeholders and had no control over the infiltrators' movement. Thus the two neighbouring countries continue to be at a distance without any contact. Getting visa has become very difficult. Relatives and friends on both sides are the real sufferers.
Pakistan wants a solution to Kashmir before any kind of relations. Kashmir itself is a long story because the partition formula recognised only India and Pakistan. There is no provision to reopen and think about the independence of the valley which the people there want. In fact, they have taken to guns to achieve their goal.
I met some of them in Srinagar recently and found them to be adamant to make the valley an independent Islamic state. No amount of argument that this is not possible convinces them. I cannot imagine our parliament even entertaining a resolution to make Kashmir independent. Pakistan considers that it is the lifeline for it.
Therefore, I do not see any solution even for the next 70 years, the period we have wasted in firing at each other. The first thing should be to withdraw the petition from the UN and assure Pakistan that India wants peace and good relations with Islamabad. Maybe, the media heads on both sides should sit across the table and make some concrete proposals, if possible.
---
Kuldip Nayar is an eminent Indian columnist.
---
Follow

The Daily Star Opinion

on Facebook for the latest opinions, commentaries and analyses by experts and professionals.
To contribute your article or letter to The Daily Star Opinion, see our

guidelines for submission

.
---