Dynastic politics in India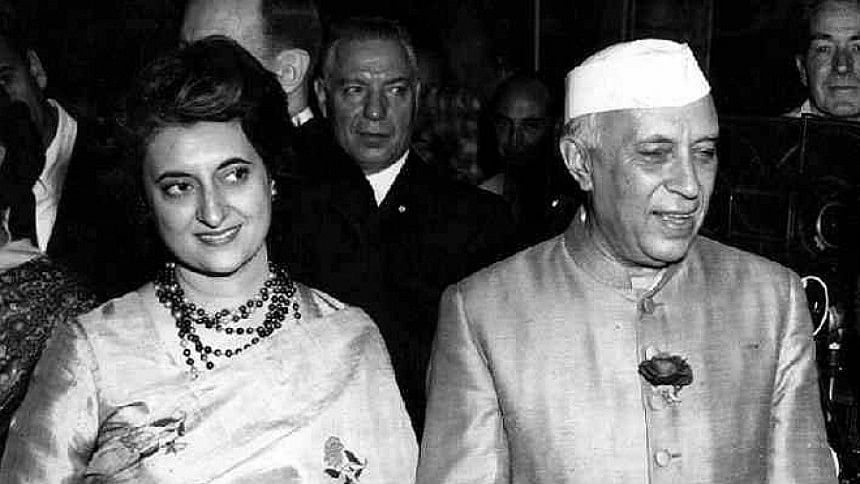 Congress Vice President Rahul Gandhi is wrong when he says that all of India runs on dynasties. Ruling means wielding power at the centre. Only Jawaharlal Nehru's family has had the opportunity to do so. Nehru ruled for 17 years, his daughter Indira Gandhi for 18 years and Rajiv Gandhi, son of Indira Gandhi, for 5 years. Thus, the dynasty has been in power at the centre for 40 years, more than half of the period since independence in August 1947.
Nehru saw to it that his daughter would rule, if not soon after his rule, in due course. When I was working as Information Officer to Lal Bahadur Shastri the then Home Minister, I would tell him to get ready, particularly, when Nehru had a stroke. Shastri told me that unke man me to unki saputri he (His daughter is on his mind), adding that it would not be easy. He would not challenge Pandit Ji and go back to Allahabad. But Morarji Desai would not accept Indira Gandhi.
This happened when Nehru died. K Kamaraj, the then Congress President, was a staunch follower of Nehru. He wanted, who he had discovered, to be the key to open many locks. Sanjiva Reddy from the South, Atulya Ghosh from Calcutta and SK Patil from Bombay were stalwarts in their own right but were willing to accept Shastri because he did not push himself to give them the feeling as if they were not equal.
I was working as a political correspondent of Indian Express. I wrote at that time that: "In the hush of a summer night in 1963, five men groped their way to a sequestered bungalow overlooking an expansive valley in the temple town of Tirupati down South. One was ungainly and heavy, another portly, the third brisk and breezy, the fourth, slight in stature, and the fifth looked like a muscular wrestler. All of them came from different directions to defy detection, and they succeeded in doing so. There was hardly anybody in the streets. Most people had gone to bed to get sufficient sleep before responding to the pre-dawn call of the temple. After Shastri's death, power reverted back to the dynasty."
Rahul Gandhi is, however, correct when he criticises Prime Minister Narendra Modi for creating an "atmosphere of intolerance". As many as 17 crore Muslims in the country do not figure anywhere. They have also withdrawn from the public gaze. It is as if they have accepted themselves the status of being number-2 citizen in their own country.
On the other hand, the Hindus on the whole have not forgiven them for partition. Even today, when there is tension between India and Pakistan, the Muslims are seen with mistrust. Even otherwise they are left to fend for themselves in the localities which are slums. Employment-wise, they can be counted on fingers. Very few make it in competitive exams. The Sachar's committee has brought out how their plight is worse than that of the dalits.
The Hindus have to retrieve them from the pool of poverty. But they are left to wallow in the abyss of helplessness. Partition on the basis of religion has drawn a line whereby the Muslims in India have suffered the most and still they are for the religious prejudice. Even mixed colonies are disappearing and Muslims feel safe among their own community people when the living condition is impossible.
With Prime Minister Narendra Modi's rule, the gulf between the two is increasing. RSS men are seeing to it that no Muslim holds a key position in the public sector. I recall that a Muslim engineer who dropped me at the Srinagar airport complained that he had gone to Bangalore in search of a job but was rejected straightaway when his credentials were known.
Quaid-e-Azam Mohammad Ali Jinnah, founder of Pakistan, envisaged that the two countries, one with Hindu majority and the other with Muslim majority, would conduct affairs in such a way that religion does not come in the way of state affairs.
It is a pity that the Congress has become irrelevant. Otherwise, it could have provided secular platform to the country. Rahul Gandhi would increasingly realise that his party would have to work at the grassroots once again and try to change the temperament of the people. India fought for a democratic and secular country. Both Mahatama Gandhi and Jawaharlal Nehru reminded the people of their heritage which had both Hindus and Muslims as it's inherent. In fact, it is surprising that Nehru's name is sought to be effaced. Liberal BJP leader Atal Behari Vajpayee was an ardent follower of Nehru.
Once when Vajpayee was Prime Minister, I, then Member of Parliament, met him in his room; he very proudly told me that he occupied the same chair which once Nehru did. But today the BJP is even trying to change the name of Nehru from the Nehru Memorial Centre. Some scholars are trying to stop the effort but the matter has been left to the Prime Minister's Office (PMO).
They should remember that Nehru was one of the stalwarts who sacrificed everything to oust the British. He went to jail many a time but this did not in any way lessen his determination for the country's independence. Rahul Gandhi, his great grandson, should tear a leaf from his book and put up the fight, not for the perpetuation of the dynasty but for the protection of the country's ethos: democracy and secularism. People of India would again make Congress relevant. The important thing is the heritage: United, Secular and Democratic.
---
Kuldip Nayar is an eminent Indian columnist.
---
Follow

The Daily Star Opinion

on Facebook for the latest opinions, commentaries and analyses by experts and professionals.
To contribute your article or letter to The Daily Star Opinion, see our

guidelines for submission

.
---