Another lost opportunity
The meeting of Kulbhushan Jadhav and his family was a missed chance that could have been used to foster better relations between India and Pakistan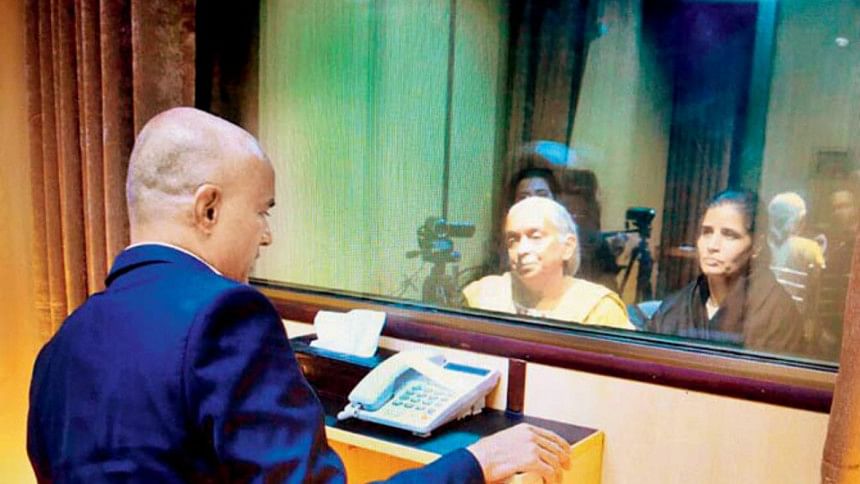 Nothing seems to work between India and Pakistan. The meeting of Kulbhushan Jadhav, an Indian prisoner in a Pakistani jail, with his wife and mother could have been an opportunity to foster better understanding between the two countries. But the bureaucracy on both sides is contaminated to the last tier of administration that it spoils any effort towards a better relationship.
After 21 months' pressure by many, including international organisations, Jadhav was allowed to meet his family members. But the Pakistani bureaucracy saw to it that the meeting would not go well. It was somebody's brainwave which resulted in placing a glass between Jadhav and his family members. Even his wife's mangalsutra, which married Hindu women wear, bangles and bindi were ordered to be removed. What purpose this act served is beyond comprehension. After all, mangalsutra and bangles cannot be a weapon by any stretch of the imagination. They are mere symbols of a married woman.
Pakistan's bureaucrats know this because till the other day they were a part and parcel of the same system. Their act was nothing but an expression of hostility towards India. Nobody told them to behave in this manner. They have had this habit since partition. Perhaps the bureaucrats were also worked up because the International Court of Justice (ICJ) at The Hague had stayed his execution.
Jadhav, according to Pakistan, was arrested in March last year for alleged espionage and terrorism while straying into Balochistan province. Soon after, a military court sentenced him to death for alleged involvement in spying and subversive activities. India had contended he was kidnapped from the Iranian port of Chabahar and his secret trial was a "farce".
India, appealing in ICJ, described Jadhav's trial as a "serious miscarriage of justice" because Indian diplomats were not granted consular access to him and he wasn't allowed to choose his own defence lawyer. New Delhi argued that the restrictions imposed by Pakistan amounted to a breach of the 1963 Vienna Convention on Consular Relations.
Pakistan, however, claimed the ICJ did not have the jurisdiction to take up Jadhav's case as it was a "national security" issue and that the court did not need to issue an order to stay his execution because it wasn't imminent. However, the ICJ concluded it has "prima facie jurisdiction" as Islamabad's alleged failure to provide "requisite consular notifications with regard to the arrest and detention" of Jadhav and "the alleged failure to allow communication and provide access to him" fell within the scope of the Vienna Convention.
Ronny Abraham, president of the United Nations' highest court in The Hague, said: "Pakistan shall take all measures at its disposal to ensure that Mr Jadhav is not executed pending the final decision in these proceedings and shall inform the court of all the measures taken in implementation of the present order."
In its "provisional measures" that were adopted unanimously, the 12-judge tribunal said it would remain "seized of the matters" which form the subject of its order until it gives its final judgment. The order came after India and Pakistan presented their arguments in the case of Jadhav. This has further strained bilateral relations between the two countries.
Pakistan retains a semblance of democracy and former Prime Minister Nawaz Sharif, who presides over the administration with the blessings of the army, is well-disposed towards India. He probably recalls his proximity with then Indian Prime Minister Atal Bihari Vajpayee. The two had reportedly found a solution to the Kashmir problem. But the formula was never made public.
Ultimately everything depends on the relationship between the two countries. In a friendly atmosphere, the two could have gone ahead despite the impediment of Kashmir. Had the relations been amiable, the meeting of Jadhav and his family would have been hailed. Pakistan would not have used the pretext of security precautions and the cultural and religious sensibilities of his family members would have been respected. Even Jadhav's mother was prevented from talking in their mother tongue, Marathi, although this was clearly the natural medium of communication in a situation like this.
This would not have been disapproved by Pakistan Prime Minister Shahid Khaqan Abbasi who is said to be seeking normal relations with India. In fact, Pakistan's domestic politics must be coming in the way. After Pakistan's Supreme Court indictment of Nawaz Sharif on accountability, politicians there are lying low and have lost their voice.
But things are different in India. Here, one person, Prime Minister Narendra Modi, is in control of the administration even though his decisions tend to be dictatorial. His government should have seen to it that the destiny of Jadhav is not left to the squabbles among the states. New Delhi needs to explore an alternative mediation, probably by the civil social institutions. But, unfortunately, Modi's priority is to bring Hindutva through the backdoor and he has very little time for problems such as Jadhav.
India has put another condition for normalising relations with Pakistan. Islamabad should give an assurance that Pakistan would not be a shelter for terrorists. This would be hard to implement because all stakeholders are not beholden to Islamabad. Balochistan is trying to secede and this is the place from where Jadhav was reportedly picked up for "espionage."
New Delhi has assured many a time that it considers the integrity of Pakistan as important as the integrity of India. When Hafiz Muhammad Saeed, categorised as a terrorist by the UN, starts his own political party, it is clear that Pakistan is helpless in curbing his activities. The preamble to any good relations with India is some kind of action against the mastermind of Mumbai attacks. But Islamabad is too weak to take any firm action against him.
Bilawal Bhutto, son of Benazir Bhutto, is beginning to control Pakistan People's Party. But he has no other credentials except being the son of the late Prime Minister Benazir Bhutto. Asif Ali Zardari still calls the shots and this is not liked by many in the PPP. In the face of such a situation, the fate of Jadhav is unpredictable.
Kuldip Nayar is an eminent Indian columnist