THE SOUND & THE FURY
When only men make the news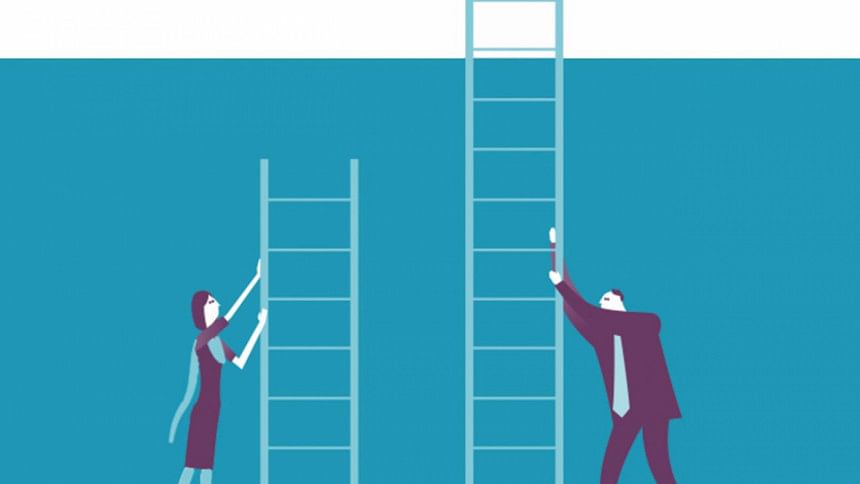 On the onset, it seems women are everywhere in the media. You switch on the TV, there is inevitably an attractive woman luring you into buying a product. On the radio, there is the 'young new thing' vivaciously flirting with her male co-host while shuffling through songs; and in print, the entertainment pages would simply not sell without a titillating image of a female celebrity and a scoop on her latest rendezvous. But take a closer look, beyond the objectified and stereotypical images of women, being manufactured and mass consumed ad nauseam, and where are the women, really? Take a look at the news media, for instance. Where are the women in the newsrooms, in the bylines on the front and back pages, in the column spaces of our opinion pages, in the talk shows, not simply as hosts, but as commentators on so-called hard issues such as politics and foreign affairs? Where are the women in our news (discounting the PM and her alter-ego), except as wailing victims of violence, natural disasters and such and as muses of our male photographers during cultural festivals?
A recent report by the Gender Media Monitoring Project 2015 – a project initiated since 1995 to analyse news media in 71 countries – presents some alarming, but not altogether shocking, statistics on representation of women in news media in Bangladesh. Analysing the content of 12 newspapers (8 national, 4 local), 8 TV channels, three radio channels, and two online platforms, the Project found that the presence of women in radio-TV-newspapers have actually decreased compared to the last decade. In sharp contradiction to our loud proclamations of women's equality and progress, women are mentioned as little as one-fifth of the time in news. The number of bylines by women has remained stuck at 8 percent over the last five years. Women reporters in radio constitute only one-third of all reporters, while the condition of women reporters in TV is even worse. Since 2010, the number of TV women reporters has increased by only 1 percent, but overall, they still constitute less than one-fifth of reporters. The only instance where women overshadow men is at hosting shows; in two-thirds of the cases, the hosts are women.
These statistics are downright embarrassing for us who work in news media. At a day and age when women are making their mark in all sectors, no matter how challenging, why is it that journalism remains, still, a male-dominated profession? Why, even today, do the newsrooms remain hostile to female reporters, comfortable to designate "soft" bits to women, such as social welfare, women's issues or at best health or education, while "hard" bits, such as politics, remain the prerogative of men? Women, in the logic of patriarchy, make sense in the supplements, but not in news and business which are "manly" serious affairs. Opinions, too, are apparently a "male" thing, with an overwhelming majority of commentators, whether in print or electronic media, being old, privileged and male.
Yes, it's true that journalism in a country like Bangladesh can pose added security risks to women, when they go out to collect information at random places at random hours of the day, or meet and interview unknown sources; it's also true that the ungodly working hours are not what many women with families can negotiate with ease, in a society where women, even if and when they work outside, are expected to take care of the household and children single-handedly. But rather than enable its women colleagues to face these challenges, for instance, by providing safe transport support and flexible work hours, media houses seem content with the status quo. Even if and when they make these adjustments, such as allowing women to leave early, there is the obvious implication that women just aren't as adept at the job as their male counterparts (how many times have we heard, "This job is just too demanding for women!"), as if the only marker of efficiency is one's ability to stay late in the office (even if staying in the office means smoking cigarettes and discussing the ongoing IPL match). On the other hand, the "protective" regime of the office can be equally stifling, such as when bosses think that women shouldn't be given challenging tasks with the supposedly good intention of protecting them from harm. 
While the NGO, banking and public sectors have made considerable progress in instituting gender-friendly policies, our media houses seem to be stuck in the days of horse shoe tables, copy boys and typewriters. It is unfortunate that most media houses, which should lead by example, do not have a gender policy or strict guidelines on how to institute gender equality within the organisation. Most of them don't even have a sexual harassment policy, or a designated committee to oversee complaints, despite a HC ruling making it mandatory for print and electronic media houses to have a committee in their respective organisations as per Article 9 of the guideline.
Given that it is men in the management positions, it is hardly a surprise that there is severe resistance to the idea of gender sensitivity trainings, even though as members of the media community, we hold tremendous power over the masses to disseminate and reproduce gender stereotypes and harmful discourses about women and children through what we write (or don't write). So forget that many reporters, subeditors and even editors don't realise that there's something severely problematic in using the word "dishonoured" when referring to rape or in revealing the name and details of the survivors; they fail to see that by circulating the seemingly harmless image of a "violated" and "victimised" woman hiding her face in fear while strong male hands grip her, they are reproducing the idea of women as helpless and weak; they do not comprehend that they reinscribe gender inequality when they only interview male sources or experts, or when they decide a story with a gender dimension is just not "news-y" enough to make a lead story. Within the organisations, these esteemed male colleagues do not seem to understand that it is inappropriate to make crude jokes about women, objectifying them, that unwarranted sexual attention is "sexual harassment" not flattery, that they take up way too much space during meetings when their voice rings the loudest and for the longest, silencing others who may not feel quite as comfortable to challenge the hierarchical power structure of a media house, and that it's institutionalised sexism when you pay the male staff more than the female staff even when they do the same amount of work.
If the media is really to change the world for the better, and play a progressive role in transforming how women are perceived in society, then we must begin by changing our institutions from within. And this task of gender sensitisation should not fall on the women alone, but on the editor, management, board of directors and department heads, who must assess the ways in which their institutions sustain inequality and play a proactive role to recruit more women, promote qualified women to important positions, and ensure a respectable workplace for all. Pretending we're all equal while retaining the same old patriarchal mindsets and structures simply won't do if we want women to also make the news.
The writer is a journalist and activist.