In Memory of Dr. Mohammed Abdul Aziz
A Trailblazer in Medicine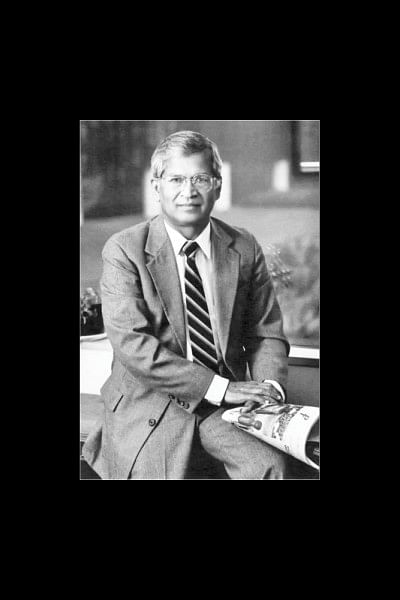 Few people in Bangladesh will have heard of onchocerciasis or river blindness, a devastating parasitic infection that claims the sight of millions of people worldwide. The parasite Onchocerca volvulus is transmitted by the blackfly which breeds in rivers. Larvae of the parasite mature into adult worms which in turn release microfilariae that eventually infiltrate the eye, causing blindness. It was a zealous Bangladeshi doctor based in the US who spearheaded the clinical trials back in the 1980s that eventually led to the discovery of a treatment for this illness, namely ivermectin, which is still   considered the drug of choice for onchocerciasis. That doctor happened to be my father Dr. M A Aziz. This is the story of his endeavours. Sadly his life was cut short by terminal illness just as he reached the peak of his career. However, his work was taken over by another scientist by the name of William C. Campbell who, jointly with two other scientists, won this year's Nobel Prize in Medicine. I feel confident that this honour would have also been bestowed upon my father had he survived. 
The Nobel Committee in their citation accompanying the announcement of the 2015 Nobel Prize in Medicine describes the scientific background of the discovery of ivermectin. "In 1981-1982 Dr. Mohammed Aziz at MDRL, an expert in River Blindness, conducted the first successful human trial (Aziz et al 1982). The results were clear. Patients given a single dose of ivermectin showed either complete elimination or near elimination of microfilariae load, while the adult parasites were untouched." The results of this study carried out in Senegal were published in the Lancet in 1982.  An extensive study was also carried out with patients in Senegal, Ghana, Mali and Liberia. This time it was a double-blind study comparing the efficacy and safety of ivermectin, DEC (diethyl carbamazine, the drug previously used) and placebo, involving elaborate clinical, laboratory, parasitological and ophthalmological (fundus photography and retinal angiography) examinations. One single dose of ivermectin was effective in reducing the microfilariae even after 12 months and the side effects were considerably milder compared to DEC. These results were published in The New England Journal of Medicine and Lancet in 1985. 
When my father was conducting these clinical trials, I was studying Medicine at Somerville College, University of Oxford in the UK. Whenever I saw my father he would talk to me with such passion about ivermectin, a drug that could transform the lives of generations of villagers in Africa where the blind literally led the blind. His enthusiasm for his work was infectious, so much so that I decided to write my final year dissertation on onchocerciasis.
I recall how keen my father was to have me join his research team upon completion of my clinical training. However, that was not to be. In 1986 his health began to fail. In the autumn of 1987 after receiving a call from my brother Tipu with the news that my father was desperately ill with cancer of the stomach, I flew to the States to see him.
He was out of hospital when I arrived and even then he was so positive, harbouring the desire to return to his research. He confided in me that his last wish was to see ivermectin distributed free to those affected by onchocerciasis. He succeeded, too, in this, persuading the pharmaceutical company to freely distribute the vital drug. In recognition of his efforts, Senator Edward Kennedy was to honour my father in a ceremony in Washington DC. As my father was too frail to travel independently, arrangements were made for a helicopter to air-lift him to and from the award ceremony. Unfortunately I was not able to witness this as I had to return to England. However, before I left, my father gave me his copy of the programme for the Merck Directors' Scientific Awards dated June 1987, which I have in my possession till this day. Beneath his photograph is stated his designation - "Senior Director Clinical Research, Merck Sharp and Dohme Research Laboratories" and the accompanying text reads as follows: "Mohammed A Aziz, MD, Ph.D has been most responsible for the clinical programme related to ivermectin. He encouraged the preclinical groups to provide the necessary support permitting human studies of ivermectin to treat and control one of the world's most devastating tropical diseases, onchocerciasis, a parasitic infection more commonly known as river blindness."
My father quietly lost the battle for his life at the age of 57 on November 25, 1987.
Following his death, The John Hopkins Hospital in Maryland, USA where my father had worked prior to joining MSD honoured him and still does with an annual memorial lecture in his name.
His dream of carrying out in his own words "research to help mankind" came to fulfilment when in 1987 WHO and Merck launched  the "Mectizan (ivermectin) Donation Programme" which to date has treated over one billion people, with 80 million still undergoing treatment in Africa, Latin America and Yemen. Blindness due to onchocerciasis is definitely on the decrease and there are areas of Latin America and Africa where the disease has been completely eliminated.
The story ends with a letter dated October 27, 2015 from Kenneth C. Frazier (chairman, president and CEO of Merck) who wrote to my brother Professor Tipu Aziz: "Thanks to your father, Dr. Campbell and other key colleagues, river blindness and lymphatic filariasis are being eliminated in countries within Africa and Latin America. The Nobel Assembly said it best: 'The importance of ivermectin for improving the health and wellbeing of millions of individuals with river blindness and lymphatic filariasis, primarily in the poorest regions of the world, is immeasurable.' Your father's dedication to our company's mission saved millions of lives and changed the world for the better."
The writer is an autism specialist, and can be reached at [email protected]