Will Pathankot derail Indo-Pak dialogue?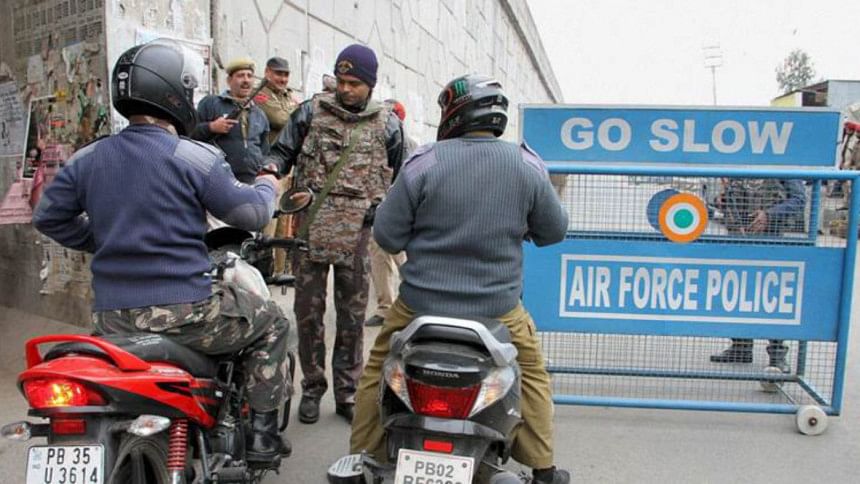 No one had expected that the Modi-Sharif Lahore dialogue on December 25, 2015 would be challenged so soon. Indian External Affairs Minister Sushma Swaraj, after returning from Pakistan, had actually warned the Lok Sabha about "spoilers", when she said, "We want to ensure that we are not provoked by saboteurs who want to stop the dialogue process". Evidently the militant attack at the airbase in Pathankot, Punjab on January 2, which left six militants and seven Indian soldiers dead, was designed to scuttle the Indo-Pak peace process. 
The Indian media has persistently accused Pakistan for the attack on the airbase, as they reported that Jaish-e-Mohammad (JeM) was responsible for the assault. The Indian government has handed over some evidence and clues collected from the militants to Pakistan for investigation. 
However, the Pakistani media reported that the United Jihad Council (UJC) rejected the Indian claim that the Pathankot attack was carried out by JeM - a banned outfit. Shaikh Jameelur Rehman, Secretary General of UJC said, "The attackers are a squad of mujahideens drawn from different member outfits of our alliance". UJC brings together over a dozen groups struggling to overthrow the Indian rule in Kashmir.  "All attackers are local Kashmiris based in India-held Jammu and Kashmir. And they have been facilitated by local Hindu, Sikh and Muslim officers", Rehman said. He said the attackers were referred to as the "National Highway Squad".
Media plays a crucial role in moulding public opinion, which in turn plays a significant role in determining whether leaders should pursue a policy or abandon it. Mutual recriminations by the media of the two countries have made the situation murky. Public opinion in India has turned against Pakistan after the Pathankot attack, while Pakistan feels wrongly accused. 
The Indian media also came out with scathing attacks on the way Indian armed forces handled the operation. Defence Minister Manohar Parrikar admitted to some "gaps" in the security at Pathankot while a bitter political debate is also going on in India on whether India should have any discussion with Pakistan at all. 
The Indian media, including bloggers, that argue for the termination of talks with Pakistan asserts that this is important as Pakistan sends terrorists to harm and destabilise India. In fact, some argue that India should also carry out actions to destabilise Pakistan. What is at stake for Delhi that it has to engage Pakistan at a dialogue? 
The rational elements say that the India - Pakistan confrontation is wasteful and has hindered progress in South Asia. Indian PM Narendra Modi's Lahore initiative must not go to waste because of terrorist attacks and India should try to strengthen their ties with Pakistan and work out a peace deal. They argue that talks can go ahead despite incidents of terrorism. Only meaningful dialogue with Pakistan can eliminate terrorism. 
In a statement on January 2, the Pakistan Foreign Office "condemned" the Pathankot incident and stated that it remained "committed to partner with India to completely eradicate the menace of terrorism". On January 5, Pakistan PM Nawaz Sharif called Modi to express his grief and sorrow over the Pathankot incident. Expressing his anguish, Modi emphasised the need for Pakistan to take "firm and immediate" actions against the terrorists. Sharif promised "prompt and decisive" action against the perpetrators and has ordered a probe into the attack.
Welcoming Sharif's call to Modi, Indian officials said that they would wait and watch Pakistan's response before going ahead with the Foreign Secretary level talks scheduled for January 15, 2016.  The ball is now in Pakistan's court, they said.
The Pathankot seize has raised the old question of whether Nawaz Sharif is in control of Pakistan's army.
It is generally believed that Pakistan's powerful military has its own agenda when it comes to dealing with India and Afghanistan, which may be at variance with the political leadership. This may be partly true, but it would be naive to think that Nawaz Sharif is not in control of Pakistan's power structure – which encompasses the military, the bureaucracy, civil society, religious establishments, opposition political parties, political ideology and strategic interests. Nawaz Sharif cannot be unaware of the deeds or misdeeds of any of its organs, including the army. 
Unlike Sharif, Modi is free to take any initiative that he feels necessary in India's national interest. However, there are political risks for the Prime Minister if such initiatives fail, particularly when public opinion is hostile.
Cross-border terrorism, from Pakistan to India, is a by-product of the conflict over Kashmir. Since a direct war is not possible, Pakistan had earlier resorted to proxy war tactics, supporting mujahideens to "liberate" Kashmir from India. India considers these mujahideens terrorists who have repeatedly attacked different targets in India.
The "Comprehensive Bilateral Dialogue" agreed at Islamabad between Sushma Swaraj and Sartaj Aziz deals with two core issues – for Pakistan, it is the issue of Kashmir, while for India, it is the issue of cross-border terrorism from Pakistan. Clearly, after the Pathankot episode, India would only want to discuss about cross-border terrorism with Pakistan while it is unlikely that Pakistan would put the Kashmir issue on the backburner.  
The intractable issue of Kashmir could actually be called the root cause of the Indo-Pak hostility. Kashmir has become a 'romantic' issue for both Pakistan and India; the narratives of the two countries over Kashmir is so deeply entrenched, it appears there is practically very little chance for relations between the two nuclear-armed neighbours to normalise. 
Further, the recent developments in the Gulf region and Afghanistan could substantially harden both Indian and Pakistani perceptions regarding each other and may undermine the dialogue. The next SAARC Summit scheduled in Pakistan in September 2016 may then become a casualty of Indo-Pak confrontation.
If the Foreign Secretary level talks are held within the next few days, there is a chance that the dialogue will continue. If not, the situation would be playing into the hands of the militants. Modi and Sharif have to think outside the box to carry forward the dialogue.
The writer is a former ambassador and secretary.