UN chief renews appeal for peaceful solution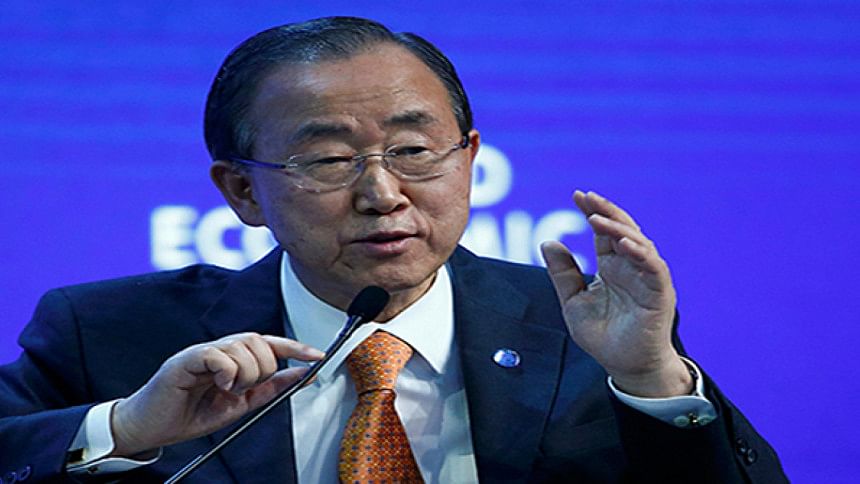 UN Secretary General Ban Ki-moon remains very concerned over the heightened tensions and continuing violence in Bangladesh and renewed his appeal to all political leaders for a peaceful resolution to the crisis.
"I think as we're seeing these heightened tensions and the continuing violence, political violence we're seeing in Bangladesh, and again, he renews his appeal to all political leaders to seek a peaceful resolution to the current crisis for the good of long-term development and the stability of Bangladesh," said Spokesman for UN Secretary General Stéphane Dujarric.
He was replying to a question at the daily press briefing at UN Headquarters' in New York held yesterday.
In reply to a question about arrest warrant against former prime minister and BNP Chairperson Khaleda Zia, Stéphane said, "We're obviously aware of the arrest warrant that was issued against the leader of the BNP. The secretary-general remains very concerned." 
A Dhaka court yesterday issued arrest warrants against Khaleda for skipping court hearings for four consecutive dates in two graft cases.
Anti-Corruption Commission on August, 2011 filed the Zia Orphanage and Zia Charitable Trust corruption cases during the previous tenure of the Awami League-led government.
The arrest warrants were issued when the BNP-led 20-party alliance is observing a nonstop countrywide blockade since January 6 protesting the government's resistance on holding their rally marking the day.
The ongoing blockades and shutdowns have been marked with mindless violence, arsons and train derailments that have claimed 76 lives so far and disrupted education and businesses.