The crisis in Syria, as it looks now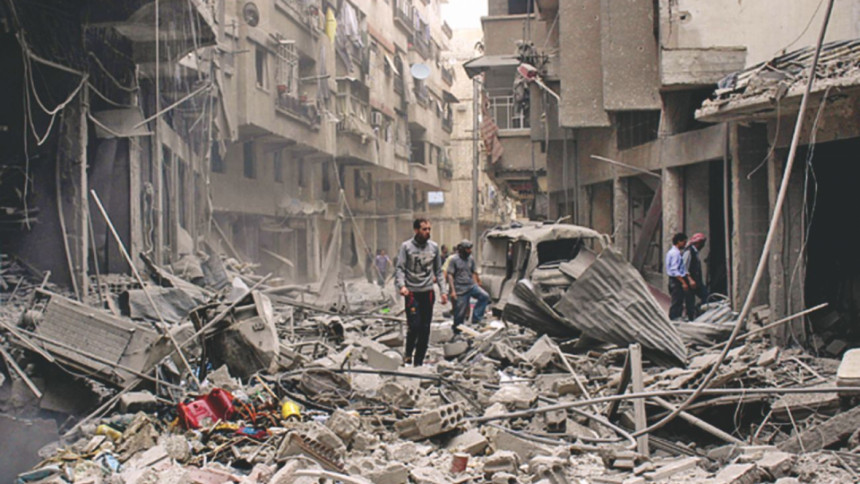 The fortunes of President Bashar al-Assad, and the possibility of peace in the region, have suffered many setbacks, and they face so much uncertainty, with new signs of doubts emerging within different concerned bases, that it is difficult to say anything definitively that will sustain vicissitude in any length of time. However, now with the direct intervention of Russia in Syria, the situation seems to be taking a turn having possibilities of a long-term solution.
The US had thought that new aid to Syrian insurgents and air-strikes against ISIS will persuade moderates to act as a ground force against the ISIS, as sending American force was ruled out, but that did not work at all. Rather, there is a sense of dejection and a belief in the US camp (which includes Britain, France and other supporters) that the new and unavoidable focus on IS, has derailed what was left of Western political will to oust President Assad or foster a 'favourable' political compromise any time soon.
Moreover, Western intervention and armed forays in the Middle East and Afghanistan have historically proved futile, destructive and counter-productive. When Russia decided to, and started well-directed, meaningful air-strikes against IS (aided by Syrian governmental intelligence) on September 30, 2015, this was welcomed by people who really aspired for peace and stability in the region. Even Egypt heartily welcomed it through a strongly worded message from its foreign minister. In a TV interview on October 3, 2015, he said, "Russia's direct involvement will now make it easier to halt the spread of terrorism and its eradication." Vladimir Putin announced that Russia  initiated this direct action in order to help and support its long-term friend Bashar al-Assad and to root out IS from the region. Obviously, Russian bombers will not spare the Syrian rebels. After Russian air-strikes hit ten strategic IS locations on October 2-3, 2015, an emboldened President Assad said his country, along with Russia, Iran and Iraq are jointly fighting terrorism in the region and will hopefully win. "Otherwise the results will be disastrous." But whatever may be the outcome, the fact is that henceforth Russia will have to be reckoned with as a world power playing its role in the region. Significantly, China and Iran have expressed hope that Russia's move will lead to a resolution of the Syrian crisis. With the launching of rockets from warships and shooting of cruise missiles on ISIS positions and the threat of bringing in land army if required, it seems that Russia is determined to fulfill its mission. There are demands from Iraq as well for Russian intervention.
Meanwhile, the awful and tragic Makkah disasters have tarnished the image of the Saudi royal family, the most trusted ally of the US and the West, and have weakened its hold in the Middle East and the Muslim world. 
The US and the West have to review, and make necessary adjustments in their ME policy. This would warrant some radical thinking. The two-man confrontational groups are led by the US and Russia. It is unlikely that in the US-led group, important partners like France, Britain, Saudi Arabia, Qatar or Turkey would take any independent stand. However, they also have their own angles. Recently, President Francois Hollande of France, in his address to the European parliament, alongside German Chancellor Merkel said, "What happens in Syria concerns Europe, what happens there will determine the balance of the whole region for a long time." He pointed out that they (the West) would like to give the Syrian people an alternative to both Bashar and IS which is unlikely to happen. US insists that it does not cooperate with Russia on air-strikes but cooperates only on basic safety precautions. US Defence Secretary Ash Carter, however, adds that "they (Russia) continue to hit targets that are not IS. We believe this is a fundamental mistake." Russia will, of course, hit rebel positions and assist Syrian government forces (Assad) in their land attack on the rebels. As a matter of fact, Russia is prepared to send army on land as well. Turkey has protested air space violation by Russian war planes, but there is hardly anything more it can do. Russia is determined to ensure that the Iraq episode is not repeated in Syria, and that the present Syrian government continues. Not just Iran, but to most objective analysts, this seeks now to be the best possible option or the lesser poison. 
Assad's ouster will create complete lawlessness and will inter-alia lead to carnage of the Alawite Shia population in Syria. It would also be impossible to effectively deal with ISIS without the cooperation of President Assad and the Syrian government. It has now become unavoidable to view any eventual peace-process in Syria without Assad's participation and IS destruction. In other words, however bitter it may be, the US and Europe will need to cooperate with Russia (and Iran), and indirectly Assad, if it seriously seeks meaningful peace in Syria and in the region. Even Saudi Arabia is likely to cooperate with Russia on this.
The US-Russian 'moral consensus' of 2002 is now a distant memory. It is evident that now the two sides - the US and Russia - will not see major goals and major international problems in broadly compatible terms. It now seems like Russia will follow its own course. "Powered by a bristlier conception of its interests than at any time since the end of the cold war, by domestic political arrangements that appear to feed on international tension and by an enhanced ability to stand its own ground." (Prof. Stephen Seistanovich, Vol. 87, no. 6 Foreign Affairs). 
The current situation may be summed up as follows:
(a) President Al-Assad is not solely responsible for all the ills in Syria. Merely his removal will not solve the problem. Rather, this may be accentuated as it happened in Iraq and Libya after the removal of President Saddam Hussein and Gaddafi, respectively. 
(b) If the rebels get defeated in the process of crushing the IS, it would perhaps be easier to bring in some sort of order in Syria. This will ease the Syrian refugee problem to some extent by drastically lowering the number of willing illegal immigrants about which Europe (and rightly so) is deeply concerned. At least there will be in Damascus a government that can control and administer.
(c) Russia, along with Iran, will henceforth play a significant role in Syria and in the ME. Russian power and determination will have to be recognised. The IS cannot be crushed without Russo-Iranian cooperation and in that process, President Bashar al-Assad will play an important role. 
(d) Even though the rebels get, and will continue to get, a lot of support from different sources, they will be marginalised as an outcome of the Russian all-out offensive against the IS.

The writer is former chairman of the Privatisation Commission, Bangladesh and former ERD Secretary.