Republicans encounter the turbulence of Donald Trump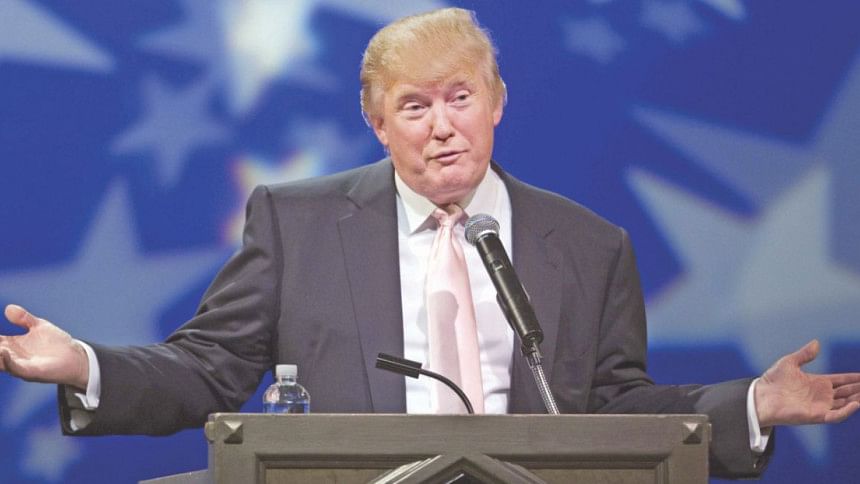 Just as the von Trapp family expressed their exasperation attempting to tame the free spirited Maria through a memorable song in The Sound of Music, the Republican Party is confronting the same dilemma with the irrepressible Donald Trump. (Subbing Trump for Maria, the lyrics of the song go: "How do you solve a problem like Trump? How do you catch a cloud and pin it down?")
Wharton graduate, billionaire real estate mogul, and the host of reality television show The Apprentice, Republican presidential candidate Donald Trump has gone on an insulting spree lately. He labeled illegal Mexican immigrants to the US as drug dealers, criminals and rapists, demanded that Mexico pay the US $100,000 for every illegal Mexican immigrant, and finance the building of a wall along the Mexican-US border.  
As the other 15 Republican presidential candidates blushed and ran for cover, Trump's message resonated perfectly with the Republican base, and catapulted Trump to the top of the Republican presidential preference polls. (The Republican base consists of deeply conservative, elderly Christian white males who live mostly in the South.)
Then Trump turned his gun on fellow Republicans who criticised him, calling Senator John McCain, the Republican presidential nominee in 2008, not a war hero because he was captured, and Senator Lindsey Graham of South Carolina an "idiot" for calling Trump a "jackass." Trump increased his lead in the polls as a consequence, much to the consternation of the Republican establishment. To the Republican base, McCain and Graham are Washington establishment figures - to be loathed.
The Democratic presidential primaries are usually wide open – there are no "establishment candidates."  That is why little known governors from small states, like Jimmy Carter of Georgia (1976), and Bill Clinton of Arkansas (1992) could win the Democratic nomination and the presidency. That is also why a well-known candidate and "presumptive nominee" like Senator Hillary Clinton could lose to a little known, freshman senator from Illinois, Barak Obama (2008).
The Republican establishment, on the other hand, choose a candidate and back him through the nomination. When an establishment candidate is in trouble, the establishment turns their cannon on the troublemaker. When Senator John McCain threatened the nomination of establishment candidate Texas governor George W. Bush in 2000, rumours began circulating that Brigitte McCain, Senator McCain's Bangladesh-born adopted daughter, was actually the Senator's love child with a black prostitute!  
When establishment candidate Mitt Romney's nomination was threatened by former Speaker of the House, Newt Gingrich in 2012, Republican newspapers began reporting how disrespectful Gingrich was to the Republican icon, President Ronald Reagan. Jeb Bush, former Florida Governor and the younger brother of President George W. Bush, is the GOP's establishment candidate for 2016.
Donald Trump is the Republican establishment's nightmare nominee, because he is considered more of an entertainer than a serious candidate, who is yet to enunciate serious policy positions, and who lacks presidential timber. In a national election, it is generally believed that the controversial Trump would be trumped by any Democratic nominee, let alone Hillary Clinton.  
However, turning the cannon on a loose cannon like Donald Trump will not be easy. Although rich, both McCain and Romney were dependent on outsiders to finance their campaigns. Trump is not. As he is quick to remind anyone who would listen, he is worth $10 billion. Already he has threatened the Republican establishment that unless he is treated nicely, he will not rule out running as a third party candidate – the Republicans' ultimate catastrophic scenario!
Conventional wisdom has bought into the Republican narrative that the reason sitting Republican president George H. W. Bush lost to Democrat Bill Clinton in 1992 was the third party candidacy of Texan business tycoon Ross Perot, who garnered 19 percent of the vote. Republicans are afraid that just as a Clinton (Bill) had defeated a Bush (George H.W.) because of a third party candidate (Ross Perot) in 1992, another Clinton (Hillary) may trounce another Bush (Jeb) because of another third party candidate (Donald Trump) in 2016!
The Republican narrative for their 1992 defeat is flawed. Bill Clinton led President George H. W. Bush wire to wire. For the couple of months that Ross Perot quit the presidential race in the summer of 1992, Clinton actually increased his lead over President Bush. Ross Perot never ran as a Republican; from the get go, he ran as an Independent. Perot was conservative on some issues, and liberal on others. Election day exit polls revealed that had Perot not run, his supporters would have split evenly – 38 percent each – for Bush and Clinton (the other 24 percent would have stayed home). Therefore, Perot or no Perot, Bill Clinton would have defeated George H. W. Bush in 1992. (Final popular votes from 1992 presidential election are:  Clinton: 43 percent; Bush: 37.5 percent; Perot: 18.9 percent.)
Although just like Ronald Reagan, Donald Trump, too, was a Democrat in the past, currently he is a conservative Republican. He is a top "birther" (one who insists that Barack Obama was not born in the US; thus his presidency is illegitimate) and ferociously anti-immigrant – issues wildly popular among the Republican base.
Like Ross Perot, Donald Trump can easily finance his third party candidacy. Unlike Perot, Trump has a huge loyal following among the Republican base. Were Donald Trump to mount a third party candidacy, it is unlikely that most of his fans in the Republican base would desert him – possibly handing the Democrats their third consecutive presidential victory. Clearly, in the confrontation between Donald Trump and the Republican establishment, Donald Trump, excuse the pun, holds the trump card! 

The writer is a Rhodes Scholar.