PM asks armed forces to stay alert to maintain democracy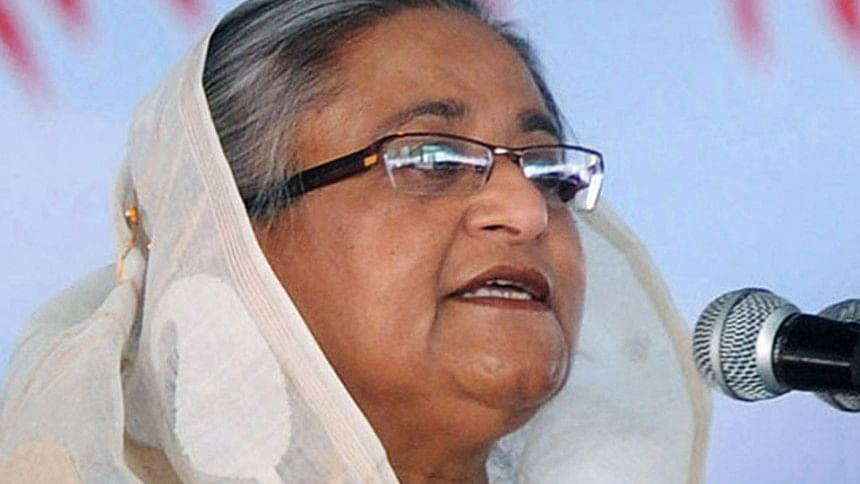 Prime Minister Sheikh Hasina today asked the armed forces to always remain alert like other forces of the country to protect the sacred constitution and maintain the continuation of democracy braving any threat.
"Like other forces, the armed forces will have to remain alert always to protect the sacred constitution of the country and maintain continuation of the democracy facing any threat," she said.
The premier was addressing the Darbar marking the flag-raising of the Headquarters 10 Infantry Division and its subordinate brigades and units at Ramu cantonment.
Hasina also expressed her firm stance against militancy and terrorism and vowed to contain these evil elements at any cost, urging all to remain aware. "We all have to remain aware so that militancy and terrorism cannot grow in the country in any way. We're committed to resisting militancy and terrorism at any cost."
Discipline and peace are needed to move forward the development programmes, the prime minister said adding, "But, activities like terrorism and militancy sometimes not only interrupted the development programmes, but also demonstrated threats to integrity, and peace and discipline."
Terming the Bangladesh Army, which has been emerged through the Liberation War, is the part and parcel of the people of this country, Hasina said the army will remain with people in the future when necessary as in the past.
"We have had your cooperation in the past for serving people. This is my firm belief that army will be with people in the future when it will be needed," she said.
In this connection, Hasina, also in-charge of the defense ministry, said the government will always do whatever necessary for development of the army.