Emphasis on economic relations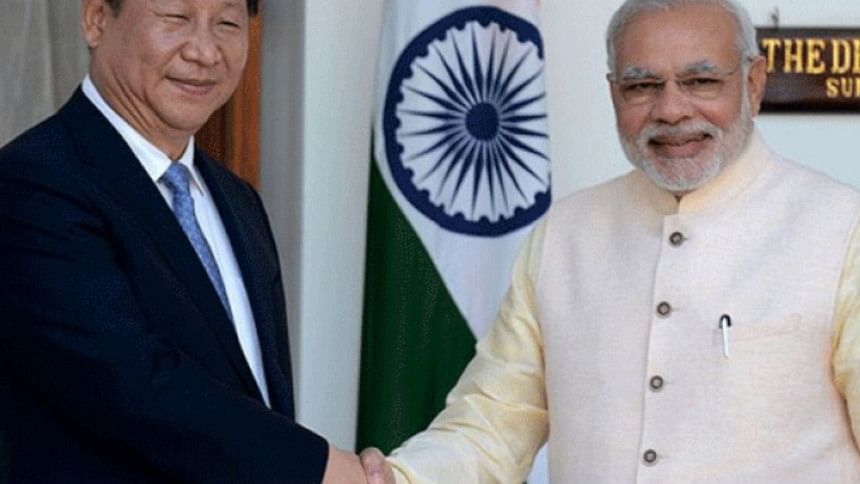 Indian Prime Minister Narendra Modi has visited China from 14-16 May 2015. Modi has been to China before as Chief Minister of Gujarat. Earlier in September 2014 the Chinese President had visited India.  It was thus a return visit by Modi as Indian Prime Minister.
Departing from traditional protocol, Chinese President Xi Jinping received the Indian Prime Minister at Xi'an, capital of Shaanxi province, the ancestral home of Xi Jinping. After spending a day in Xi'an, Modi went to Beijing where he held official level talks with Chinese Prime Minister Li Keqiang. The two countries signed 24 agreements on areas ranging from high-speed railway, border issues and setting up a yoga center in Kunming. 
Li Keqiang later told newsmen, "We just had in-depth talks and touched a wide range of topics, which we both expected to yield common ground and results. It is fair to say that we met the expectations." 
 "I discussed many issues with premier Li, which will take our relations in a positive direction. Our cooperation will not only benefit the two countries, but will send a positive signal to the world," said Modi. Later both the Prime Ministers attended the 'Forum of Leaders' of the regions of India and China at the Great Hall of the People in Beijing.
The 41-paragraph Joint Statement issued after the official talks dwells on Sino-Indian relations playing a defining role in the 21st century: strengthening political dialogue and strategic communication, closer developmental partnership, culture and people-to-people exchanges, setting up of  new Consulate General in Chengdu and Chennai, enhanced military ties to build mutual trust, affirmed early settlement of the boundary question, abolish trade impediments, remove trade imbalance, and shaping regional and global agenda.
The two countries represent one-third of world population with a total population of 2.6 billion. Both are economic power houses in Asia -- China with GDP of $9.24 trillion (2015) is ahead of India ($ 1.87 trillion, 2015). Both economies are expected to grow over 7% during 2015. 
Politically the two countries have opposing systems—India has parliamentary democracy and China is a monolithic socialist state. Both however have capitalistic economic systems. Having very large armies, relations between these two nuclear states and their behaviour, have an impact in the region and around the world.
Relations between the two giants are fraught with mutual distrust. This stems primarily from the 1962 war when India lost large swaths of territory to China in the Arunachal Pradesh in the North East and also in Ladakh, North East of Kashmir. China seems little interested to resolve this five decade old dispute, as it is in occupation of the disputed territory. India is at a disadvantage as it cannot militarily evict the Chinese army from the area. China seems to be playing for time.
Relations between the two countries have been further complicated when India gave asylum to Tibetan refugees, including the Dalai Lama. China's growing relationship with traditional rival Pakistan has made India even more insecure. Economically strong China has been steadily asserting its military muscle in South China Sea and pushing its influence in neighbouring areas. India is deeply apprehensive about growing Chinese influence and military might in the Asian region. 
Though both countries have exchanged visits at the highest levels – the distrust lingers. Modi's frustration came out when he told reporters that he had asked China to reconsider its approach on some of the issues (read border dispute) that hold bilateral ties back from realising their full potential. However, India opted for "part containment and part engagement" policy towards China.  Though the "containment" part is not clear, the "engagement" has been primarily economic and cultural.   
India's bilateral trade has grown from $2 billion in 2001 to $65 billion in 2014. Investment has also grown, but slowly. The vast Indian market is a natural choice for the growing Chinese economy. As a result India's trade deficit has bloomed to $38 billion (2014). Modi sought to reduce this burden asking China to remove trade barriers. Before leaving Shanghai, Modi witnessed Chinese firms signing deals with Indian companies worth more than $22 billion. 
Politically India is at odds on how to deal with China's "One Belt One Road" (OBOR) development framework. It has two components – land-based "Silk Road Economic Belt" (SREB) and ocean route "Maritime Silk Road" (MSR). China has earmarked $40 billion for this project. India has not responded to this initiative, because "China-Pakistan Economic Corridor" is its main component. President Xi Jinping visited Pakistan last April and signed agreement regarding this project. 
India is deeply suspicious as this corridor will run across Karakoram ranges through Pakistan controlled Kashmir into the Arabian Sea at Gwadar. To India it is a Sino-Pak attempt to encircle India. 
Actually OBOR is the Chinese counter plan to Washington's "Asian Pivot", which aims at containing China. With India trying to warm up to the Americans, there is ambivalence in Delhi about OBOR. 
Every time China and India exchange visits at the highest levels they are termed "milestones". This time Indian media also hyped Modi's visit, but kept harping on resolving the border problem. Modi, seen as a hard line leader, made all the pledges of friendship and good relations. He did not make any big fuss over the border problem. He left China with a good economic package. 
The writer is former Ambassador and Secretary.