Can climate gather steam?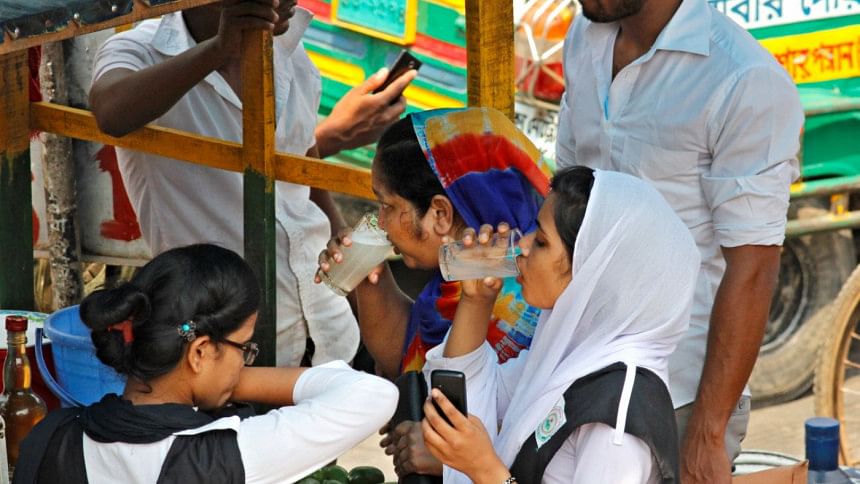 When a car spontaneously caught fire in Dhaka last week, allegedly from a heated engine, social media comments invoked the ongoing heat-spell. What was interesting to see is how many instantly made the connection. Bangladesh and South Asia in general has been experiencing a prolonged heat-wave for nearly four weeks. The sweltering Loo Wind that blows out of the North-Western deserts of India typically causes a hot spell during May. But this year, all three countries in the subcontinent have set all-time national heat records.
Urban centres have had it rough. A quick look at Dhaka provides telling signs: trees are few and far between, lakes have shrunk and ponds have disappeared. Grey concrete structures and heat-radiating vehicles have taken their place. Birds no longer have places to perch and have long taken to electric cables. The smell of CO2 and asphalt fills the air. Mirages appear silvery on dusty roads and the air ripples from heat-waves. Little shade is to be found on city-streets. The city's natural, green coolers and cleansers have been replaced by Freon-fuelled air-conditioners, which cool no one but their masters. Thus nature's innate balancing mechanism has been compromised by unmitigated industrial growth and urbanisation.
For those living in cities for some time, it is easy to see how we got here: government reforestation initiatives often lag behind; there is no social incentive to plant or nurture trees either: every piece of greenery is viewed as wasted real estate, i.e. foregone income. Households have surrendered trees when relegating 1-unit residences to developers. Civic works have bulldozed trees or buried their trunks and roots deep in concrete. Why bother with trees and such if you can build a rent-yielding coop? In the so-called 'tri-state area' (Gulshan-Banani-Baridhara), only the graveyard has a few trees left. It seems only the dead do not object to trees as much as Dhakaites do!
There are very few, if any, urban forests in Dhaka and more trees are constantly being cleared for new construction. Notable green resources in Dhaka – Ramna Park (1610), Suhrawardy Udyan (1660), Bahadur Shah Park (late 1800s), Baldha Garden (1909), Botanical Gardens (1961) – were all developed before independence. The capital has seen no other major reforestation attempt since then. It is important to note that  Dhaka had an estimated forest cover of 8 percent in 2002 (Nasiruddin/FAO, 2006). Urban forests in Dhaka were estimated to be 0.02 percent. Admittedly, this is dated data; but considering that 14 years of rapid construction and development has followed since, we would be lucky if Dhaka still has half of that (4 percent) intact. An ideal city needs 20 percent forest cover.
We are lagging behind in conservation too. Forget the power-plants beside mangroves, utterly preventable oil-spills and deliberate burning of forests, social attitudes towards conservation are dismaying. The common attitude is either one of apathy or as follows: 'If I am paying for it, I have every right to waste it'. This is proven again and again through wasteful use of energy, public utilities and resources. A clear example is that groundwater abstraction for industrial purposes has reached an all-time high, causing the table to drop lower and lower. But there's little accountability in how such abstraction affects a locality. Today, tubewells don't cut it anymore; one needs a submersible pump to reach hundreds of feet into the ground. Coupled with river erosion, saltwater intrusion and other environmental factors, this is driving 7.5 lakh people into Dhaka city every year. International Organisation of Migration estimates 70 percent of all domestic migrants are moving to Dhaka due to environmental shocks. Yet they find themselves unable to escape the wrath of climate change. 
How do people remain so nonchalant? Do urban Bangladeshis not care for the environment at all? I will argue that there are four key factors that make this possible: firstly, it is human nature to not respond to slow-burning threats. People want to cross the climate bridge when they get to it. Secondly, an optimism bias is always at work, assuring us all that we will be spared. It is this very bias that assures a smoker that whatever happens, (s)he will not get cancer. Thirdly, Bangladeshi culture is largely fatalistic, supposing that natural disasters are 'Acts of God' and cannot be mitigated. This renders people and communities unable to view climate change as a gradual outcome of their irresponsible actions. 
Fourthly, our economy is constructed around an imperfect model that doesn't account for natural resource depletion. For example, the GDP measure – the mainstay of the modern capitalist economy – has no regard for how much coal or gas or wood is used in economic production. Neither does it account for pollution or emissions caused by such production. Our economies operate as though they are beyond the (infinite) natural environment. Thus human, social, cultural and economic factors lie deep in the heart of our inability to take meaningful action on environmental protection. In turn, inaction by the educated elite prevents a trickle-down effect of green activism.
Complicating this nexus is a fifth factor: denial. It is difficult for educated urbanites to accept that they are not environment-conscious. So, they remain torn between 'the need to profess faith in climate change' and the 'real costs incurred to protect the environment' (examples of real costs could include sparing real estate for forestry, paying premiums for environment-friendly technology, limiting the use of air-conditioners, etc). Now, with the developed world rallying around climate change, caring about the environment is a self-worth and social-image imperative; i.e. it is in vogue. A slick way to act on this ambiguity is through online posts about Greenpeace and by vigorously defending COP21 outcomes. Thus one's image and worth is bolstered without involving economic costs or environmental benefits. 
If it's true that people's intentions are truly defined through their actions, then most care very little about the environment. Environmental investments in manufacturing have come from impositions by foreign buyers. Green technologies (e.g. the improved cook stove) have had little commercial success. There has been little activism for climate-related funding, strategies or regulations beyond the development/NGO sector. In Bangladesh, environment is a distant concern. A 2012 donor-funded study in industrial areas showed that respondents felt powerless to take action. When asked who should act, they all pointed to 'the government'. Such social resignation and inaction must be addressed through awareness raising, behaviour change and action-oriented mobilisation. 
The writer is a strategy and communications consultant.