AHMED SOFA'S 14TH DEATH ANNIVERSARY
AHMED SOFA IN WEIMAR: A Bangali tribute to Goethe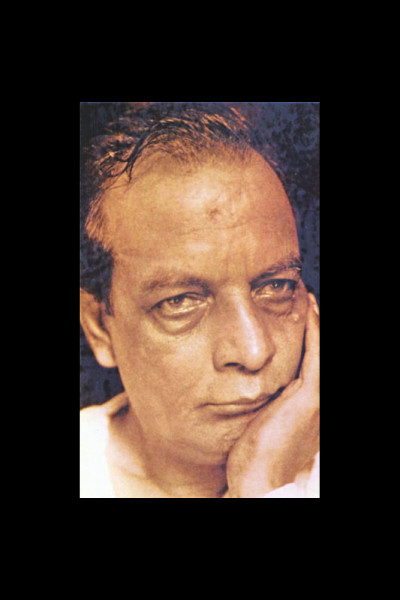 Why have I sought my path with fervent care, If not in hope to bring my brothers there? —Goethe
Ahmed Sofa, as his mentor Abdur Razzaq once put it, "is an established literary figure of Bangladesh." It was written in course of a preface the good old man wrote for his protégé's account of Germany, and perhaps gave passage more to the spirit than a statement of facts. That was then in June 1991. Ten years later, in July 2001, Ahmed Sofa died a rather premature death. He was still less than established, though was certainly recognised as more than a literary figure. 
Sofa's various universe includes a translation into Bangla of Goethe's Faust: Part I, done in 12 years though only from another translation. On publication of that volume, Ahmed Sofa was awarded a fellowship in Germany to brush up his elementary German. Although he made it there in 1986, Ahmed Sofa returned without completing it. We, nonetheless, owe his three fine lectures broadcast over the Deutsche Welle radio to this trip. In these lectures, he paid his highest tribute to the great laureate and compared him with Rabindranath Tagore.
Ahmed Sofa, unfortunately, did not write his experiences of his first journey but did eventually publish an account the next time, in 1991. In this account, written in English, of his second visit, Sofa paid tribute also to friends who he met there in 1986. Among them were a good many Bangladeshi exiles in Germany. "Bangladeshi boys," Sofa writes, "used to cook for me, buy things and extended all kinds of help. In exchange, I offered them nothing, except a grain of pride, that they are the host of a man who has translated Goethe's Faust." "Very often," Sofa adds, "they would present me to their German friends and would say with a proud undertone 'Sie ubersetzen Faust von Goethe,' i.e. he translated Goethe's Faust."
Abdur Razzaq chided Goethe's Bangali translator for not writing this account in Bangla. "I do wish he had written it in Bangla," sighed our old man. "His translation of Goethe, a remarkable piece of work of its kind," in his view, "is Goethe plus Ahmed Sofa." His works in Bangla brings about a sense of emotion in people. "Their appeal for me," Razzaq writes, "is because they are written in Bangla. They constitute a treasure trove for Bangla literature."
To return to the account itself, I will confine myself to only one episode here. It was Peter Dietzel, a newly made friend of Ahmed Sofa's, who suggested visiting Weimer. Herr Dietzel also agreed to finance it. On February 23, Ahmed Sofa, with Indira Roy, was visiting Peter and Gabriella in Feldatal, a village somewhere in former GDR. "Our train," Sofa records, "was passing through the territory of erstwhile Eastern Germany. This is the first time that I had a chance to look at the East German countryside." It was snowing rather heavily, however, it was still possible to tell one from the other. "In my 1986 trip," he notes, "I had a fair chance to visit rural sites of Western Germany. Now I could make a comparison in my mind. Compared to West German villages, the East German ones looked poorer, uncared for and devoid of any spontaneity."
Some two to three days on, Sofa's train found its path to Weimar station. He had, it's true, a companion for the day. But young Andrea too was a stranger to the city that was once a cultural capital of Europe. It houses Goethehaus, Goethe Museum that is. "At the entrance of the city," Sofa remembers, "we came across a coffee shop which bears the name Goethe Coffee." Sofa's discoveries get real there. When they came out of the coffee house, the sky was dark, it was still snowing. "In German," Sofa notes, "they use the word dunkel for darkness. Somehow, I developed a liking for this word. I do not know why. The streets, the buildings, the vehicles everything seemed dunkel to me." But so what? "Like a ray of torch in darkness, the undying spirit of Goethe's was driving us to the streets."
Ahmed Sofa had a real hard time finding out where that Goethehaus was. "We enquired from the people, which bus should we take in order to reach the Goethe museum. Well, people were quite friendly. One very old lady, when she came to know that we came to visit Goethe museum, suddenly brightened up her cheeks, her eyes sparkled. She volunteered to accompany us." When the bus stopped, the lady gave them directions, "Links dann rechts, dann geradeaus"- "first left, then right, then straight," with the movement of her very thin, emaciated right hand. It all went in vain.
Sofa and his young German companion became exasperated. "We walked and walked and many times changed the direction from left to right, right to left. But no trace of Goethe museum," he writes. Ahmed Sofa waxed philosophical. "With every sunset, old glory dies, and with every sunrise new glory is born. Today you ask direction of Goethe museum, at least a section of them would tell you without shame that they do not know the place or have not heard the name" or worse. Finally, Ahmed Sofa found it. It cost him only a pack of Camel cigarettes. He had to, for courtesy's sake, offer it to that bearded young man who helped trace Schiller museum in the vicinity. 
Weimar is, after all, a city of museums. There are four, "probably within the radius of half a kilometer," Sofa thought. He did not count Herderhaus among these though. Weimar's glory includes its status in Germany political history. It was once capital of that late-comer's stillborn republic. After few years of reunification, Weimar still exuded an odour of hard times. "Signs of poverty, mismanagement and uncleanness were visible everywhere. Houses were without any patch of whitewash. Streets were dirty. People in general seemed tense and were without any spontaneity. Gay spirit, which is natural to a city, is completely absent."
 "I regret my fate," Ahmed Sofa wrote after reaching there. "I have only three hours or less to spend here. Had I been given three years, three months, or at least three weeks, I could probably do some justice and soak myself up."

The writer is Professor of General Education Department, ULAB.