Manik Miah: A Legendary Journalist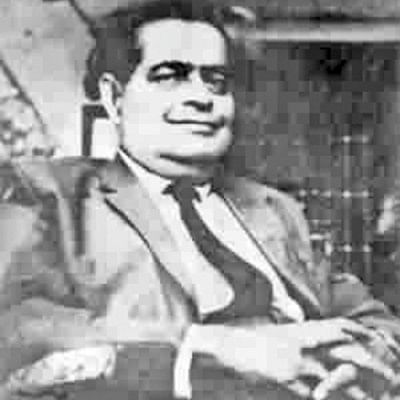 How many are familiar with renowned journalist and columnist Tofazzal Hossain aka Manik Miah, whose name has been commemorated as one of the biggest roads of Dhaka city? I wonder if the young generation of our country is familiar with his works, legacy and achievements or just knows the name as a street.
We all know that our Liberation War was fought under the leadership of Bangabandhu Sheikh Mujibur Rahman. But the desire for independence goes way back. One of the persons whose writing inspired the masses at that time was the one and only Manik Miah. His weapon was his pen and the chariot was The Daily Ittefaq. It's heartbreaking that we don't take his name as often as we should when we talk about the country's independence.
Tofazzal Hossain (1911- June 1,1969), Editor of The Daily Ittefaq, is a legend in the realm of journalism in Bangladesh. Though he was also known as Manik Miah, his pen name Musafir was his most popular identity. Musafir was the name he used when he wrote his column 'Rajnoitik Mancha'. No other column to this day has achieved that much popularity.
Manik Miah's Ittefaq wasn't an ordinary newspaper. One can't compare today's Ittefaq, or any other newspaper for that matter, to the Ittefaq under the editorship of Manik Miah. It was completely a different era. The golden times of Ittefaq were from 1954 to 1971. When Pakistan had just gotten its independence and when East Pakistan was faced with all kinds of discrimination from the central government, Ittefaq became one of the mediums of protest. 
While working in the Muslim League Manik Miah got firsthand experience in politics and the opportunity to work with some political big shots. He later grew close to Shaheed Suhrawardy. In 1946 when Suhrawardy founded a daily named Ittehad in Calcutta, whose Editor was Abul Mansur Ahmed, Manik Miah joined the newspaper as Office Secretary. That was his first step in the world of journalism.
When Awami Muslim League was born in 1949, Manik Miah joined Ittefaq which served as the group's mouthpiece to pressurise the Muslim League government. Maulana Abdul Hamid Khan Bhashani was the newspaper's first editor and publisher. Manik Miah took over the post on August 14, 1951.
With his newfound role at the helm of the daily, the newspaper soon became an ardent critic of the Muslim League government. His powerful column soon turned Ittefaq into a must-read with morning tea. One of the reasons behind his column's popularity was his straightforward, fearless comments about the injustices carried out by the government. His column played a pivotal role during the 1954 elections. Muslim League's defeat can be largely attributed to his writings which resonated with the common people. His style, subject and the way he presented issues were intact till the day he died, making his writing a genre in itself.
The Pakistani government found his writings to be against them, which led him to face the court several times. Despite all that, he never bowed down to authority. He never took the newspaper as a business but more as a medium of expression which led him to be the Manik Miah we all know today. For his writings in support of the Six Point Declaration of Awami League, Manik Miah was arrested on June 16. Ittefaq, Dhaka Times and Purbani (Cine Weekly) were banned by the authorities. After a ten month imprisonment he was released on March 27, 1967. Although the then government eventually told him to tone it down, and Ittefaq was allowed to resume, Manik Miah never compromised his beliefs. 
He was not a mainstream political person and he was more than just a political mind. He led a life of a statesman where his knowledge formed the foundation of his work -- something he was not willing to compromise at any cost. Manik Miah's contribution and the role of Ittefaq in achieving independence are undeniable. Manik Miah is a legend in the history of Bangladesh's media. He is a torchbearer who has paved the way for the true path of journalism.
The writer is a media and development activist.