Grief, Over Easy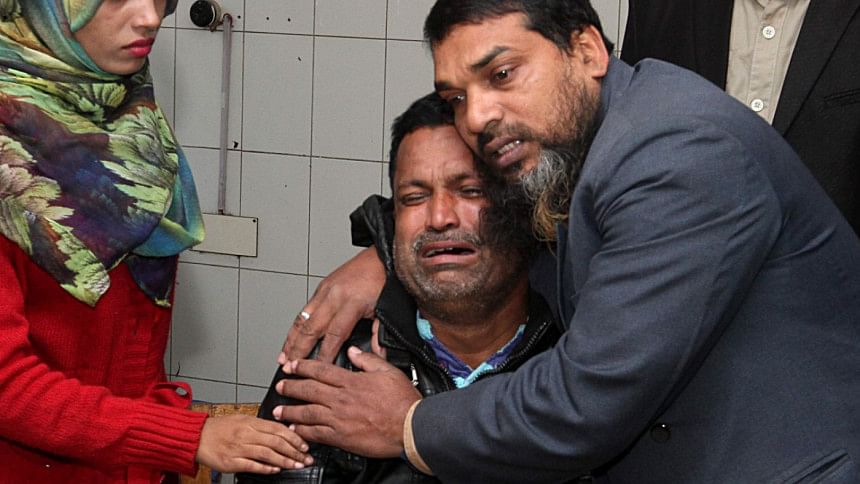 WE see a continuous display of grief and sorrow in the media—bodies lined up after car crashes, young boys and girls with their faces charred by Molotov cocktails.  
Like a slideshow, these images appear between commercials and family drama serials, news of important people addressing meetings and round-the-clock, inexplicable dancing and singing on the Indian TV channels.  
It's hard to grasp all this sadness. When it is shown for public consumption, we should know what to make of it, what to do with it, what it is good for. Is it shown to create empathy for the victims? If that's the case, is it working?
When we see a bad guy on TV, our first reaction is: Lock him up. When we see a hero, we think: Praise him, give him medals.  When we see a war—as the Iraq War wrongfully started by Bush or the Israeli war machine unleashing massive firepower on Palestinian civilians—we understand that we are not in favour of that war. 
But grief is different. When we see images of family members gathering around the dead bodies of their loved ones and wailing, we are like children watching grown-ups in despair. We know something has gone terribly wrong, but we do not know what to do. We are helpless, helplessly watching. We cannot know grief for someone else, we can only recognise it. 
Television channels and newspapers appear to deal with sorrow, personal loss, agony and suffering. But they are not our sufferings. We do not care about someone else's child being killed in a car crash or someone else's daughter being raped.  We just manage the automatic reflex of a slice of grimace, letting out a glint of a sigh. Then we go back to doing whatever we were doing. 
And since we do not care, all these people are turned into characters from a piece of fiction, or a film. They may suffer for themselves but for us they become entertainment. Bad news dominates the headlines.  
Grief is not cheap. Grief is loss, permanent loss. What we see on screen or on the pages of newspapers is not loss. They are simulations of loss, at best. They are the pictures of loss broken into flashes of images, like chips of broken glass reflecting off a facet. But it is not the whole. I see the picture of a mother drowned in tears who has just lost her son, or a man who has lost the love of his life. I cannot know their pain. The picture is all I got—the picture of their pain.  
Television wants us to buy things, including news. We see people who have experienced a deep grief and we buy their suffering, just like we buy a microwave oven or a bottle of anti-septic, advertised for whatever it purports to be. 
On TV, grief has a shelf life. Time to move on. Time to seek closure. We should talk, walk, eat, shop and go on a vacation. Get on with our lives. But we fail to calculate that the pain increases even as we get on with it. Grief comes to us all at once, so we think it will be over all at once. Wrong. It is our guest for a lifetime. There is no real, final closure, no end to the loss. When something wrenching happens to us, trying to find closure would be like willfully blocking our memory, refusing to give it a chance, not to work itself out, but to work itself in the marrow of our memories. 
We see all these images everyday in the morning as soon as we switch on the TV or get the newspaper. We hear their wailing. We hear them cry out to you, to me, in the distance, every morning, every evening. 
But do we really see? Do we listen? 

The writer is an engineer-turned-journalist.