Xi Jinping's visit: Implications for Bangladesh-China relations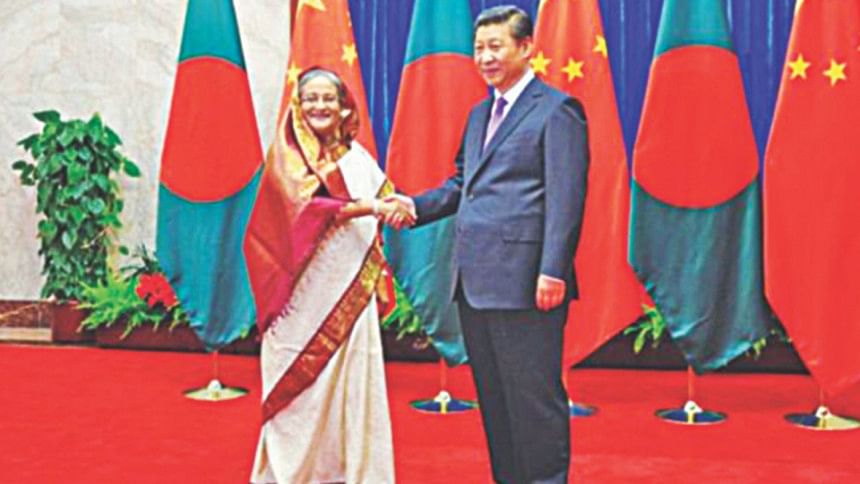 Chinese President Xi Jinping's visit to Bangladesh is likely to be a landmark one owing to a number of factors. After three decades, a Chinese President is visiting Bangladesh, signifying growing importance of the country in South Asia's economics and geo-politics. A number of high profile investments and other business deals worth billions are expected to be signed during Mr. Xi's trip. 
However, the implications of the visit go beyond economics. Dhaka maintains very strong military ties with Beijing. Geo-politically, we are witnessing growing rivalry between China and India, particularly in the era of weakening American role in the region. A new type of big power relationship is emerging in the region and relatively smaller countries like Bangladesh have to adjust with this changing scenario, maintaining balanced economic and geo-political relations, particularly with China and India.    
In this piece, I will focus on a number of issues that concern Mr. Xi's visit to Bangladesh in particular, and China-Bangladesh relations in general. 
Xi Jinping: China's most powerful and popular leader since Deng 

President Xi is considered as the most powerful Chinese leader since Deng Xioping, the architect of China's miraculous economic growth. Xi assumed the Communist Party's leadership towards the end of 2012. Ever since he became the Commander-in-Chief, Beijing has witnessed marked policy shift in terms of leadership, economy and geo-politics. Given his command of all power, analysts argue that President Xi has distanced himself from Deng and his successors' practice of 'collective leadership', a governance paradigm based on accepted rules and norms. 
Mr. Xi has changed the Chinese economic model, giving greater emphasis on consumption, innovation and service led growth, shifting away from traditional export and investment driven economic expansion. His fight against corruption, particularly against political and business elites, is seen as one of the most powerful campaigns in the country since the death of Mao Zedong. With nationalistic fervour, he has been more assertive in dealing with geo-political issues, de facto challenging America's supremacy in the Asia Pacific.
The Post-American South Asia: Living with the Dragon and the Elephant

There is no denying that the United States remains the top global power. However, the nation is in relative decline. This is largely due to the rise of China and a number of other emerging economies including India. The global economy's shifting centre of economic gravity towards Asia is making China and India two powerful economic engines as well as geo-political rivals. India is visibly playing a greater role in South Asia, and Washington seems not too unhappy, given its strategic alliance with New Delhi. China, which considers US as its biggest rival in Asia and elsewhere in the world, is quietly celebrating America's shrinking role in South Asia. 
Geo-political rivalry between the two Asian giants means Dhaka could face mounting challenges in managing a balanced relation with them in years ahead. Nevertheless, it is critical for Bangladesh to maintain balanced ties with India and China, preserving the country's national interests. Too much alignment with a single power risks the country becoming a vassal state.
Investment to get a big boost? 

Bangladesh's economic relations with China have traditionally been dominated by trade. The former has not been benefited much by the latter's rapid expansion of outward foreign investment. However, more and more synergies are emerging between the two countries resulting in more Chinese investment in Bangladesh. The country's steady urbanisation and six percent plus economic growth mean that it is in need of huge funds and technical know-how to narrow its mounting infrastructure deficit. It fares poorly in Asia's infrastructure ranking. Globally, China invested about USD128 billion in 2015. Beijing showed huge interest to invest in Bangladesh's port, railway, highway, energy sector and other key infrastructure. President Xi's visit could be a game changer as far as China-Bangladesh investment relation is concerned. 
USD 30 billion Bangladesh-China trade by 2021?

The two-way trade between China and Bangladesh reached about USD 12.5 billion in 2014, according to the International Trade Centre. Bangladesh's exports growth to China has averaged about 40 percent per annum in the past five years. On the other hand, import growth averaged 23 percent annually. Going forward, under even a conservative trade growth scenario, a back-of-the-envelope calculation indicates that the two-way trade between the two countries could exceed USD 30 billion by 2021. 
While Bangladesh has been given duty free access to a large number of products by Beijing, its export to China has not exceeded even one billion. Dhaka is likely to demand more soft provisions to access the trillion dollars worth Chinese consumer market. However, the fundamental drawback in this regard is that Bangladesh has one of the narrowest export baskets in Asia. The large and growing trade imbalance between the two countries can be reduced partly if China invests in Bangladesh's industrial sector, particularly relocating some of its low value added sun set industries. Goods produced in those industries could be exported to China.
One Belt, One Road: Linking Bangladesh with Southeast- and East Asia

Historically, China has been well-connected with its immediate neighbours as well as Europe, Middle East and Africa through the Silk Road for centuries. Beijing intends to reestablish this historical connection, creating a vast network of railway, energy pipelines, highways and modernising border points. Xi Jinping is the mastermind behind China's flagship plan under the aegis of One Belt, One Road (OBOR). About 70 countries have joined the project. Beijing is developing new institutions and channeling funds, such as the Asian Infrastructure Investment Bank and the Silk Road Fund, to support the largest undertaking since America's Marshall Plan, implemented after World War II. 
The BCIM Economic Corridor, involving Bangladesh, China, India and Myanmar, is also a part of OBOR. However, the progress of BCIM has been less than satisfactory, although its origin dates back to the 1990s, as China and India's strategic rivalry has slowed down the pace of BCIM. Dhaka needs to employ its diplomatic apparatus to integrate with China and other Southeast Asian countries, taking the institutional advantages of OBOR in general and BCIM in particular. Dhaka and Beijing should work closely to find ways Bangladesh can access the most dynamic region of the world, i.e. East Asia, through Myanmar, taking advantage of China's leverage over Naypyidaw. 
Ocean economy development in the world's largest bay

China's plan to revive the Maritime Silk Route (MSR) and development of economic belts offer immense opportunities for Bangladesh. The plan of the 21st century MSR coincides with Bangladesh's demarcation of its maritime boundary with two of its Bay of Bengal neighbours - India and Myanmar. This gives the country an opportunity to build a blue economy in the world's largest Bay. However, given the massive undertaking, it requires the involvement of regional as well as global powers to develop a modern ocean economy. 
China has expanded maritime cooperation in the area of ocean and climate change, marine disaster prevention and mitigation and biodiversity preservation with a number of countries. The China-ASEAN Marine Cooperation Center, the Indonesia and China Centre for Ocean and Climate, the China-Pakistan Joint Marine Center and the China-Sri Lanka Marine and Coastal Zone Joint Research Centre are some examples of how the MSR regions have amplified maritime cooperation. It is expected that both Dhaka and Beijing will sign agreements to forge greater cooperation involving blue economy during Mr. Xi's visit to Bangladesh.
The way forward 

Bangladesh's relation with China is not only important from an economic perspective, it is equally critical to manage more balanced ties with regional and global players, thereby minimising geo-political risks. In this pursuit, President Xi Jinping's visit to Bangladesh could have far reaching implications.
The writer is an economist based in China. 

Email: [email protected]