Are we running out of thought leaders?
Professor of English at Dhaka University and writer, Syed Manzoorul Islam talks to Eresh Omar Jamal on the core purpose of a university education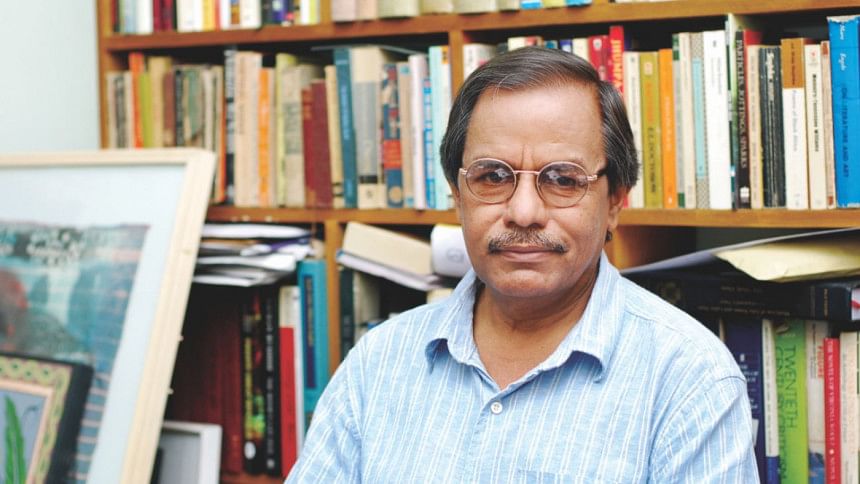 In an ideal world, what do you think is the purpose of a university?
I don't believe that we live in an ideal world. It's a theoretical and idealistic frame, handed down from a time when people dreamt about utopia. Although we have frequently heard of the term utopia since the time of Renaissance, it had never really materialised. What we are living in today is nothing short of a dystopia. Increasingly, our time is becoming very fractious and violent; and is far from the ideal world that you mentioned. But the university has the power to change this world substantially. A university is supposed to be a place where new learning is created and disseminated, ethical leadership is produced and the values of education are entrenched in the minds of the students. In situations where enabling forces come together, universities do perform according to the expectations of the people. If we look at Dhaka University, it has given leadership in all the political and cultural movements we have had in our country. A university is uniquely positioned to change the mindset of the students and imbibe in them the ideals of true citizenship, democracy, egalitarianism, humanism and a sense of belonging to the people and the land. And in varying ways, universities have always done that.
You have mentioned that there are students who are very conscious about what is going on around them. Are they being provided the necessary platforms to voice their concerns and opinions?
If you look at the history of social protests and political activism in our country, students have always created their own platforms — these had never been given to them. And the odds are often stacked against them. So they have to struggle to bring the people to share their platforms. As student activism of the right kind becomes less pronounced, the small number of activists needs the support of the wider student community. But the student community is increasingly becoming apolitical because they consider our politics to be violent and self-serving; so they keep their distance from this kind of politics. That is why conscious student bodies are having difficulty in setting up their platforms. But they are trying. 
In your long career as a teacher, what is your assessment of the type of education we are giving to our students?
We are increasingly embracing an education which is market driven, dependant on rote learning, and is full of examinations. Creative thinking is not encouraged. We do not see any enlightened policies that will inspire educational institutions to come up with their best. The primary reason, of course, is that we do not have the required investment. With meagre budgetary allocations you cannot expect miracles to happen. We do have an educational policy, but it still remains confined within the government conversation level. We are moving away from educational ideals which, for example, you would find in Rabindranath Tagore's "Eastern University", or in Ralph Waldo Emerson's "The American Scholar". What these two thinkers promoted is a scholar's ability to transform information into knowledge and knowledge into wisdom. This is missing in our educational enterprise.
So would you say that our higher educational institutions have not been as successful in producing the thought leaders many would argue universities are meant to produce?
Yes, they have produced capable market leaders and efficient executives for the corporate sector, MNCs and the government. But "thought leaders", as you put it — not many. Thought leaders by definition are those who inspire others to think, rationalise and reach for the highest ideals; they do not chase limited objectives, but transcend them and think out of the box; they are innovative and creative, ethical and uncompromising in their principles and have a strong sense of culture. Culture is missing in our education. Public universities have no cultural activities any more. Sports activities are also absent in most universities. Universities do not have proper laboratories — not to mention the state of the art laboratories needed in science education; they don't even have libraries, which, I believe are intellectual hubs of any university. What can the students learn then? So the students have no facilities and incentives to become thought leaders. All they want to do is to pass with good grades so they can get good jobs. Our politics doesn't encourage thought leaders; it in fact fears them. Our society is not prepared to welcome thought leaders. It is happy with the status quo.
To produce both creative and critical thinkers, what intellectual environment do you think is needed?
First, the prevalent market driven ideology has to be neutralised. Instead, students should be taught that if they become good human beings, are sensitive about issues that affect our lives, have humanitarian virtues, they can become leaders on whom others can depend on in times of crisis. Higher education is just the tip of an iceberg — the base is the most important in preparing students for their lives. Unfortunately, our primary education lacks imagination and the joy of learning. If our students were taught from the beginning of their lives that their sole purpose is not to become an office worker or a salary man, but to become a scientist, an educator, an innovator, a social leader, or as you put it so beautifully, a "thought leader", they would achieve wonders. But right now we have students who have not heard anyone telling them that their lives don't end in an office — government or corporate — but, the whole wide world is theirs. Everyone tells them to fit into the status quo. That cannot produce what you're asking for. 
Over the years have you noticed any significant change in how students approach their studies?
One change I have noticed is an overwhelming desire to put public examinations such as the BCS examinations over and above their university examinations. If you go to Dhaka University library in the morning, you will see a huge queue of students waiting to get in as soon as the doors open. The first look would make you very happy. This was my experience one fine morning at 7am when I saw students making a beeline for the library. But later I realised that they were there to read for their BCS examinations. That is the sad part. Another change, of course, is that students are becoming very apolitical. They are happy to work within the status quo. The desire for excellence is somehow muted. A university however, is a very strange and interesting place. While many students are going in that direction, quite a few others are taking a different direction. I believe that if even one percent students strive to become thought leaders, they can neutralise a much larger percentile looking to become office workers and salary men. So while a large number of students are looking to become government workers or corporate executives, others are preparing themselves to take up challenges of the future. Only the future can tell which force will be more important to us, but I hope that the latter will be more dominant in the years to come.
What is the difference in students' thinking now from when you were in university?
I was in the university in the pre-visual culture age. It was an age when books were important. The only screens we had access to were film and television. The university playground was always crowded. Politics was an addiction for many students because political platforms provided them an opportunity not simply to register their protests, but to exchange ideas. That is why Pakistan had no chance to resist us with its dysfunctional government. 1971 didn't happen only in 1971, it was a cumulative effort by generations of students who thought about their destinies, predicaments, problems and solutions. This kind of passionate thinking is missing today. The visual culture has created what a French philosopher, Guy Debord, said it would, back in 1968 — a society of the spectacle. With everything becoming spectacular, how can you instil values and education in which thinking through a problem is important? Where rationalising and philosophising is important? Now you have the Facebook culture, where the virtual has supplanted the real. But when we were students, we lived in a real world, where real pains and sufferings affected us. Not pains and sufferings carried through images on Facebook where you feel some kind of virtual sympathy and then forget about it. Because we felt real sympathy, we went the whole mile in helping people out in the streets. Now, and I don't blame them as they are products of their own time, people lack commitment. 
What advice would you give to young people who are trying to make a difference?
I do not like to give advice. But I do like to share ideas. Firstly I would tell them to believe in themselves. If Einstein could think of such a theory, so can you. Secondly, think out of the box. Society has put you in a box which doesn't have any windows. To get out, you must think independently and refuse to get detached from the people who have given you meaning. It doesn't matter what you become, each area has avenues that lead to the larger world. You must be ready to walk mile after mile towards your destination. Society will tell you you're no good. But don't believe in what people say. Believe in what the small voice inside of you tells you.