Only said what I've seen: Rayhan Kabir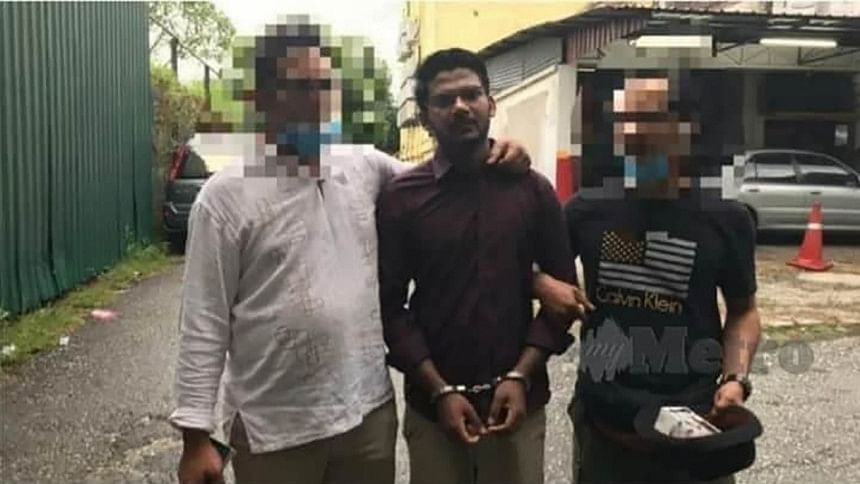 Mohammad Rayhan Kabir, a young Bangladeshi who spoke in a documentary aired by Al Jazeera and was arrested in Malaysia, said he only spoke of what he witnessed during the Covid-19 pandemic. However, his intention was not to offend anyone in Malaysia.
His lawyer Sumita Shaanthinni Kishna said this after she met Rayhan around 11:00am today.
Rayhan also informed that he was not mistreated after arrest. During interrogation, he told the Immigration Police that he spoke about what he had seen and that was his own understanding. But he did not want to hurt Malaysians.
He said that he wants to return home soon. 
Earlier on Monday, when the lawyers went to meet Rayhan, Malaysian immigration department did not allow them to meet him and said they would provide another date.
They allowed the lawyers to meet Rayhan around 11:00am today. Police officials along with immigration department officials were present during the meeting.
Before Monday, officials from the Bangladesh High Commission talked to Rayhan. According to the Foreign Ministry, Rayhan's issue will be resolved by maintaining bilateral relations with Malaysia.
"I did not lie. I have only talked about discrimination against the migrants. I have not committed a crime. I want the dignity of migrants and my country ensured. I want all migrants and Bangladesh to stand with me," Rayhan had told The Daily Star in a WhatsApp message shortly before his arrest.
Rayhan Kabir's family of four lives in Bandar upazila of Narayanganj. His father Shah Alam works in a garment factory.
Rayhan's mother has been unwell for the last one month, his father Shah Alam said. Apart from his parents, Rayhan has a sister in his family.
According to Shah Alam, his son has been arrested for protesting against discrimination and exploitation. He believes his son did not do anything wrong. The family wants immediate release of Rayhan. To his neighbours in Bangladesh, Rayhan was known to speak up against injustice and often helped out local kids with donations of old books. 
Rayhan (25), who went to Malaysia in 2014 and had been working after completing his bachelor's was the target of Malaysia's manhunt after his criticism against Putrajaya's detention of undocumented migrant workers in an Al Jazeera documentary titled "Locked Up in Malaysia's Lockdown" aired on July 3.

In the 26-minute video produced by Al Jazeera's 101 East team, he accused the authorities of racism against undocumented migrants.

 
The writer is a freelance journalist.