W Bengal nun rape case: 4 'Bangladeshis' detained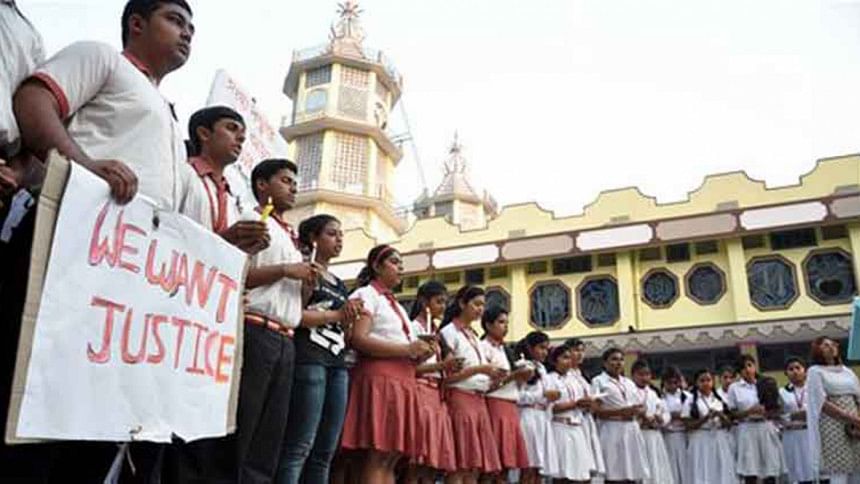 Indian police detained four alleged Bangladeshis in connection with the gang rape of an elderly nun and the subsequent robbery at a convent school in West Bengal's Nadia district, the local media reported today.
"Two were detained on Monday and two others on Tuesday and all four are Bangladeshis," reported the Hindustan Times quoting Dinkar Gupta, additional director general of police (security), reports our New Delhi correspondent.
Stating it as a sensitive matter, Ludhiana Deputy Commissioner Naveen Singla said, "We are interrogating them conducting search operations based on their information. The West Bengal police have already been informed."
Criminal Investigation Department (CID) officials, with the assistance of Mumbai police's crime branch, picked up one Sheikh Salim, a Bangladeshi national, from a Mumbai slum last Thursday.
The next day, a CID team arrested Gopal Sarkar, who is also stated to be a Bangladeshi, for allegedly providing shelter to those who committed the gang rape.
"Eight people were involved in the incident and they have possibly fled to Bangladesh," added the police.
The gang rape incident, which took place in Ranaghat of Nadia district on March 14, came against the backdrop of attacks on the Christian community and triggered an outrage.
The faces of suspects were seen on CCTVs installed on the campus of the Convent of Jesus and Merry High School. While four faces were recorded, four were drawn later on the basis of description given by the nuns and the security man present at the incident.