The legend of 'Murad Takla': origin, examples and other issues
No, it is not true that we all know who or what is a 'Murad Takla'. Many are still unaware of this unique cultural phenomenon that has been taking place on the internet for a few years now.
Let me illuminate what all the fuss is about.
Who or What Is a 'Murad Takla'?
'Murad Takla' is a generic term for anybody who writes Bangla using English alphabet but does it completely and often hilariously wrong.
Some Glaring Examples
1. "2016 amra bondhura sobai Cox's Bazar e onek moja korlam !!!!"
Notice the question marks at the end.
2. He is actually asking about his son (chele), if you didn't get it yet.
3. His name is definitely not 'Murad'. We all know that.
4. This meme says it all!
5.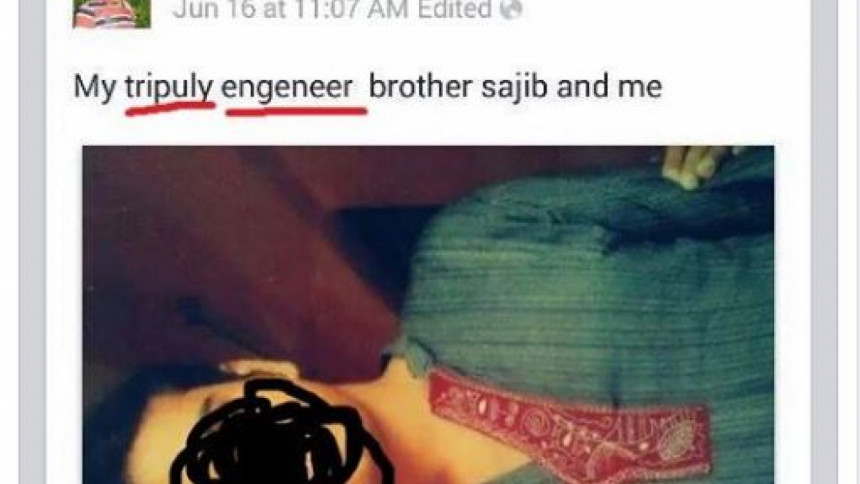 6. "Jokhon ratri nijhum nai chokhe ghum
Ekla sunno ghore
Tomay mone pore Allah
Tomay mone pore", that's what he is actually trying to say.
Luckily, God understands every form of languages!
7. It is quite readable, though! Almost not a 'Takla'!
8. "Mojar Lok" meaning funny guy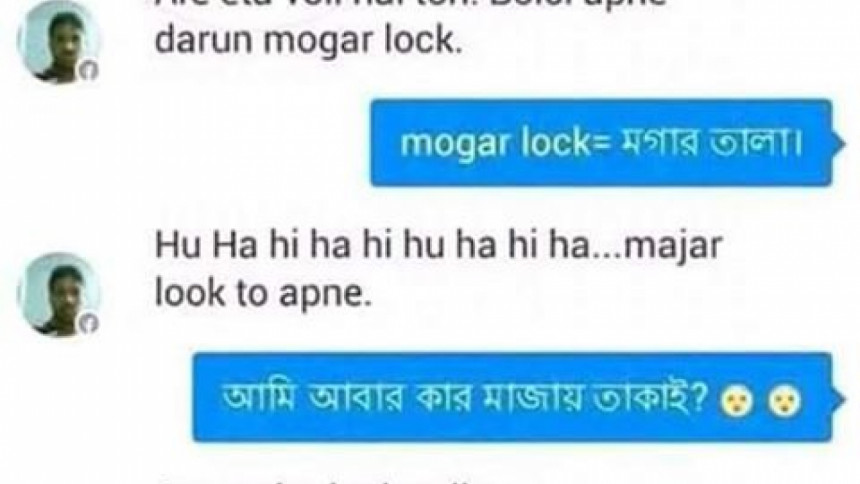 9. Ummm…..She is actually playing with her baby nephew, by the way.
10. 
The moment you realise that 'Taklas' are not exclusive to Bangladesh!
Origin of the Term?
As per a research conducted by The Daily Star's special supplement Shout in 2014, it was revealed that the term originated when a 'Takla' went on giving a threat to somebody somewhere in Facebook through transliterated Bangla saying 'murod thakle' -  meaning 'if you can dare' - but ended up writing 'murad takla' instead.
From then and there the fun-loving netizens picked it up and started using the term 'Murad Takla' for throwing at anybody who commits the blunder.
It soon became a generic term as it so beautifully epitomises a name who would naturally make such mistakes while using transliteration. And it sounds funny too! 
The Other Issues?
What other issues can be involved with Bengali netizens having some innocent fun poked out of these hilarious English transliterations done by our very own Bengali 'Taklas'?
However, there are some grave issues lurking just beneath the surface if you dig a bit deeper.
The purpose of transliteration, at the first place, was to make written languages available to a broader audience and help aid mutual intelligibility across languages. Now, it is broadly used to type various languages around the globe using QWERTY keyboards for ease of access while communicating online.
But what is unique here, in case of our Murad Takla, is that he is doing the transliteration of a language that he knows using alphabet and phonetics of another that he doesn't. And that's exactly where everything gets pretty messed up as you had seen above. Moreover, they are often not up to the mark when it comes to the language they know- in this case Bangla.
Thus, they often end up making it a simply out of the world phenomenon. One just can't get what they are talking about, cannot even have a wild guess at times.
Like this one below:
Apart from this technical aspect of the thing there is a philosophical and ethical one involved with it.
Whenever we are getting involved in poking fun out of a 'Murad Takla' we are essentially mocking a person's inability or shortcomings. Furthermore, we are making an attack on the person's freedom of expression and their use of language.
After all, we must remember that language is dynamic, it will change no matter how much we try to preserve the standard form of it. The form itself will keep evolving with time. However, we must remember that languages are not changed by the 'Taklas'. Even if so, then it is their right and our 'Taklas' must have their fair share of the pie.
Courtesy to all the Facebook pages dedicated to discover all the "Murad Taklas" around