YPF Budget 2020 Dialogue: Politicians Panel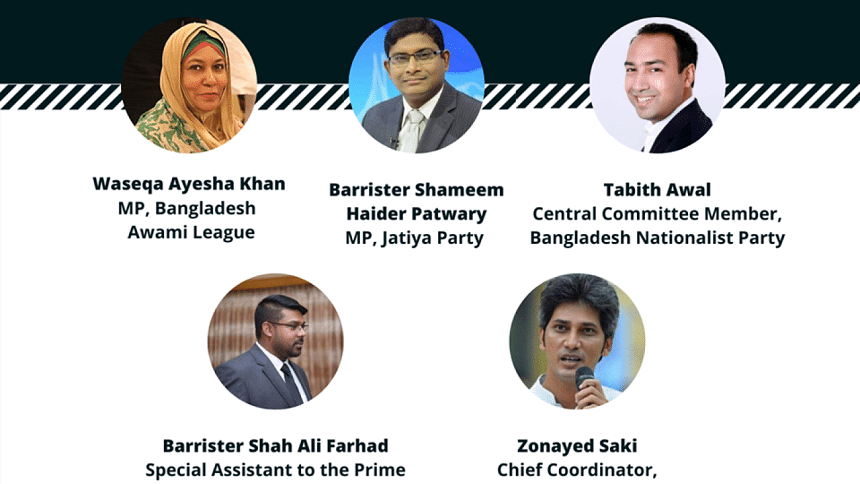 June 5th proved to be consequential for Youth Policy Forum (YPF) Budget 2020 Dialogue, with their second last panel bringing together leading politicians of varying party affiliations to discuss the recommendations put forward by expert and student-led panels in prior sessions. 
The esteemed panel consisted of Waseqa Ayesha Khan, MP of Bangladesh Awami League; Barrister Shameem Haider Patwary, MP of Jatiya Party; Tabith Awal, Central Committee Member of Bangladesh Nationalist Party; Barrister Shah Ali Farhad, Special Assistant to the Prime Minister and Zonayed Saki, Chief Coordinator of Ganosamhati Andolon, while Aamer Mostaque Ahmed, writer at Batighar Prokashoni, moderated the session.
This year's budget is critically important in managing the ongoing crisis of Covid-19 along with the economic challenges that are emerging as a result. Rigorous research, conducted by the YPF team, and feedback from the panelists of the previous episodes, have pointed out numerous policy barriers and highlighted potential solutions to sector-specific challenges: healthcare, social protection, agriculture and food security, education and employment, and infrastructure and energy. This webinar saw the team sharing these findings with national politicians for their take on the viability and effectiveness of the recommendations.
Healthcare
During the healthcare dialogue, challenges such as inadequate allocation of resources, the burden on public hospitals, lack of financial protection like health insurance, and the effect on mental health in post-Covid-19 situations were pointed out.
Tabith Awal recommended that a minimum of 5% of GDP needs to be spent in the healthcare sector, in order to tackle the current and upcoming health crises.
"There should be an increase in budget allocation towards universal health schemes such as insurance so that the public does not have to meet the expenses out of their pocket," he added.
Zonayed Saki pointed out the need to address the inadequate provision of COVID-19 test kits and quarantine facilities first and foremost.
Waseqa Ayesha Khan said, "We are hoping there will be a greater allocation of budget in the healthcare sector in light of the pandemic. Additionally, we are also expecting better implementation and review of resource allocation in order to ensure the healthcare sector receives all the resources required."
She shared some initiatives which are expected to mitigate the health crisis. Health sector budget allocation has been raised by BDT 7000-8000 crores, which will be used to increase manpower, develop infrastructure, and procure machinery.
"The government has already appointed 2000 doctors and 5054 nurses and there is a plan of recruiting more doctors and medical technicians. Health insurance procedures are already in trial at the upazila level," Shah Ali Farhad noted.
Social Protection
Even though the social protection sector of Bangladesh is highly appreciated for its performance so far, poor targeting, overlapping of projects, and absence of monitoring and evaluation remain as some of the challenges in this sector.
Zonayed Saki also felt that the budget allocation ought to be higher, saying, "At least 20% of the budget should be dedicated to social protection to secure food, shelter and healtcare."
Waseqa Aeysha Khan reflected that the current 3.6% allocation was a sizable portion and an indication of the government prioritizing social protection
The YPF Team found that there were nearly 140 social protection programs under 26 different ministries, and this leads to massive inefficiency and high administrative costs. The panel agreed to the necessity of bringing small and scattered projects under one umbrella to reduce project inefficiencies.
Agriculture and Food Security
The main challenge faced in agriculture is the disruption of its supply-chain because of the decline in demand and the unavailability of transportation services. Shah Ali Farhad highlighted that the government has allocated BDT 150 crore to provide plants and seeds to the farmers who were harmed. Additionally, 2 lakh metric tons of extra rice has been bought from the farmers to compensate for the loss due to a decline in demand.
Education and Employment
An increase in school dropouts and job losses are some of the primary repercussions of COVID-19. Focusing on this challenge, Shameem Haider Patwary said, "Students should be given an interest-free loan or direct cash transfer via mobile money. Budget should be available for technical skills training so that we can supply skilled laborers to the world when the pandemic is over.  Furthermore, supporting private sectors and attracting more FDI could help in creating new jobs and alleviate unemployment problem."
Tabith Awal felt that it was important to keep employment central in every budget discussion: "Each budget should aim to increase employment by 5% each year."
Shah Ali Farhad stated that the Youth Ministry has been allocated BDT 7,000 crore to support young people who may lose their jobs in the post-pandemic period.
Zonayed Saki emphasized on the need invest in and encourage research. "Our research situation is in shambles. Whatever good research is produced never sees encouragement or utility," he said.
Revenue Generation
Besides discussing budget allocation, the panelists stressed on the need to find ways to increase government revenue. In this crisis, it has now become important that the policymaker's focus on economic actions which would increase government revenue. Shameem Haider Patwary noted that instead of collecting the same amount of regressive tax through VAT, NBR should focus on progressive taxation – i.e, charging higher tax to the upper-income population. The government can also generate higher revenue by increasing taxes on large companies and industries such as tobacco.
During the dialogue, the panelists discussed the need for a bottom-up approach to discussing the budget as opposed to the current top-down dissemination. Waseqa Ayesha Khan insisted that greater engagement with the civil society, through platforms such as Youth Policy Forum, could prove to be very fruitful. "I will try to take YPF's recommendations to the next level, if not at this budget then the next one."
In her concluding remarks, Waseqa Ayesha Khan expressed hope for the Bengali people and the economy, "We hope that the economy of Bangladesh will prove to be as resilient as the people of Bangladesh who have persevered despite many shocks to their lives and livelihoods."