promotional Content
The wonders of taro stolon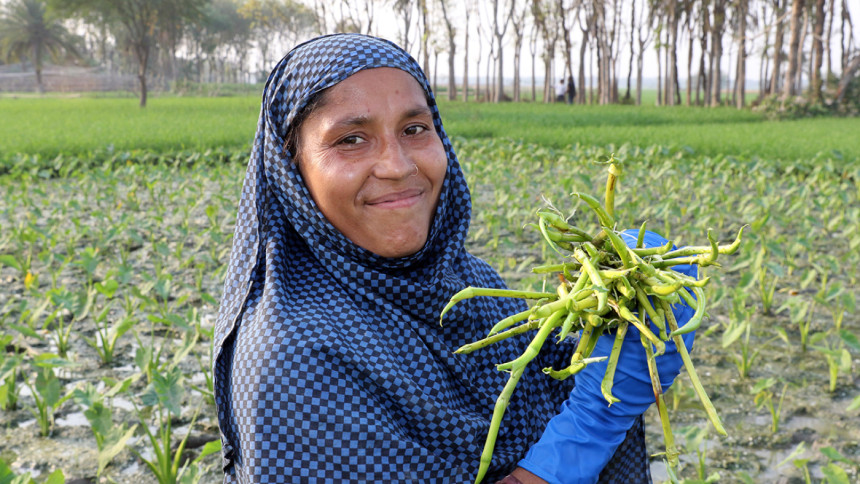 Taro stolon, commonly known as kochur loti in Bangladesh, is a common item in Bengali cuisine. Several exotic Bengali dishes are made with this scrumptious vegetable. One of the most common dishes is kochur loti with narikel and shorshe. This is a strongly flavoured curry made with taro stolon, coconut and mustard paste. Taro stolon curries are also cooked with shrimp and macher muro of different types of big fish such as Rui and Hilsha. Besides enhancing the taste of Bengali cuisine, taro stolon also plays a significant role in keeping us healthy.
It is interesting to note that taro stolon contains more calories than potatoes; 100 grams of taro stolon can provide up to 112 calories. Their calorie value is largely derived from complex carbohydrates namely, amylose and amylopectin. Their protein levels can be compared to other tropical food sources such as yam, cassava, potato, plantain, etc.  However, they are a minor source of fat and protein compared to cereals and pulses. Taro stolon is one of the finest sources of dietary fibre; 100g flesh provides 4.1g or 11 percent of the daily requirements of dietary fibre, thus playing a vital role in protecting the digestive system. Along with slow digesting complex carbohydrates, the presence of adequate amounts of fibre in the vegetable helps maintain a steady rise in blood sugar levels. Taro stolon can also help reduce high blood pressure. Moreover, it protects the skin, prevents different types of cancer, increases blood circulation, prevents heart diseases, improves vision, boosts the immune system, and strengthens muscle and nerves. It also prevents diarrhoea, cramping, constipation, bloating, excess gas, and improves the overall health of the body.
Beauty Begum, a taro stolon farmer from Kaliganj, Jhenaidah, shares her experience of cultivating this vegetable. Initially, irrigation is done after ploughing the land. The saplings are then planted and a week later, organic fertlisers as well as inorganic fertilisers such as TSP and urea are applied. Pesticides are applied after a week of planting the sapling. Medications are also used to avoid the growth of grass around the stolons. Irrigation is done once every week. Once the taro stolons start growing, they are harvested twice a week.
Beauty Begum, along with many farmers of the area, provides vegetables for Shwapno under the Shuddho project. According to her, this initiative has helped her adopt the right agricultural practices for growing taro stolon, especially in terms of learning about how much fertiliser or pesticide should be used. Farmers also have an opportunity to learn about the interval period between pesticide application and harvesting, known as the Pre-Harvest Interval (PHI).
Taro stolon is a very effective source of nutrients and vitamins for our health and wellness. So the next time you see taro stolon in the vegetable section, do include it in your basket to reap its optimal benefits.
A joint initiative of Shwapno and The Daily Star