Reimagine Your Business: eGeneration organises industry-specific webinar series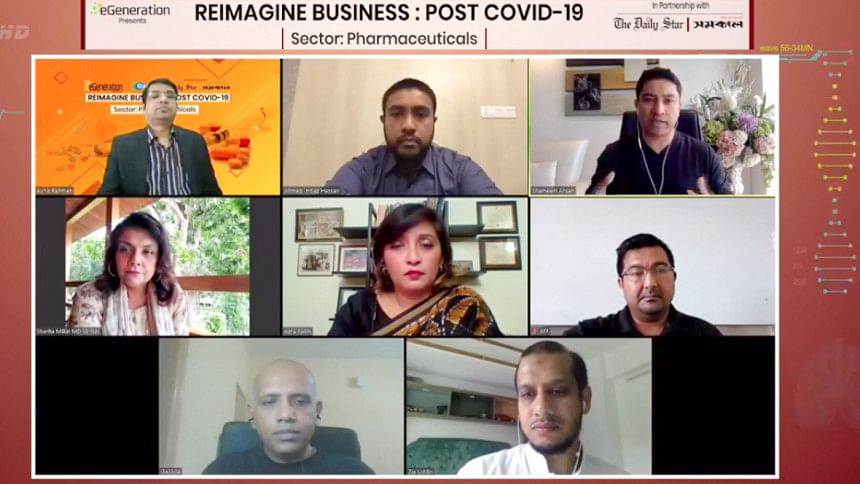 In response to the Covid-19 pandemic, which has brought our lives to a standstill and caused an economic fallout across the world, eGeneration has organised an industry-specific series of webinars.
The webinar series titled 'Reimagine Your Business: Navigating through Economic Challenges and Emerge Stronger amid Covid-19', has been powered by RTV, in partnership with The Daily Star and The Daily Samakal.
The first webinar of the series commenced live from the Facebook pages of RTV, eGeneration, Shameem Ahsan, The Daily Star and The Daily Samakal on April 30, focussing on the pharmaceutical sector. It discussed how pharmaceutical sector still needs to keep their operations running not only to support the affected but also to cater to the general public.
The webinar also discussed how to formulate strategies on: staying productive; conduct research and development to create business opportunities; ensure uninterrupted supply chain and logistics support; as well as develop domestic and international markets.
Local experts and business leaders, as well as international experts joined the platform to discuss the challenges and solutions faced by the pharmaceuticals sector. 
"Our concern should not be limited to surviving through the pandemic, but utilize this time to brand Bangladesh as a global pharmaceutical destination and take proper measures instantaneously by investing in global marketing, joint ventures, technology solutions like ERP and analytics, and product innovation through R&D. We need to make foreign direct investment (FDI) easier so that our local pharmaceuticals have enough capacity to invest," said Shameem Ahsan, chairman of eGeneration Group.
"Bangladesh formulates 98% of the drugs domestically. However, our high dependency on imported raw materials is a big threat for us. We need to look into overcoming this inadequacy by building our own capacity in raw materials," said Zia Uddin, chairman of Active Fine Chemicals Ltd.
"We are eagerly waiting for an effective drug to stop this pandemic, but for now we are leaning more towards the anti-viral medications. The pharmaceutical industry is facing some challenges in the short-run due to lockdown, but we are working relentlessly so that the industry will operate adequately in the long run," said Sharita Millat, managing director of Veritas Pharmaceuticals Ltd.
"A pharmaceutical company's crucial task is to communicate with doctors and work closely with them. However, at present due to social distancing guidelines, we are unable to physically access doctors, therefore we are moving our salesforce activities to a digital platform," said Azra Salim, director of Jayson Pharmaceuticals Ltd.
"Apart from working remotely, I suggest considering employee safety to ensure the health and wellbeing of the pharmaceutical employees and have access to the data, reports and analysis on the latest situation, and building operational utility with remote assistance for engineering and front-line employees," said Afif Mohamed Ali, country manager of Microsoft Bangladesh, Bhutan, Brunei and Nepal.
"Digital transformation is compulsory for pharmaceutical companies, especially for larger pharmaceutical companies, I suggest implementing BW/4HANA and SAP analytics to achieve a smoother operation," said Ahmed Imtiaz Hassan, director (Business Development) of Aristopharma Ltd.
"Countries such as Bangladesh and India are highly dependent on China, and the current crisis has proven the necessity of these countries to reduce its dependency," said Rajesh Kuppuswamy, pharmaceuticals industry advisor, SAP India Private Ltd.
CEO of RTV Syed Ashik Rahman moderated the webinar.
The upcoming episodes of the webinar series will include more experts from various industries such as eCommerce, Education, Healthcare among others.