3D hologram of Bangabandhu showcased at Joy Bangla Concert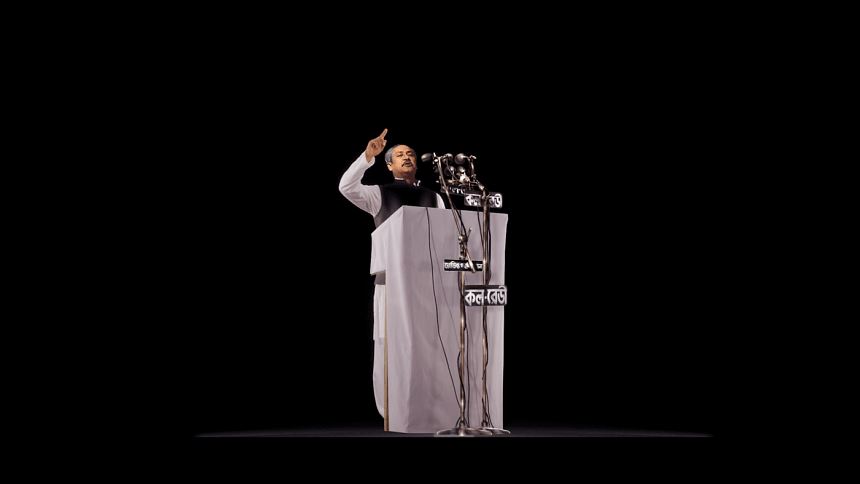 Father of the Nation Bangabandhu Sheikh Mujibur Rahman appeared before thousands of people at the Bangladesh Army Stadium during the Joy Bangla Concert at Bangladesh Army Stadium on March 7 -- virtually, through holographic technology.
Commissioned by the Information and Communication Technology (ICT) Division of the Government of Bangladesh, the project to recreate the historic speech was implemented by NDE Solutions Ltd -- a subsidiary of National Development Engineers Ltd -- in partnership with a foreign company.
"Holograms are three-dimensional images formed by the interference of light beams from a laser or other coherent light sources. This particular project was undertaken using a patented, state of the art hologram technology to ensure as realistic an experience as possible," said Riyad SA Hossain, managing director of NDE Solutions Ltd.
The hologram display at the concert began with Bangabandhu's two daughters -- Prime Minister Sheikh Hasina and Sheikh Rehana -- appearing before the audience in hologram from and sharing memories of their father's historic speech.
The PM's hologram also recited a poem.
The hologram project aims to revive the spirit of independence among the nation's youth and will be shown live at the Shishu Mela event to be held at Jatiya Sangsad Bhaban premises on March 19, according to a statement released by NDE Solutions Ltd.
The hologram will also be showcased at the World Congress on Information Technology (WCIT), to be held in Dhaka in 2021, as per the statement. A permanent installation of the hologram will also be installed and made accessible to visitors at the Bangabandhu Memorial Museum at Dhanmondi 32.