ICC CRICKET WORLD CUP 2015
New Zealand scrape past Bangladesh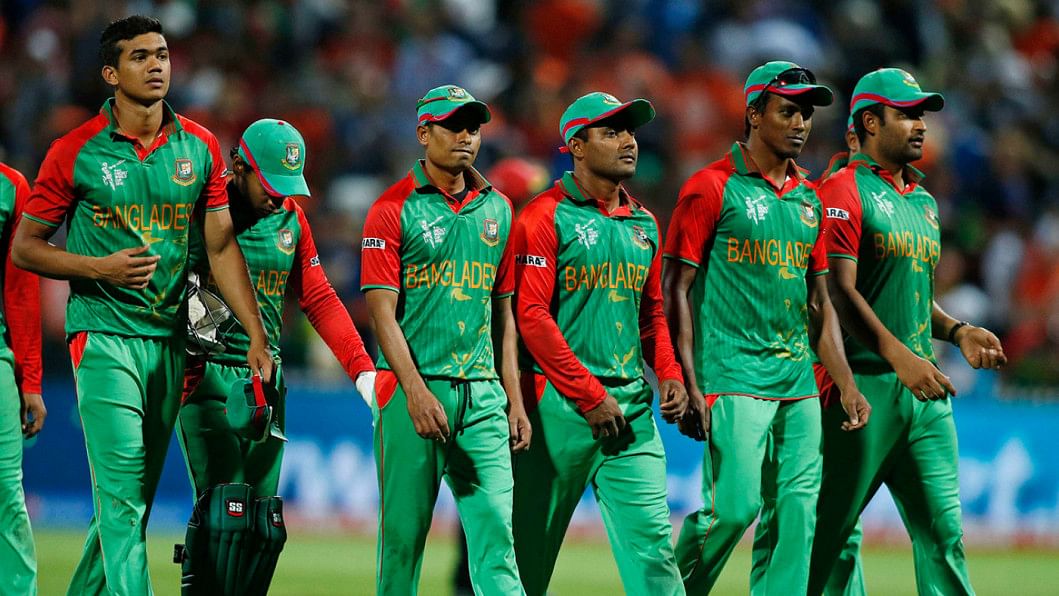 MATCH 37: BANGLADESH VS NEW ZEALAND
Bangladesh 288/7 (50 Overs)
New Zealand 290/7 (48.5 Overs)              New Zealand won the match by 3 wickets
In a game dragged down to the end with balance swinging about like a pendulum, New Zealand managed to get past Bangladesh at Hamilton in today's World Cup game.
Bangladesh's fight ended at a heartbreaking finish with getting "so close but yet too far" to end host and heavyweight contender New Zealand's undefeated streak in the tournament.
With both teams already advancing to the quarfinals, Bangladesh is most likely to face India and New Zealand to Ireland or Pakistan or West Indies in the knockout phase.
Put to bat first, Bangladesh made a challenging total of 288 runs riding on the second straight century of Mahmudullah Riyadh in this tournament after a dismal start.
Openers Tamim Iqbal and Imrul Kayes fell early to Trent Boult before Soumya Sarker struck his maiden fifty to helm Tigers' innings in a 90-run crucial stand with Riyad.
Though Soumya gave away his wicket after the half-century, Mahmudullah continued strong with falling wickets by his side and made 104 runs off the last 10 overs.
Trent Boult, Corey Anderson and Grant Elliott took two wickets each with Daniel Vettori claiming one for himself.
| | | | |
| --- | --- | --- | --- |
| Bangladesh |   | Runs | Balls |
| Tamim Iqbal | c Anderson b Boult | 13 | 27 |
| Imrul Kayes | b Boult | 2 | 19 |
| Soumya Sarkar | c Anderson b Vettori | 51 | 58 |
| Mahmudullah | not out | 128 | 123 |
| Shakib Al Hasan* | c †Ronchi b Anderson | 23 | 18 |
| Mushfiqur Rahim† | c †Ronchi b Anderson | 15 | 25 |
| Sabbir Rahman | c McCullum b Elliott | 40 | 23 |
| Nasir Hossain | c Taylor b Elliott | 11 | 7 |
| Rubel Hossain | not out | 0 | 0 |
| Extras  5 | Total | 288 |   |
Coming down to defend the total, Bangladesh started proceedings and continued most of the match with spin, a bowler short with Mashrafe Mortaza under rest for a sore throat.
Captain Shakib Al Hasan, who did not shine with the bat, did so with the ball ridding dangermen Brendon McCullum and Kane Williamson early into a fiery start from the Kiwis.
However, it was the 131-run stand between centurion Martin Guptill and Ross Taylor that anchored the run chase of New Zealand.
Shakib struck twice more with Nasir Hossain chipping in for an exciting finish. But, Vettori and Southee held onto their wickets and guided the way to victory for New Zealand.
Shakib ended with a four-for with Nasir Hossain claiming two and Rubel Hossain claiming another. However, the fast bowlers were unexpectedly kept from today's depth attack.
| | | | |
| --- | --- | --- | --- |
| New Zealand |   | Runs | Balls |
| MJ Guptill | c Rubel Hossain b Shakib Al Hasan | 105 | 100 |
| BB McCullum* | c Soumya Sarkar b Shakib Al Hasan | 8 | 8 |
| KS Williamson | c Tamim Iqbal b Shakib Al Hasan | 1 | 2 |
| LRPL Taylor | lbw b Nasir Hossain | 56 | 97 |
| GD Elliott | c Taskin Ahmed b Rubel Hossain | 39 | 34 |
| CJ Anderson | b Nasir Hossain | 39 | 26 |
| L Ronchi† | c Nasir Hossain b Shakib Al Hasan | 9 | 10 |
| DL Vettori | not out | 16 | 10 |
| TG Southee | not out | 12 | 6 |
| Extras  5 | Total | 290 |   |
Bangladesh Team
Tamim Iqbal, Imrul Kayes, Soumya Sarkar, Mahmudullah, Shakib Al Hasan (C), Mushfiqur Rahim (wk), Sabbir Rahman, Nasir Hossain, Taijul Islam, Taskin Ahmed, Rubel Hossain
New Zealand Team
Martin Guptill, Brendon McCullum (C), Kane Williamson, Ross Taylor, Grant Elliott, Corey Anderson, Luke Ronchi (wk), Daniel Vettori, Mitchell McClenaghan, Tim Southee, Trent Boult