Farabi remanded again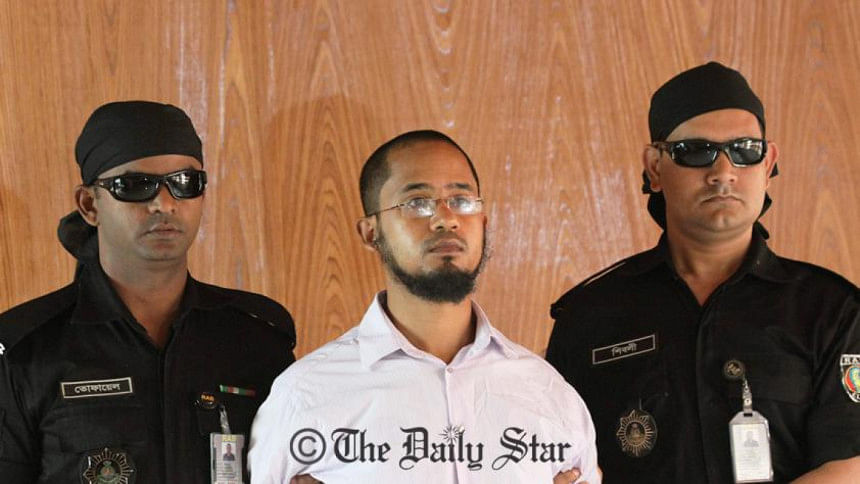 A Dhaka court today placed Shafiur Rahman Farabi, the prime suspect in the killing of writer-blogger Avijit Roy, on a fresh four-day remand in a case filed under the Information and Communication Technology Act.
Metropolitan Magistrate Ashoke Kumar Dutt passed the order after investigators produced him before the court on completion of his five-day remand.
Wahiduzzaman, inspector of Detective Branch (DB) of police and also the investigation officer of the case, had sought a seven-day remand for Farabi.
Earlier on Saturday, he was put on a five-day remand in the same case.
Fazlur Rahaman, Inspector of Detective Branch of police, filed the case against Farabi with Ramna Police Station on March 14 for issuing threats to kill Avijit through a number of posts on Facebook.
Farabi was arrested on March 2 and placed on a 10-day remand in connection with the Avijit murder case the flowing day.
During the remand that ended on March 14, detectives searched his blog and Facebook account and found that Farabi issued threats to many people, which is an offence under the ICT Act.
But Farabi denied his involvement in the murder, said Fazlur Rahman.
Unknown assailants hacked and brutally killed the Bangladesh born American citizen and seriously injured his blogger wife Rafida Ahmed Bonya on the Dhaka University campus on February 26.
On March 5, a four-member team of FBI joined hands with the local investigators to help them probe the murder case. FBI officials were also handed some evidence for test in their lab.