Death toll from Padma launch capsize reaches 70
Sunken MV Mostafa pulled out, 36 still missing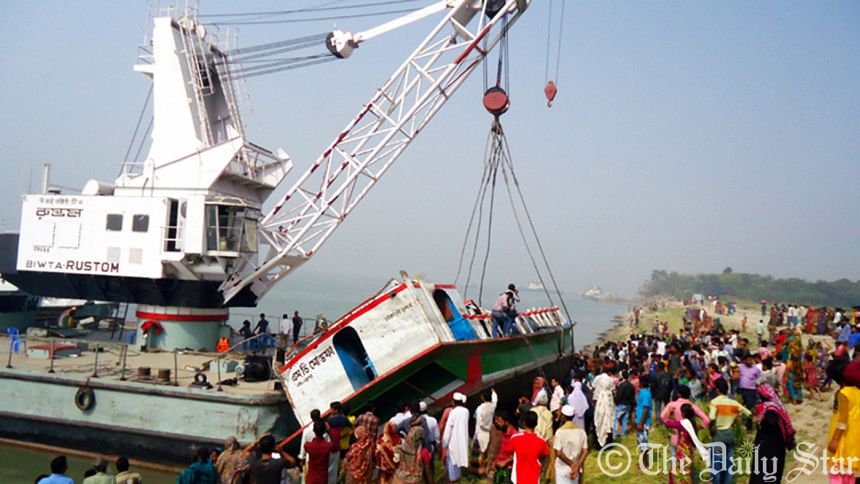 The death toll from the Padma launch disaster has raised to 70 as rescuers recovered 28 more bodies till this morning.
Divers recovered the 28 bodies between 2:00am and 10:45am, said Abdus Salam, a sub-inspector of District Special Branch (DSB) of police.
Among the dead, 68 were handed over to their families so far, reports our Manikganj correspondent.
Rescue vessel Rustam, which reached the spot from Mawa around 11:00pm, pulled out the sunken launch around 5:00am and took it to Paturia ghat, the DSB official said.
The ill-fated launch, MV Mostafa, sank with more than 200 passengers in the middle of Padma river in Manikganj after being hit by cargo vessel Nargis-1 yesterday morning.
Thirty six passengers remain missing amid the continued rescue operation which was going on till 11:50am since this report was filed.
Around 80 to 90 passengers were either rescued or they swam about half a kilometer to reach the shore, said witnesses and locals.
Soon after the accident, Bangladesh Inland Water Transport Authority, Bangladesh Inland Water Transport Corporation and the river police jointly launched a rescue operation.
The disaster took place minutes after the launch left Paturia terminal for Daulatdia ferry ghat in Rajbari at 11:40am yesterday.
Six months back, a double-decker launch, Pinak-6, sank with more than 200 passengers in the same river near Mawa ghat in Munshiganj, leaving more than a hundred people dead.