7 vehicles torched; 3 injured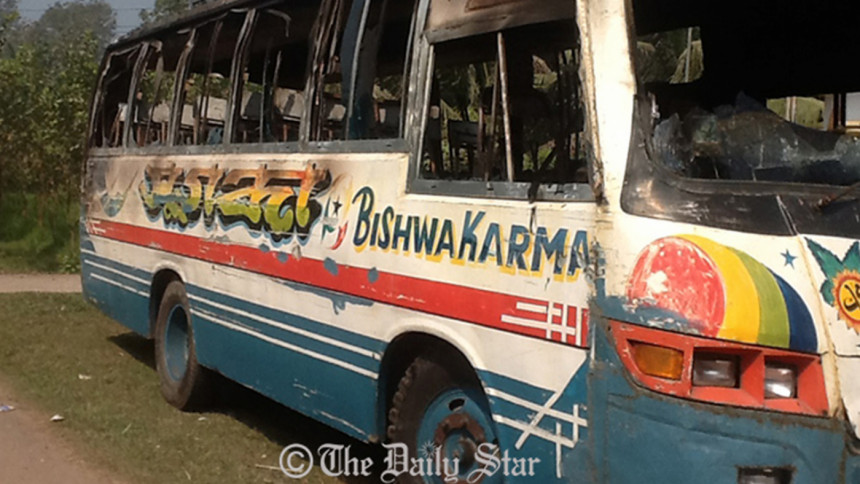 Miscreants torched at least seven vehicles in Dhaka and elsewhere across the country leaving at least three people injured today, the second day of the fresh spell of 72-hour hartal enforced by the BNP-led 20-party alliance.
Three passengers of a bus carrying Janata Bank staff were injured as pro-hartal activists hurled a crude bomb on the vehicle at Jatrabari in Dhaka.
The victims are now undergoing treatment at Dhaka Medical College and Hospital, Inspector Muzammel Haque, the in-charge of the hospital police camp, told The Daily Star.
Of them, two received splinter injuries during the blast while another was hurt as he jumped off the bus to escape the attack, Muzammel said.
The arson attack took place at Bhanga Press in Jatrabari area around 9:30am.
Miscreants also torched two private cars parked in front of a residential hotel at Bijoy Nagar in the capital this afternoon.
A group of pro-hartal activists torched the vehicles around 4:10pm, Fire Service and Civil Defence headquarters source said.
Meanwhile, police detained 14 activists of BNP, Jamaat-e-Islami and its student wing, Islami Chhatra Shibir, from different places of the capital on charge of plotting subversive activities in 24 hours till 9:00am today.
Of the detainees, seven activists are from BNP and seven are from Jamaat-Shibir.
In Feni, alleged pickets torched a passenger bus, but no injury was reported from the attack, reports our Feni correspondent.
The hartal supporters, who boarded the bus of Sugandha Paribahan in guise of passengers, forced to stop the vehicle at Aziz Fazilpur Moktarbarir Darja district around 7:00am, said Md Abu Faisal, officer-in-charge of Dagonbhuiyan Police Station.
They first forced the passengers to get off the bus and then torched the vehicle pouring petrol, the OC said adding that all the seats of the bus were gutted in the arson attack.
The bus was heading for Sonapur of Noakhali from Mahipal of Feni.
Police later took the gutted bus to the local police station.
The 20-party alliance enforced shutdown alongside its nonstop blockade which began yesterday around 6:00am and will end around 6:00am on Wednesday to meet its demand for an inclusive general election under a nonparty administration.
In Bogra, two trucks were torched on Bogra-Naogaon highway in Arulia area of Bogra Sadar Upazila around 5:45am.
No injury was reported in the attack, says our Bogra correspondent.
Rafiqul Islam, one of the drivers of the trucks, said, some unidentified people set ablaze his fish-laden truck which was heading to Natore.
Contacted, Assistant Superintendent of Police (A Circle) of Bogra Nazir Ahmed Khan said miscreants torched another truck at the same area and fled the scene.
In Dinajpur, alleged pickets hurled a petrol bomb at a truck on Dinajpur-Dhaka highway in Nawabganj upazila early today.
The Dinajpur-bound truck from Sirajganj was torched near Bhaduria area around 6:00am, but none was hurt in the incident, Amirul Islam, officer-in-charge of Nawabganj Police Station told our correspondent.
Firefighters of Hili Fire Service Station rushed to the spot and doused the fire immediately, he added.
In Joypurhat, some four miscreants exploded two crude bombs in front of Islami Bank office and ransacked windowpanes of a diagnostic centre today.
Later, another group of miscreants numbering 10 to 14 went on rampage at several business establishments in Amtoli area of Joypurhat municipality.
Sirajul Islam, inspector at Joypurhat Sadar Police Station, told our Dinajpur correspondent that businessmen were forced to shut down their business establishments following the incident.