Scientists to adjust 'Doomsday Clock' to set new time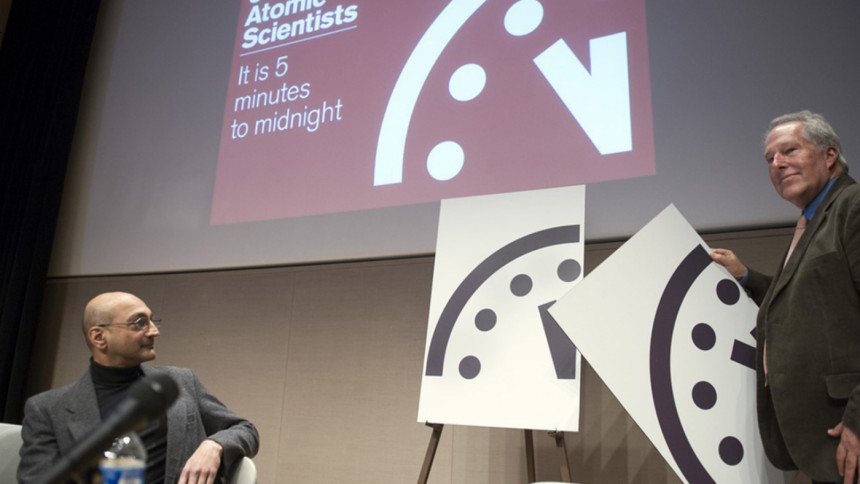 Scientists are set to announce today whether the civilization is any closer or farther from disaster based on a "Doomsday Clock" that measures the likelihood of a global catastrophe.
The Bulletin of the Atomic Scientists is expected to unveil the minute hand on the metaphorical clock, which reflects the vulnerability of the world against global cataclysms which can result from nuclear weapons, climate change and new technologies, in Washington DC at 1:30pm ET today.
Are you concerned about nations that don't currently possess nuclear weapons acquiring them?

— BulletinOfTheAtomic (@BulletinAtomic) January 25, 2016
Governor of California Jerry Brown will join former US Secretary of State George Shultz and former US Secretary of Defense William Perry for a discussion at Stanford University after the unveiling.
Earlier in 2015, the scientists adjusted the clock from five minutes-to-midnight to three minutes-to-midnight, and cited climate change, modernization of nuclear weapons and outsized nuclear weapons arsenals as "extraordinary and undeniable threats to the continued existence of humanity," reports Mashable.
The minute hand, which is assessed every year, has previously stayed the same and also been adjusted in the opposite direction.
In 2010, the bulletin scientists adjusted the clock from five minutes-to-midnight to six minutes-to-midnight citing the US-Russia nuclear talks and agreement to limit a rise in global temperature.
This year, the scientists are expected to consider tensions between the US and Russia and the recent North Korean nuclear test to adjust the clock.
The Bulletin of the Atomic Scientists was founded in 1945 by University of Chicago scientists who helped in the development of the first atomic weapons. They created the clock two years later, with midnight symbolizing the apocalypse.
The bulletin's science and security board, which includes physicists and environmental scientists from across the world, takes the decision to move or leave the clock alone after consulting with the bulletin's Board of Sponsors, which includes 17 Nobel laureates.
The closest the clock has ever come to midnight was two minutes away in 1953, when the then Soviet Union tested a hydrogen bomb following a hydrogen bomb test by the US.