New York celebrates its first "Lalon Festival"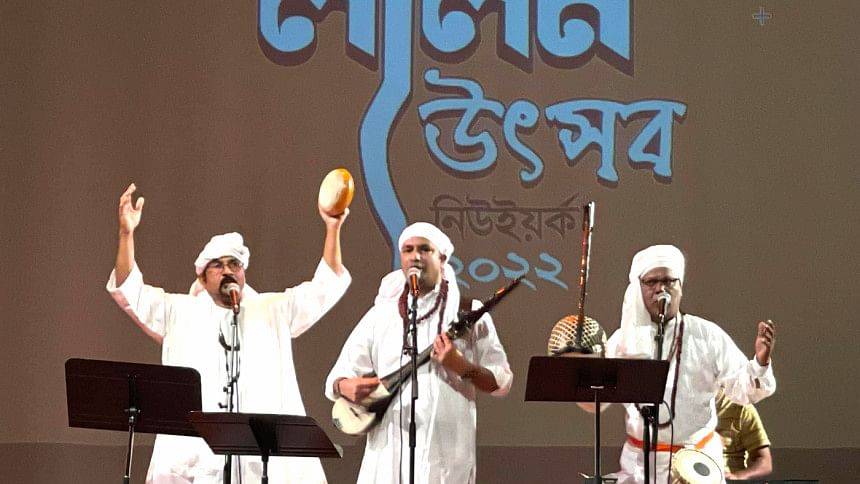 Lalon Festival was held for the first time in New York, USA, on October 30, 2022. Bangladeshi expatriates flocked to enjoy the colorful festival, organised by the United States Lalon Parishad.
The performances were composed in order to familiarise audiences of all ages with Lalon's songs, life, and beliefs. Many expatriate Bangladeshi baul singers from New York and surrounding areas joined the festival.
Farida Parveen, Legendary Lalon singer, inaugurated the festival held at the Jamaica Performing Arts Center at 3pm on October 30. She was accompanied by renowned flute player Gazi Abdul Hakim.
The main event started with visual screening of the play "Man of the Heart," directed by Suman Mukherjee, Indian director and theater icon, with Sudipta Chattopadhyay as the star. It used stories, songs, and acting to portray Lalon and his works. Theatre personalities Rekha Ahmed and Gargi Mukherjee were the guests of honour. Along with this, Lalon's identity was highlighted in another short documentary directed by Dr Ziauddin Ahmed.
In a seminar on Lalon's life and philosophy, experts highlighted why Lalon is important in the contemporary world. Farida Parveen, Gazi Abdul Hakim and Golam Sarwar Harun were the keynote speakers.
Lalon, according to the speakers, was a very simple man. He has lived like an ordinary person all his life.
The first Lalon festival in New York ended around midnight. The founder of USA Lalon Parishad and organiser of the Lalon Festival, Md Abdul Hamid, said that they would make an effort to hold this festival every year.