Workers' Migration to Malaysia: Some old issues still remain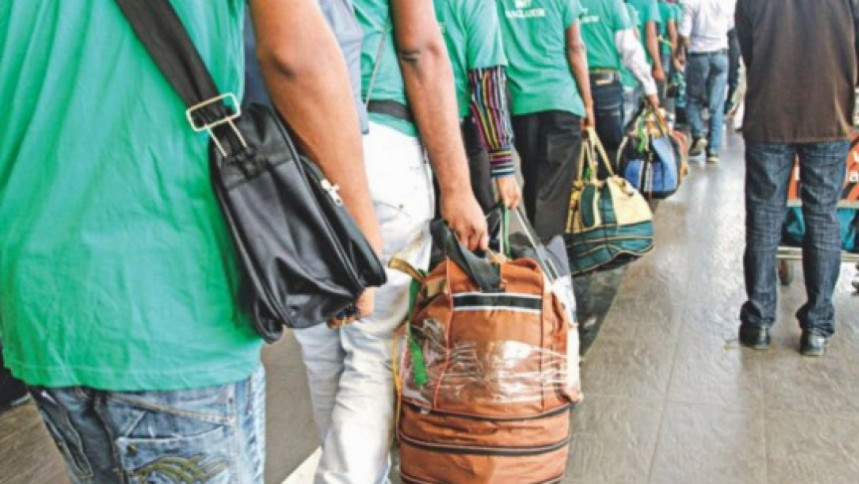 Kuala Lumpur is set to resume hiring Bangladeshi workers, more than three years after the then Malaysian government, led by Mahathir Mohamad, froze fresh recruitment from Bangladesh citing forced labour and high migration costs.
Both sides struck a memorandum of understanding (MoU) in this regard on December 19 and if everything goes well, Bangladeshis will start joining their new jobs in the Southeast Asian country in January, say officials.
Those working to protect the rights of migrants, however, pointed out that some key issues, which led to forced labour and high costs in the past, remain unaddressed.
The MoU, signed in Kuala Lumpur on December 19, has not been made public, they also said.
In a statement, the Bangladeshi expatriate ministry said the recruitment costs in the Malaysian end would be borne by the Malaysian employers. These include flight fares, health examination, visa and immigration fees as well as costs for Covid-19 tests and quarantine.
But the statement does not say who will pay the migration costs at the Bangladeshi end. Neither does it answer what will happen in case the workers face exploitation or are not paid properly in Malaysia.
In such a situation, chances are there that the migrants are set to find themselves in trouble again, the rights activists said.
As per the ethical recruitment model of the International Labour Organisation (IOM), all recruitment costs should be paid by the employers.
The statement said the employers would take care of the workers' accommodation, and health and medical insurances. The migrants will get one weekly day off and be paid overtime if they have to work more than eight hours a day. They will be entitled to annual leaves as well.
If a worker is injured at work, they will be compensated. In case the injury is permanent, they will get a lifelong pension upon arrival in Bangladesh. If a worker dies in an accident at work, their family will get a one-time compensation as well as a long-term pension, the statement also said.
Asked about the high migration costs and what will happen in case workers are exploited, Expatriates' Welfare and Overseas Employment Minister Imran Ahmad said those would be significantly less this time. He did not go into details.
Rights activists said each Bangladeshi worker, on average, had to spend Tk 4 lakh for a job in Malaysia during 2016-18, whereas the agreed amount was Tk 39,500. It was Tk 2 lakh during 2007-08 period against the agreed Tk 84,000.
During both periods, the private sector was engaged in recruitment.
This time, private agencies are being involved again. A new addition to the process is the Malaysian recruiting agencies.
According to the recruiting agencies, if the MoU is enforced properly, the actual migrant cost in the Bangladesh end will be less than Tk 50,000 -- recruiting agency's fees Tk 30,000 and a maximum of Tk 20,000 for medical check-up, documentation, and government charges.
Rights activists said recruitment fees in both countries should be borne by the employers under the IOM's ethical recruitment model.
Violating the model, unauthorised recruitment agents in Bangladesh made migrants pay the fees to secure job contracts from Malaysian companies.
This time too, the unauthorised agents will be there. They will work along with licenced Malaysian recruiting agencies, the experts said.
At the Bangladeshi end, it has been a long-held business practice that several layers of unauthorised brokers are engaged in enticing jobseekers and charging high fees from them.
At the Malaysian end too, there are unauthorised agents. Even the human resources managers of the employing companies charge illegal fees from those agents. That's how the cost of recruitment went up in the past years, they said
Joseph Paul, director of Tenaganita, a rights body based in Kuala Lumpur, questioned why the recruitment cost at the Bangladesh end would be borne by the workers. This is an element of forced labour, he said.
The other malpractices during 2016-18 that worsened the recruitment process was a syndicate of 10 agencies picked by the then Nazib Razak government, despite Bangladesh offering a list of more than 700 agencies for the job.
Andy Hall, an independent migrant rights expert on Malaysia, said there are serious concerns that a syndicate of agencies will be dominating the recruitment this year as well.
The previous malpractice, in that case, could return, said Hall, now based in Nepal.
He also said this fear was there because the previous experience suggests that the employers pass on all the costs to the migrant workers.
Some experts believe that Malaysia is now facing pressure from foreign buyers, including those from the US, the UK, and other European countries, over labour rights issues. In the last two years, seven Malaysian firms faced US import bans over allegations of forced labour. Last month, home-appliance maker Dyson cut ties with its biggest supplier, a Malaysian firm, over labour conditions.
Under pressure from the US, Top Glove Corp, the world's biggest medical glove maker, agreed to pay $33 million to migrant workers to reimburse recruitment fees they paid in their home countries.
Malaysia fell to "Tier 3" in this year's Trafficking in Persons (TIP) report as it continued to conflate human trafficking and migrant smuggling crimes, and did not adequately address or criminally pursue credible allegations on labour trafficking.
"Malaysia, therefore, is under global scrutiny over the forced labour issue that could affect foreign investment in the future," Joseph Paul told this correspondent on Thursday.
He suggested that Malaysia regularises some four million undocumented migrants before making fresh recruitment. "There are thousands of Bangladeshi migrants who paid money to agents in the last several years for getting documented but failed due to corruption of the agents."
Migrant rights researchers in Malaysia said it needs about Malaysian Ringiit 7,000 (including agent fees) for regularisation, which the migrants affected by the pandemic, cannot afford.
Joseph said if new recruitment is really necessary, the arrangement should be such that the employers pay the full recruitment fees. Otherwise, the new MoU means nothing but earning money by certain vested quarters.
He also said he has no information that the MoU contains any provision on how to deal with migrants facing abuses by their employers, and questioned why the MoU was not made public.
"We don't want any secret way of dealing in labour recruitment and the consequent forced labour."
A Bangladeshi recruiting agent said previously many bogus companies secured job demand letters from the Malaysian home ministry, using bribes. The Bangladesh High Commission in Kuala Lumpur also approved those without verification.
"That resulted in a situation where workers went there and faced exploitation, including joblessness, non-payment, and underpayment," he said, adding that some agents also sent workers to Malaysia but those workers found no employment because they were recruited for non-existent jobs.
"The Malaysian government and Bangladesh High Commission in Malaysia must be very alert to make sure that the jobs are genuine," he said.
"Otherwise, both Malaysia and Bangladesh will be in trouble in the future. Authorities cannot and should not take that risk," said the agent, preferring anonymity.