Migration bounces back
Set to rise by 1.5 times what was last year, finds RMMRU report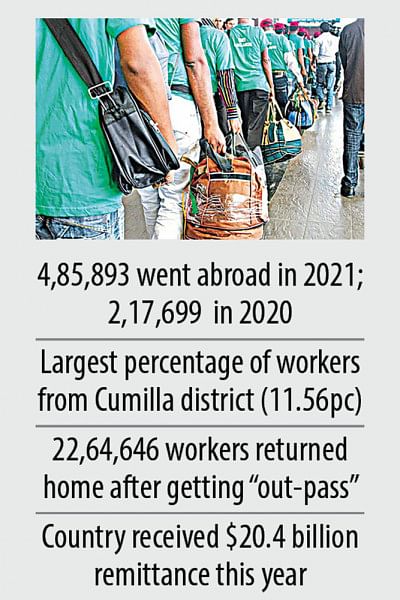 Migration of Bangladeshi workers is set to increase by one and a half times of what was amid the pandemic last year, Refugee and Migratory Movements Research Unit (RMMRU) said yesterday.
Citing government data, the migrant rights group in its "Labour Migration from Bangladesh 2021: Achievements and Challenges" report said as of November, some 4,85,893 Bangladeshi migrant workers went abroad this year. Of them, 68,579 were women.
In contrast, 2,17,699 workers went abroad in 2020, it said.
Compared to the pre-pandemic situation in 2019, when 7,00,159 workers went abroad, the number of Bangladeshi migrants is to drop by 32 percent by the end of 2021, it added.
RMMRU disclosed the report before the media during a press conference at the capital's Jatiya Press Club.
RMMRU Founding Chair Prof Tasneem Siddiqui said migration drastically declined last year. In that sense, migration of about 4.8 lakh workers in 2021 is not discouraging.
The largest percentage of migrant workers this year were from Cumilla district (11.56 percent), followed by Brahmanbaria (eight percent).
As of September, 73.59 percent of Bangladeshi migrants heading to different destinations were "less skilled" in 2021.
The report says, as of November 22, 64,646 migrant workers, including 4,447 women, returned home after obtaining "out-pass", a document given by embassies to illegal migrants, this year.
According to Bureau of Manpower, Employment and Training (BMET) data, 4,08,000 migrants returned home amid the pandemic last year.
"This indicates that the rate of job loss [of migrant workers] increased significantly amid the pandemic," it adds.
The report says amid the pandemic, 94 percent of the 4,10,102 migrants headed to Saudi Arabia and Oman.
In terms of generating remittance, Bangladesh received $20.4 billion this year, as of November. If the trend continues, Bangladesh is set to see a two percent growth in remittance by the end of 2021.
RMMRU said signing of a memorandum of understanding between Bangladesh and Malaysia on labour cooperation was an important development.
However, subsequent success, such as ensuring a good number of workers heading to Malaysia, will largely depend on making recruiting agencies accountable, Prof Tasneem said.