Female Migrant Workers: Over half return with shattered dreams
BILS shares findings at roundtable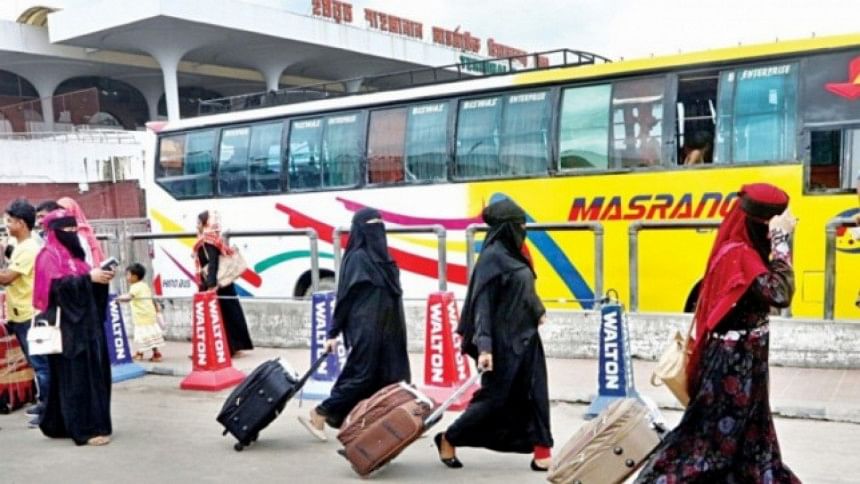 Some 55 percent of 323 female migrant workers' return to the country was either unexpected or forced, says a study by the Bangladesh Institute of Labour Studies.
As many as 22.6 percent of the female migrants returned less than a year of their migration, 17.6 percent between one and two years and 17.3 percent within two to three years. The data was collected between July and December 2020.
Also, 38 percent of the returnees said they were "abused physically" in the destination countries while 52 percent were victims of forced labour, according to the study, which was conducted in 12 upazilas in Chattogram, Jashore and Faridpur.
It further found 60 percent of the returnees were unemployed after their return home.
In terms of social stigma, 52 percent thought a change of social attitude towards them had happened after their return.
BILS shared findings of the report "Social and Economic Reintegration of the Returnee Female Migrant Workers: Success and Sorrows" during a roundtable at The Daily Star Centre yesterday. The report was earlier shared with the media in September.
On average, the returnee's families had Tk 2,378 income-expenditure gap while two out of every three returnees did not have a regular monthly income, said Manirul Islam, lead researcher of BILS.
Also, 61 percent of the returnees had a debt burden of Tk 76,736 each.
In the case of social attitude, 38 percent said they were considered as "low-class" people while 45 percent said they were overlooked or avoided or not invited to social events.
Also, 17 percent of the returnees reported no family member was present at the airport to receive them during their return home.
For sustainable reintegration, 90 percent of the returnees sought the introduction of social security protection scheme while 30 percent sought a skill training programme.
Bangladesh should come out of a "state of denial" towards female migrant workers' exploitation abroad, said Rahnuma Salam Khan, national programme officer of ILO Bangladesh, at the event organised by BILS.
Alongside the sending-country and workers, the recipient countries have responsibility for the successful reintegration of returnee migrants.
About a dozen ministries are involved in providing services to migrant workers but there is a lack of coordination among them, said Shamsun Nahar, member of the parliamentary committee on labour and employment ministry.
Syed Sultan Uddin Ahmed, a specialist on workers' activities of ILO South Asia's Decent Work Technical Team, stressed for inclusion of female local government representatives in discussions aiming at female migrant workers' wellbeing.
Zahid Anwar, deputy director of Wage Earners' Welfare Board, said they will provide cash support to about two lakh migrant workers as part of reintegration support under a World Bank-funded project.
Besides, 30 welfare desks for migrant workers will be created across the country, he said.
Chaired by BILS Advisory Council Member Shah Mohammad Abu Zafar, the event was addressed, among others, by Zohora Monsor, deputy director of Bureau of Manpower, Employment and Training; and Sheikh Rumana, general secretary of Bangladeshi Ovibashi Mohila Sramik Association.