On runway of recovery: Pandemic-hit aviation sector turning around
Flight operations at HSIA increase threefold in three months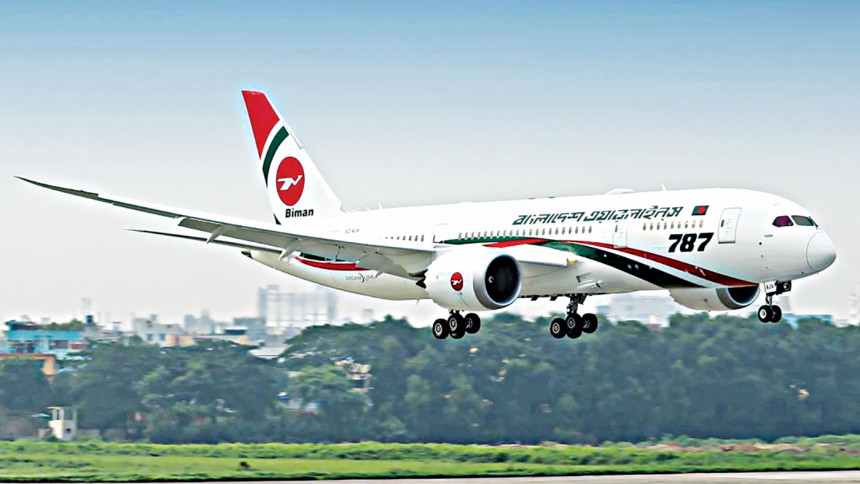 "Almost all the 28 foreign airlines have resumed flight operations to and from Bangladesh."
Following a prolonged rough ride, driven by the pandemic, the country's aviation sector is finally turning around as flight operations and the number of passengers flying from the Dhaka airport have almost tripled in three months. 
Things appear to be on track to get to the pre-pandemic level, said industry insiders.
The development comes as a huge relief for the three prominent local airlines, which suffered a revenue loss of Tk 2,250 crore in the last one and a half years because of the pandemic.
Of the three, Biman Bangladesh Airlines, the national flag carrier, suffered a loss of Tk 1,300 crore, US-Bangla Airlines Tk 800 crore and Novoair Tk 150 crore, said their top officials.
Besides, the resumption of regular flights has brought back smiles on passengers' faces, ending their long excruciating wait.
Migrant workers, stuck in the country for months, are now returning to their workplace while those scheduled to join their new jobs abroad are also boarding flights. It also opened a window of opportunity for Bangladeshi students waiting to pursue higher studies abroad, said the industry insiders.
After the pandemic struck the country in March last year, only a handful of flights, mostly special, chartered and cargo ones, took off from Hazrat Shahjalal International Airport for around a year, leaving the airport almost deserted. Regular flight operations on almost all international routes remained halted.
The HSIA, the main airport of the country, is now once again busy dealing with inbound and outbound passengers, who require to follow the Covid protocols.
"Almost all the 28 foreign airlines have resumed flight operations to and from Bangladesh," Civil Aviation Authority of Bangladesh Chairman Air Vice Marshal M Mafidur Rahman told The Daily Star recently.
More than 10,000 passengers -- many of whom are Bangladeshi expatriate workers -- are flying from the Dhaka airport every day on average, he said, adding that the number ranged between 3,500 and 4,000 three months ago.
Currently, 80 flights are operated from the airport every day and that the number will further increase within the next week.
The Caab chairman also said flight operations have tripled in the last three months.
Asked, Mafidur said 120 flights were operated every day before the pandemic.
Biman Managing Director and CEO Abu Saleh Mostafa Kamal said the airlines, which could not operate flights to almost all its 18 destinations due to the pandemic, was trying hard to turn around.
During the travel restrictions, Biman tried to stay afloat by operating special and chartered flights as well as airfreight services using its passenger aircraft.
In April, state-owned Sonali Bank approved a loan of Tk 1,000 crore for the national flag carrier as it was reeling from a fund crisis due to the travel restrictions.
Saleh said, "Biman is now trying to recover from the pandemic-induced losses. It has spread its wings on 15 out of its 18 international routes.
"We are flying with 70 percent of our passenger capacity on the domestic routes. On the international routes, it is 80 percent."
The Biman boss also said, "We are standing on a breakeven point at present. If the current situation continues, Biman will be able to stand on solid ground soon."
Similar is the situation for the private airlines.
Kamrul Islam, general manager (public relations) of US-Bangla Airlines, said they resumed flight operations on seven out of their nine international routes.
US-Bangla is now operating 34 flights on seven domestic routes, which is close to the pre-pandemic level, sources at the Dhaka airport said.
Kamrul said they were flying with 80 percent of their passenger capacity on the local routes. During the pre-pandemic times, it was 85 to 90 percent, he said. "If things stay the way they are now, we will be able to go back to the pre-pandemic situation within the next six to seven months."
Mofizur Rahman, managing director of Novoair, also said flight operations on the domestic route were turning to normalcy.
He said Novoair was now operating flights on all seven domestic routes with 70 percent passengers against their capacity.
PEOPLE JOINING JOB
Different countries have started opening their borders withdrawing travel restrictions for Bangladeshis as the Covid situation continues to improve. Recently, Malaysia, Australia, Indonesia, the UAE, the UK, Thailand, Oman, Qatar, and Kuwait have withdrawn such travel restrictions.
Following the second wave of Covid in Bangladesh in April, different countries had imposed ban on the entry of Bangladeshis, leaving thousands of migrant workers stranded in the country. Many students who got admitted to universities abroad had also remained stuck here.
A few months ago, different embassies and high commissions in Dhaka, including those of the UK, the USA, Australia, Canada and EU countries, started issuing student visas.
Around 35,000 Bangladeshi workers, who remained stranded for several months, started returning to their workplaces in the UAE, the second largest source of foreign remittance for Bangladesh in 2019, early this month.
"We are hoping that many other countries will soon issue visas to our skilled workers. The labour market in the EU is also opening. An improvement in the Covid-19 situation will help us send more workers abroad," said Fakhrul Islam, president of the Recruiting Agency Welfare Organisation of Bangladesh.
Pointing out that most of the newly-hired migrant workers were heading for Saudi Arabia, he said the Bangladesh government needs to negotiate with other countries such as Kuwait and the UAE to create new job opportunities for Bangladeshis there.