Dynamic pricing, other measures taken to prevent Biman's losses
Says Mahbub Ali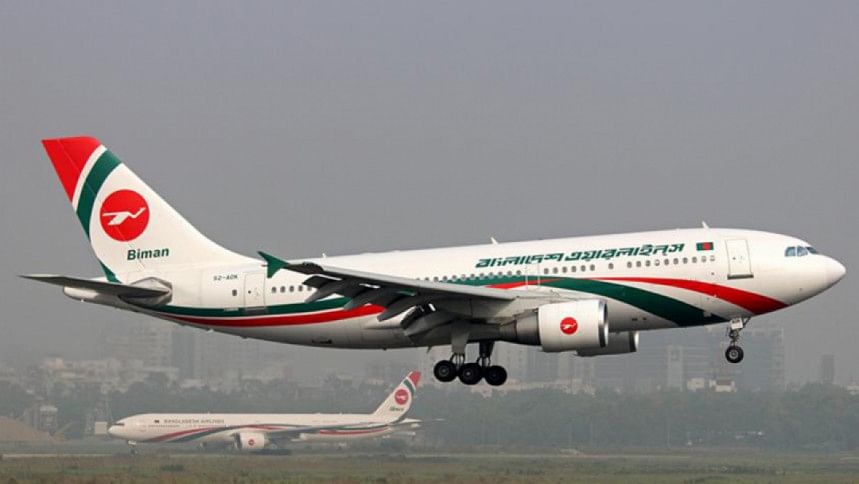 Biman Bangladesh Airlines has taken various measures including introducing dynamic pricing policy and achieving on time performance to prevent irregularities and losses, State Minister for Civil Aviation M Mahbub Ali told parliament today (November 2, 2022).
In reply to a query from Jatiya Party lawmaker Nasrin Jahan Ratna, the junior minister said earlier Biman incurred huge loss as price of ticket was not compatible with the international market.
"Due to dynamic pricing policy, it was possible to strictly monitor the process of fixing ticket prices, causing an increase in Biman's revenue," the state minister said.
He also said sales cost of air tickets was reduced from 14 percent to 12 percent through international inspection, control and audit.
At present 80 percent OTP has been achieved as per world standard, and process is going on to continue this achievement, said Mahbub.
In a scripted answer, the state minister said Biman has also taken strict measures to increase quality of passenger services.
"Biman has reduced the average time of delivering luggage to 45 minutes through efficient ground handling, while efforts are on to bring down the average delivery time to 30 minutes," he said.
The junior minister also said Biman has purchased GSE equipment worth Tk 45 crore this year to increase capacity in luggage handling.
The activities to operate flights on different profitable routes including Male and Narita are going on, Mahbub also said.
In reply to another query, he said the government has a plan to upgrade the Barishal domestic airport to an international one.