Bring back Capt Mahbub
Demands BAPA after Biman fires him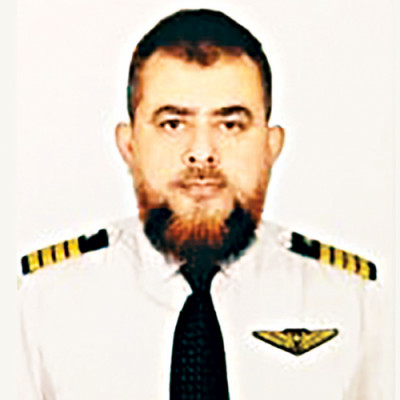 Bangladesh Airlines' Pilot Association yesterday demanded reinstatement of Captain Mahbubur Rahman, a Boeing 787 pilot who was sacked from Biman on Tuesday.
A delegation of the association placed the demand during a meeting with Biman MD and CEO Abu Saleh Mostafa Kamal at the airlines' headquarters in Kurmitola, said insiders.
It could not be known what would be the association's next course of action if their demand was not met.
A top official of Biman told The Daily Star that in October, amid agitations of pilots for restoration of pre-pandemic salary structure, several of them remained absent from flight duties causing a schedule disruption.
The next month, the 265th board meeting of Biman decided to empower the managing director and CEO to take action against "persons obstructing the activities of Biman".
The meeting, on November 28, identified Capt Mahbub, also the president of the pilots' association, as one of those "troublemakers". 
A day later, he got a letter on "termination of service" signed by the Biman MD. In the letter, he was asked to receive all his dues.
Capt Mahbub alleged that authorities sacked him without serving him any show-cause notice or giving him any chance to defend himself -- all in violation of Biman's service rules and labour law.
Contacted last night, Biman CEO Saleh Mostafa said Capt  Mahbub's service is no longer required and that's why his contract has  been terminated.
When the coronavirus came to the country's shore last year, Biman had slashed salaries of pilots along with other officials as a cost-cutting measure.
Recently, the national flag carrier decided that the salaries of its employees would not be cut from August this year but that was not applicable to pilots.
Since July, Biman pilots twice refrained from flying additional hours beyond what's mentioned in their job contracts -- the last time being in October.  This had caused a schedule crisis, especially for several Mideast-bound flights.
On both the occasions, the pilots suspended their protests on the assurance of the Biman directors and CEO.
At a function at Biman's headquarters on November 20, Biman Chairman Sajjadul Hasan said Prime Minister Sheikh Hasina got annoyed at the sufferings of passengers caused by the schedule disruptions and ordered taking actions against the persons responsible.
At present, 157 pilots work for Biman. According to their contracts, a pilot is supposed to fly a maximum of 75 hours a month. A pilot is also supposed to get two days off each week.
Association leaders alleged that many have to fly extra hours due to the pilot shortage but Biman authorities wouldn't even restore their pre-pandemic salaries.