Biman pilot suffers heart attack in flight
Emergency landing at Nagpur airport, India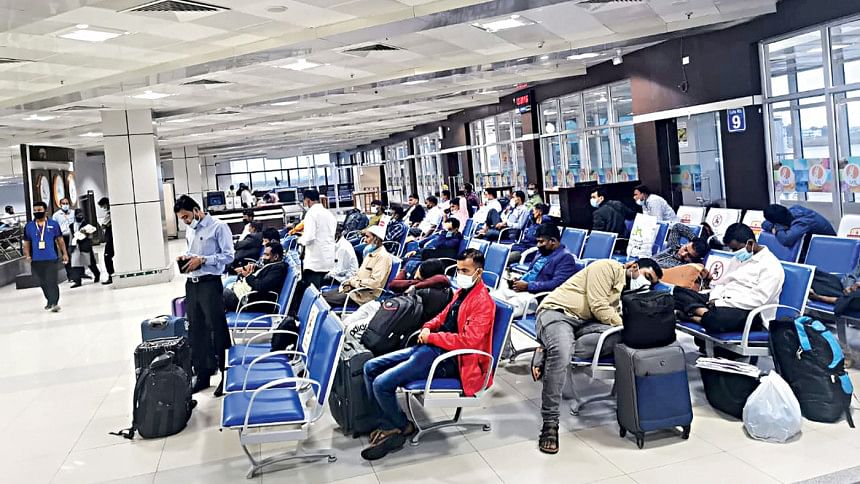 A Biman flight from Muscat to Dhaka had to make an emergency landing at an Indian airport yesterday after the pilot in command suffered a heart attack in the cockpit.
The Boeing 737-800 had 124 passengers.
The plane landed safely at Dr Babasaheb Ambedkar International Airport in Nagpur of Maharashtra around 10:40am (local time), Abu Saleh Mustafa Kamal, Biman managing director and CEO, told The Daily Star.
The flight BG-022 was scheduled to land at Hazrat Shahjalal International Airport around 11:30am (Bangladesh time).
Biman in a press release said Capt Nowshad Ataul Qayyum suddenly fell sick while the aircraft was over Raipur in India.
In a WhatsApp message, Group Captain Touhid-ul Ahsan, executive director of Shahjalal airport, said after Capt Nowshad suffered the heart attack, the co-pilot took over and landed the plane safely.
Capt Nowshad was admitted to the emergency department of Hope Hospital in Nagpur, said the press release.
The pilot was improving and the country manager at Biman's Delhi office was sent to Nagpur to provide necessary assistance to passengers and crew.
"All passengers on the flight are safe and they were provided meals and were taking rest at the airport lounge," read the press release sent to The Daily Star around 4:30pm.
But Abdul Karim, an expatriate Bangladeshi in Oman who was on the flight, told this newspaper over the phone around 5:00pm that they were yet to get any food.
Ariful Islam, who is from Noakhali, said all passengers were safe but they have not been given any food yet. "Once there was a queue for food but in the end the food did not come."
Mohammad Nurul Huda, another passenger, said all kinds of shops, including that for food, were closed at the Nagpur airport due to the closure of international flight operations. "So, I did not get a chance to buy food."
He added that after the pilot fell sick, the cabin crew via the PA system asked if there was a doctor on board. "But there was no doctor on board."
He added, "Our reporting time at the airport was around 2:30am (Muscat local time). But we boarded the flight around 4:30am and the aircraft departed at 6:30am for Dhaka."
An eight-member rescue team of Biman left Dhaka for Nagpur yesterday evening to bring back the 124 passengers, said Biman sources.
Biman's flight BG022 left Nagpur with the passengers around 10:25pm (Indian local time) and was scheduled to arrive in Dhaka around 12:40am (Bangladesh time), said a passenger onboard.