Biman pilot Captain Nawshad, who suffered heart attack mid-air, passes away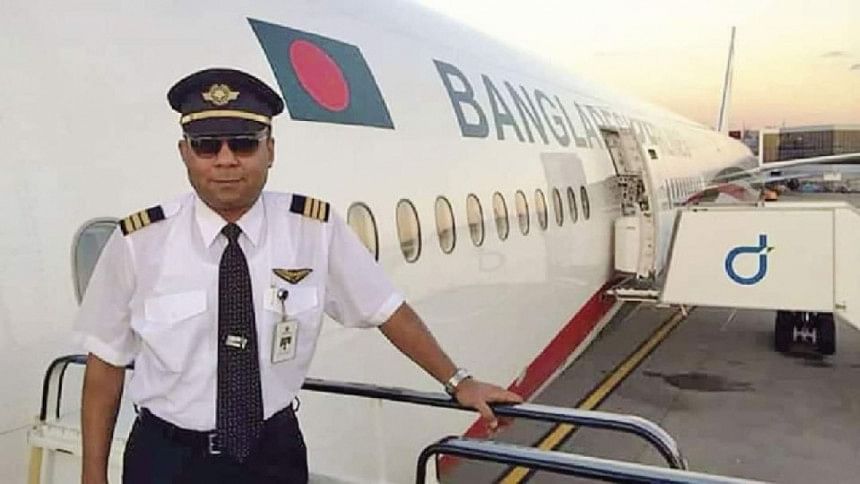 Biman Bangladesh Airlines pilot Captain Nawshad Ataul Quaiyum, who suffered a heart attack mid-air, died this morning at a hospital in India. He was 44.
Bangladesh Airlines Pilot Association President Captain Mahbubur Rahman confirmed the development to The Daily Star.
Captain Nawshad was on life support soon after he was admitted at the Kingsway Hospital in India's Nagpur, following an emergency landing of the Biman flight BG-022 on Friday.
A highly-placed source in Kingsway Hospital said Captain Qayyum breathed his last while he was on ventilation support. Later, the ventilation support was withdrawn in the presence of the pilot's family members, the source said wanting not to be named.
Hospital sources said it would take at least a couple of days to take his body to Dhaka because a lot of formalities are to be completed, our New Delhi correspondent reports.
Born in 1977, Nawshad joined Biman in 2002. He started as first officer of A310 and Boeing 777. Later, he became pilot of Boeing 737.
His father, late Abdul Quaiyum, was also a captain of the national flag carrier, sources in Bangladesh Airlines Pilot Association said.
"Capt Nawshad once flew as my co-pilot. As a pilot, he was well reputed and was also a good person," Capt Shoaib Chowdhury, a senior pilot of Dreamliner 787-8, told The Daily Star.
Captain Nawshad is survived by his wife, two daughters, a son and a host of relatives to mourn his death.
"His body will be flown back to Dhaka as soon as possible after completing necessary formalities," said Biman Managing Director and CEO Dr Abu Saleh Mostafa Kamal.
Prime Minister Sheikh Hasina expressed deep shock and sorrow at the death of the pilot, according to a condolence message issued by the press wing of Prime Minister's Office.
She prayed for the eternal peace of the departed soul and conveyed sympathy to the members of the bereaved family.
Carrying 124 passengers on board, a Dhaka-bound Biman Bangladesh Airlines flight from Muscat made an emergency landing at Dr. Babasaheb Ambedkar International Airport in India's Nagpur on Friday morning when pilot Captain Nawshad suffered cardiac arrest mid-air.
Initially, the pilot suffered cardiac arrest in flight and later a CT scan revealed a brain hemorrhage.