Bangladeshi calligrapher of Kaaba Kiswa granted Saudi citizenship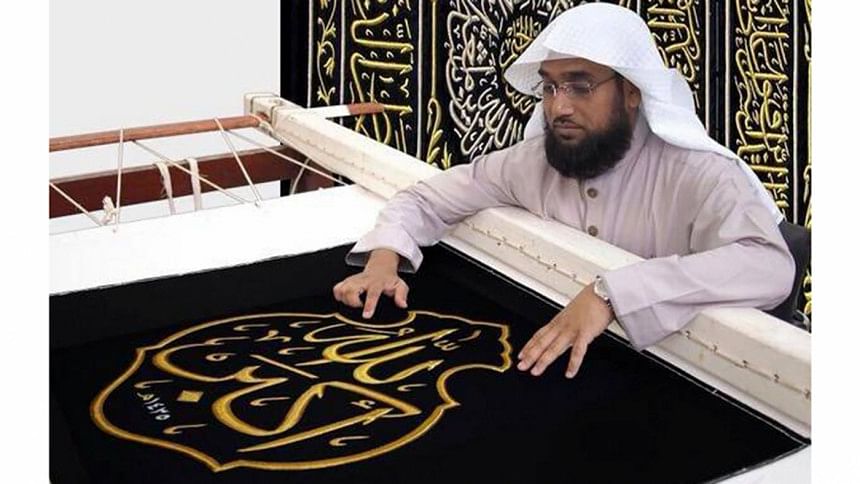 Mukhtar Alam Sikder, a Bangladeshi expatriate and a calligrapher of the Holy Kaaba Kiswa, has been granted citizenship of Saudi Arabia under a royal decree.
The directive was issued on November 11 to give citizenship to skilled foreigners, of various professions, as part of "Vision-2030" announced by Prince Mohammed bin Salman of Saudi Arabia.
Mukhtar is currently working as the chief calligrapher of the Holy Kaaba Kiswa in Makkah, according to the Saudi Gazette.
He showcased his major calligraphic works at international exhibitions and forums, and gave lessons and courses on calligraphy skills.
His calligraphy work is being studied at the Institute of the Holy Mosque in Makkah.
Mukhtar, on the occasion of being granted the citizenship, was given a reception by the Imam of the Grand Mosque in Makkah.
The imam handed over an award to Mukhtar at the reception programme on Sunday.
He also ordered a proposal for the establishment of an independent Arabic calligraphy academy under the leadership of Mukhtar.
Mukhtar Alam Sikder is son of Mufizur Rahman bin Ismail Sikder of Lohagara upazila of Chattogram. His family moved to Saudi Arabia when he was a child.
Mukhtar graduated from the famed Umm al-Qura University in Makkah and is currently pursuing a PhD while teaching at the university.
He has also worked as a calligrapher for the certificates of diploma, postgraduate and PhD degrees. Mukhtar has received numerous awards and accolades from various international organisations.
Mukhtar Alam has been interested in calligraphy since childhood.
From 1978, he studied for two years in the calligraphy school run by the Grand Mosque of Mecca.
He has been working as an Arabic calligrapher for over 40 years.