A day out with Bangladeshi agricultural workers in south Portugal
Located in southwestern Europe by the Atlantic Ocean, Portugal with its favourable climate and fertile soil has made significant progress in the agricultural sector.
The country's agricultural sector was once dominated by Nepalese, Thai, Romanian, Vietnamese, and Bulgarian workers. However, the number of Bangladeshi agricultural workers is gradually increasing in the country.
Initially, Bangladeshi agricultural workers began arriving in the country in 2015. Later in 2018, Bangladeshis got involved in providing agricultural farm entrepreneurs and workers. Following that, the influx of Bangladeshi agricultural workers started. The number of farm entrepreneurs also started growing. Approximately 5,000 Bangladeshi agricultural workers now work in various parts of the country.
In 2018, I had the chance to visit several agricultural farms in northern Portugal with Shykh Seraj, a Bangladeshi agricultural activist. The southern region though remained unexplored. Last month, in the midst of the Covid-19 epidemic, I had the opportunity to travel to the southern agricultural region with a group that included expatriate journalists Rony Mohammad and Ashikur Rahman, and writer Kaysul Khan Anabil.
The purpose of the visit was to inspect local farms, locate Bangladeshi agricultural workers and farm entrepreneurs, and learn about their lifestyle during the pandemic. The destination was Odemira, the main agricultural region of the southern Alentejo.
In the Vila Nova de Milfontes neighborhood of the city there are about 500 Bangladeshis, the majority of whom work in the agriculture sector. Several Bangladeshi entrepreneurs are also in charge of various farms there.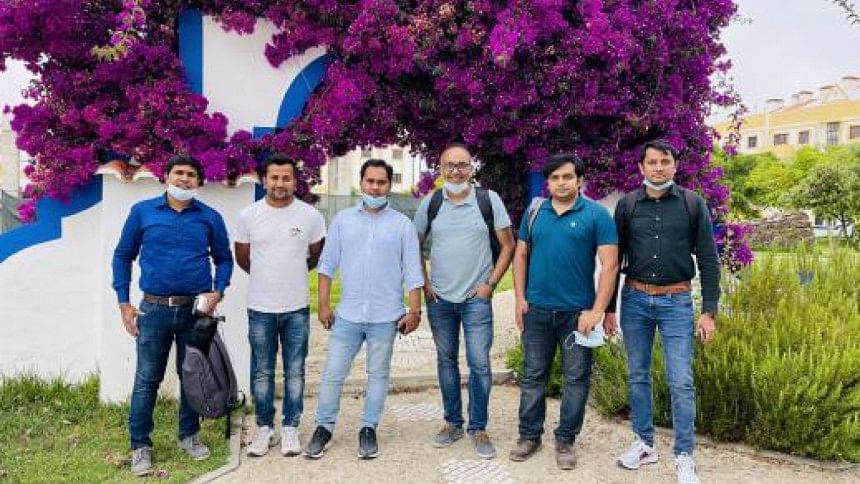 We left the capital, Lisbon, at noon and drove 200 kilometers south to the city. In Lisbon, the temperature was around 35 degrees which continued to drop as we left the Tagus River valley and headed south. It dropped down to 20 degrees or lower at one point.
We rushed to our destination, playing hide-and-seek with the clouds on the dark hilly roads. It was as if in one quick motion we had crossed that line from summer to winter. Meanwhile, everyone was in dire need of warm clothing. We stopped for a quick meal in the middle of the journey and reached our destination in just around two hours.
After leaving our luggage at the hotel and getting some rest, we all went out to see the beauty of Milfontes' night. The tidy town at the Mira River's mouth has a population of around 5,000 people. During summer, 40 to 50 thousand tourists visit this city each year. They walk to enjoy the beauty of the extraordinary beach at the mouth of the river Mira, especially from April to November.
This year, however, the picture is completely different. This Covid-19 pandemic has changed everything; there are no tourists. In a tourist-dependent city, silence has taken over. A large number of cafes and restaurants are deserted. Usually at this time of the year, getting a room in a hotel or motel is extremely difficult.
Apart from agriculture, I discovered that some Bangladeshis work in a variety of businesses in the city, including restaurants, grocery stores, and money exchange operations. Overall, the Bangladeshi community has grown in just four or five years. Not to mention the nighttime BBQ party. The sincerity of our Bangladesh hosts who live here is truly admirable.
We visited the farms the next morning. The majority of the farms are about 15/20 kilometers from the city.
Various export-oriented agricultural products, such as raspberries, blueberries, strawberries, and tomatoes, are produced on a large scale in greenhouse farms. Chilies are grown alongside local vegetables on some farms as well.
Many people from South Asia, including Bangladeshis, are now employed in the region, thanks to the majority of companies established by Bangladeshi youths.
Suman Khan Rimon, a successful entrepreneur in this sector and a young Bangladeshi, said there are many job opportunities in this sector right now, especially for those who are new to Portugal. With regular work and good pay, it is very easy to gain Portuguese legitimacy from here.
Bangladeshi entrepreneurs have recently been directly providing labor to the farms in this area. As a result, people from various South Asian countries, including Bangladesh, are gaining job opportunities.
Bangladeshi Arif H Reagan, one of the entrepreneurs, said his company had been on the run for a while but is already providing workers on several farms.
"There is a huge potential for work here for the people of South Asia, including Bangladesh, and anyone can enter this sector easily if they want to," said Arif H Reagan.
Immigrants, including Bangladeshis, can easily obtain legal or residence permits in Portugal, in addition to working in the agricultural sector. They will also be pleased with their regular pay, work environment, and other benefits.
Talking to several agricultural workers from Bangladesh, India, and Nepal yielded the same results. They claim that those who have arrived in Portugal and are facing a job crisis can find work in agriculture in these areas.
There is an hourly wage here, as far as the agricultural workers informed. Workers will receive additional compensation if they achieve the set goal. Although these farms have seven to eight months of work a year, hardworking and attentive workers have the opportunity to work throughout the year. However, some employees have complained about not being paid on time or being underpaid for overtime.
Despite the fact that various businesses, including tourism, collapsed as a result of the ongoing Covid-19 pandemic, I learned that the agriculture sector was unaffected.
In a conversation with Portuguese Mr Andy, a local farm's supervisor and field manager, it was known that Bangladeshi workers are extremely efficient at their jobs. He stated that these agricultural farms have all of the necessary facilities for workers to work safely.
However, since these farms lack direct residential facilities, workers in this sector need to spend additional funds.
In recent times, the issue has sparked a lot of debate in the Portuguese mainstream media. Particularly with regard to the living conditions of migrant workers in the agricultural sector. Many people claim that Covid infection is on the rise as a result of people living together and not sticking to health regulations. Many news organisations are attempting to cast doubt on Portugal's overall immigration policy.
Furthermore, law enforcement agencies' activities in these areas are currently very visible. They inspect the workers' living space on a regular basis and close it down if there isn't a suitable living environment. As a result, workers and entrepreneurs in these sectors are experiencing some frustrating and unexpected conditions. Such activities are being carried out in order to prevent the spread of coronavirus.
Many local seniors believe that immigrants may pose a threat to future generations' work. However, the reality is that the local population is not much interested in agricultural activities, and young Portuguese people are leaving the country in search of a better life and a higher income in other European countries.
The writer is a freelance journalist living in Portugal.