Students of University of Rome Tor Vergata learn about Bangabandhu's life, philosophy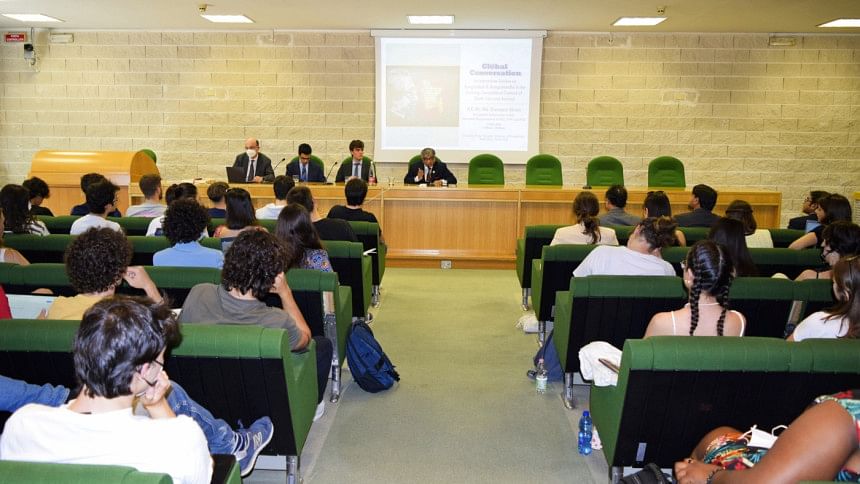 Students of University of Rome Tor Vergata were told the story of Father of the Nation Bangabandhu Sheikh Mujibur Rahman.
Bangladesh Ambassador to Italy, Md Shameem Ahsan, presented the biography of Bangabandhu for students of different departments at a seminar on "Global Conversation" held in the auditorium of the university on Tuesday (May 17, 2022).
While presenting the article, "Bangladesh and Bangabandhu in the Evolving Geopolitical Context of South Asia and Beyond", Ambassador Md Shameem mentioned the role of Bangabandhu in Language Movement and independence of Bangladesh.
He also gave examples of Bangabandhu's philosophy in front of the students and said the path shown by the Father of the Nation is contributing to the successful implementation of the present socio-economic progress of Bangladesh.
The principles demonstrated by Bangabandhu are still relevant and effective in the sector of bilateral and multilateral relations.
He also said that following the dream and vision of Bangabandhu, Bangladesh is moving forward in the sector of development.
During the seminar, the ambassador answered various questions from the students on Bangladesh and Bangabandhu, Bangladesh's past, present and future, geo-political strategy and its position in world politics.
A documentary on Bangladesh and Bangabandhu was also screened at the event.
The students were inspired hearing the biography and philosophy of Bangabandhu, the Liberation War and independence of Bangladesh.
Several prominent teachers of the university and senior officials of the Bangladesh Embassy were present on the occasion.