E-passport services launched at Bangladesh mission in Germany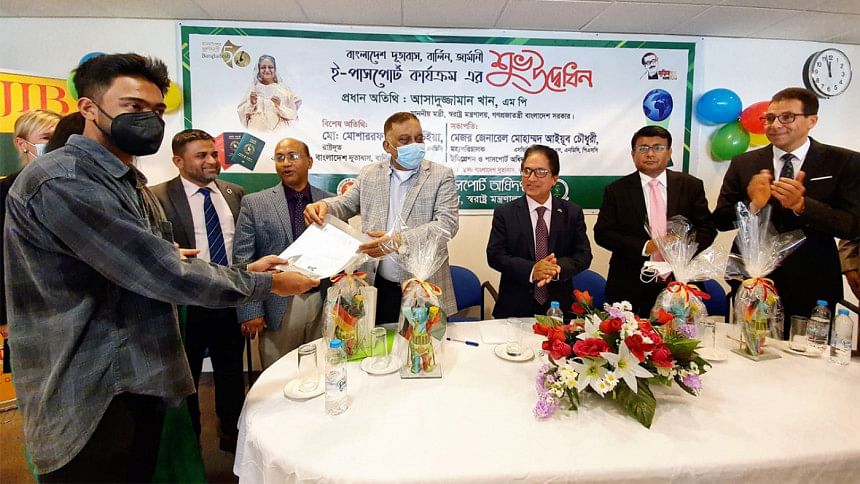 Bangladesh has introduced the electronic passport (e-passport) service for Bangladeshi expatriates in Germany in a bid to reduce their hassles.
Home Minister Asaduzzaman Khan inaugurated the e-passport programme at the Bangladesh Embassy in Berlin yesterday.
The Bangladesh embassy in Germany is the first of all the country's foreign missions to offer e-passport services.
Mentioning the successful implementation of e-passport activities as part of the prime minister's visionary thinking, the minister at the function said about 10 lakh e-passports out of 15 lakh applications have already been distributed in the country.
He said E-gates have been installed at the Hazrat Shahjalal International Airport in Dhaka, which is the first in South Asia. It has even been established in a small number of developed countries. 
"The Bangladesh government is giving highest priority to remittance earning expatriates. For this, the most modern e-passport activities are being extended to all foreign missions as soon as possible. This will allow expatriates to keep pace with the developed world and make their journeys easier," added the minister.
Major General Mohammad Ayub Chowdhury, director general of the Department of Immigration and Passport (DIP), said all the passport offices of the country was brought under the e-passport system at the end of June 2021.
But despite all the preparations, it was not possible to start the expansion of e-passport services in Bangladesh missions due to the pandemic. The e-passport activities outside the country started today through the embassy in Germany, and the work on launching the service in the remaining missions is underway.
Mosharraf Hossain Bhuiyan, Bangladeshi ambassador in Germany, said the government has launched the e-passport programme at the German embassy first.
He also said the introduction of e-passports will reduce the suffering of expatriates. Moreover, foreigners travelling to Bangladesh for business, education, tourism and other activities will also be benefitted.
The writer is an expatriate journalist living in Germany