Bangladesh Embassy in Germany observes National Mourning Day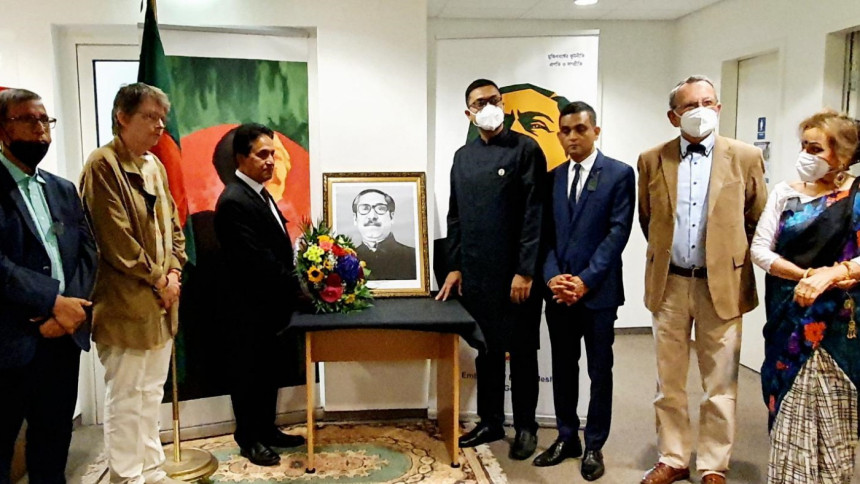 National Mourning Day and 46th martyrdom anniversary of Father of the Nation Bangabandhu Sheikh Mujibur Rahman were observed with due solemnity by the Bangladesh Embassy in Germany.
Bangladesh Ambassador to Germany, Mosharraf Hossain Bhuiyan, half hoisted the national flag at the embassy premises in Berlin yesterday morning, in the presence of expatriate Bangladeshis and foreign visitors.
A wreath was placed at Bangabandhu's portrait on this occasion. A minute of silence was observed in honour of the Father of the Nation and all the martyrs.
German physicist and energy expert, Prof Hartmut Biervalp; historian and genocide researcher, Dr Juzane Willem; oncologist Dr Christian Meyer and Bangladeshi community organizers spoke at the event.
The speakers recalled Bangabandhu's life and significant contributions, saying that his cherished dream was to build a "Sonar Bangla" free of hunger and poverty, and Bangladesh is moving forward on that track today.
The ambassador said, "The great leader dedicated his life to give us a map and a flag."
He said that the current government, led by his worthy daughter Prime Minister Sheikh Hasina, is taking Bangladesh forward through strong and neutral diplomacy, as well as ensuring economic and social development, in keeping with Bangabandhu's ideals and leadership qualities.
At the event, the cover of researcher Prof Golam Abu Zakaria's book "Gründungsvater, Sozialreformer und Visionär" (Founding Father, Social Reformer and Visionary) was also unveiled.