The right way of job switching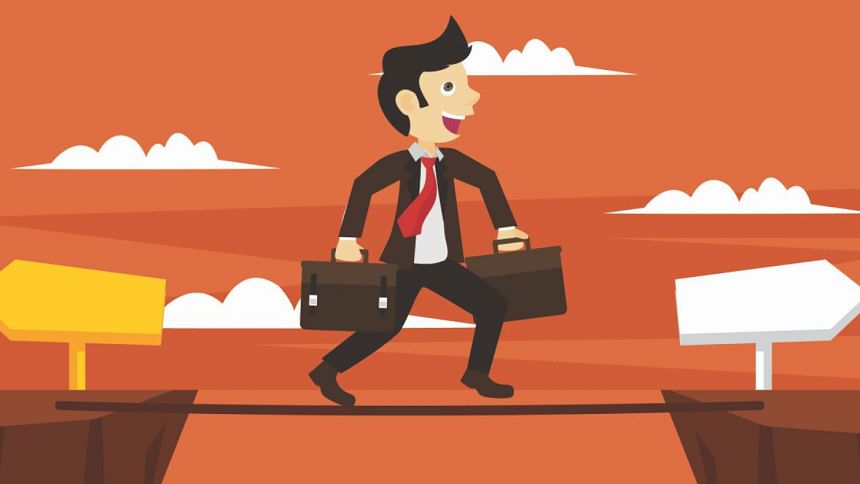 Sticking it out at one job becomes suffocating when you either grow to dislike it or have reasonably better opportunities at hand. Switching in that regard sounds about right. But what if you find yourself doing so too frequently? Do you ponder being stigmatised as a "job hopper" and dread the possibility that employers might spurn you if you have too many short-term jobs on your resume? 
Employee lens
It is touted as a "millennial thing" to hop jobs frequently, and while this is not necessarily criticised in some foreign countries, the Bangladeshi big shots have successfully defamed the whole phenomenon. Thus changing organisations is not free of challenges, and it really depends on the context of the individual who is planning to do so, as well as their approach towards applying for the next job. It's very important to weigh out current employment vs. prospective employment before making the final decision. "Every organisation has its unique culture. The mistake that most millennials make is they succumb to thinking the grass is greener on the other side," says Kaiser Chowdhury, CHRO at RANCON.
Another pressing concern is the mismatch of supply and demand of vocational skills in this country. This is more so for freshers. Having worked at The World Bank for over 10 years, Mohammad Anis, a Senior Energy Specialist says, "More often than not, fresh graduates do not right away find the job that perfectly matches their skill-set/interest/educational background etc. It is hence understandable to switch more frequently at the start. However, you will have demand created for you in the market only after you have gained substantial experience in relevant jobs. So to be recruited in a new position different from your last, make sure that the multiple organisations have given you the required skill diversity to perform."
One of the biggest dangers of staying in a job too long is that you fall behind what is happening in your industry and the wide world beyond it. Your field of vision constricts. Whereas, every time you change jobs you get to redefine yourself on your own terms. If you learned a lot at your last job and were ready for a promotion yet didn't receive one, you can step up to a new altitude now by moving to a new company.
The catch here is to do a thorough research on the companies you want to work for next. Once you get to know their dynamics, you can come with your most relevant value proposition that is beneficial to them. A better take at that would be to create an online portfolio e.g. LinkedIn, showing what you have learned in your previous roles. Always highlight the key achievements and their impacts to make yourself a desirable candidate. This is because the employers who can grow your flame the fastest, value you the most and give you the best learning experiences, are the ones who value real accomplishments over old-fashioned notions of "stability" based on long tenure in one job.
By the way, you should never bad mouth your old employer at your new company, not even with passive-aggressive antiques. Remember that it is a small world built on heavy networking and if you want to be a part of it, you better know how to let go of grudges.
Company lens
If you want to work for a Bangladeshi conglomerate, doing a particular job for 15 years means you stand a whopping chance at it. These are rather slow-moving, fixated workplaces running on ancient policies where your otherwise diverse work horizon could confuse or intimidate them to the point that they bully you or discard you altogether, no matter how good the company might seem to be doing in numbers.
However, there is a wave of change happening. The 3rd generation is joining business houses that are more familiar with job-hopping culture. These businesses know the mechanism behind it. Moreover, the trend of becoming an entrepreneur just right after, or sometimes before graduation is not uncommon now in our country. The thirst for challenges is as intense as ever. So the more future-oriented the organization is, the more capable they are of assessing you based on whether you have the right values, cultural fit, intelligence and most importantly the attitude to make a breakthrough in their business.
A progressive company is hence not concerned about the number of organisations you worked for; rather they scrutinise those organisation(s), the number of roles you performed and your achievements on those roles.  Kaiser adds, "I once had a chat with an ex-boss during my orientation, talking about our hobbies. In her turn, she said "Bringing people out of the comfort zone" is her hobby, which actually means performing different roles in your career."
But how often is too often to change jobs? Both Kaiser and the HR Head of NewsCred Sanchia Reaz suggested, "2 years (max 3) in a role is a decent time to receive sufficient challenges/projects and overcome/deliver those in full. After that, one can definitely wish to move on to more challenging roles within the same organisation or a new one altogether."
Back in the old days, job security was the key. People wanted to graduate from college and disappear into a huge corporation that would keep them employed until retirement. Those days are gone: your job security is not something your employer controls anymore. You control it. You build your own marketability and then you carry it around with you.
Halima is a senior at Institute of Business Administration, Dhaka University.