Generations of women have fallen for the same story – It's time to change the narrative, says Leah Steele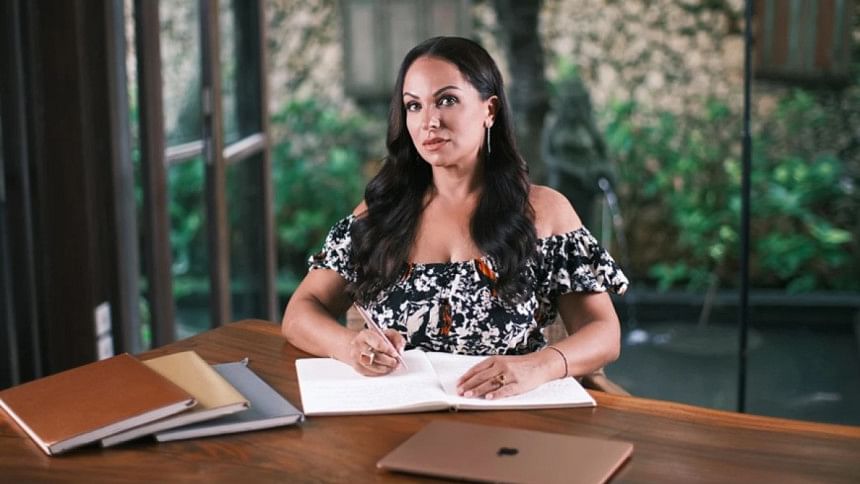 "Enough with the BS!" says Leah Steele, the spiritual business coach who is transforming women's lives and showing them what a purpose-led life can look like. 
Leah Steele is one of a collection of freedom seekers and wealth coaches who believe that abundance and success are a result of shedding old beliefs and moving into a new paradigm. 
As one of the most successful business coaches in the online space, her Wealth Witch podcasts are tuned into across the world and are waking women up to their true potential. 
Where once she resisted the witch moniker, she now embraces it for its historical references and the way she has magically transformed her own life and helped set countless other women free.
Deconstructing financial slavery 

"To be truly wealthy, all we have to do is to keep coming back into alignment with our 'why'. The longer you are out of alignment, the longer you are not fully stepping up and delivering your purpose in the world. So, day after day, hour after hour, I encourage all the women I work with to keep coming back into alignment with that 'why'," she says. 

Leah Steele is not a woman who minces her words, she doesn't promise easy solutions but she does promise results for those who are willing to take a chance on themselves, to see the bigger picture, and to shake off everything that holds them back.

"I was always interested in money, and I made lots of it. I had high-flying corporate jobs before I went home to Salt Lake City and opened my own successful addiction treatment centres," explains Leah. 

An only child, raised by a hard-working single mother, Leah knew from an early age that money was her ticket to freedom. She had the money she thought would make her happy but felt more conflicted than ever. 

It was only when she lost everything; the business collapsed, her marriage was crumbling and her kids rarely saw her, that she woke up. 

"It truly was a spiritual awakening, suddenly I was free and I knew which path I wanted to take. I wanted to work with women, to show them how they too could gain more than financial freedom, they could find their true purpose in life," says Leah. 

In an inspired moment, she took a chance and moved her family to Bali. Her business took a giant leap forward and everything began to make sense. Finally, she had found the balance she was seeking. 
Working with other women

"I work with women to clear the emotional blocks, the generational programming and conditioning that has kept us operating at less than our true potential. My modality Emotional Resonance Clearing is an effective tool for clearing emotional baggage and conditioning. It is incredibly deep and transformative work that has great outcomes," Leah explains. 

As a spiritual practitioner, Leah focuses on deconstructing programming, conditioning, and trauma surrounding money, wealth, and currency. Her business grew exponentially when she found her true purpose and it has brought her into contact with some incredible women with whom she now collaborates. 

Her signature program Ouroborus is a quantum wealth repatterning program that leads women out of financial slavery and gives them the tools they need to create the life they want. 

Her latest program, Becoming Immortal, has been created with friend and fellow healer, Michelle Patrick. The 6-month program works on reshaping wellness beliefs to reveal healthier and happier women who are free to take the journey towards a better life. 

"I tell people that while I believe self-mastery is for everyone, Becoming Immortal is not. You have to be ready to have your ass kicked; it is not easy to deconstruct years of programming around health and wellness, it's not easy to shake off old habits and build new, healthier ones, but it is possible if you are willing," she explains.

She is also quick to point out that she personally follows this program and is healthier than she's ever been, and she doesn't do without. "Michele and I still drink alcohol. We still eat cheese. We also know exactly what we need to do to get back in balance when we indulge," she tells us from her beautiful tropical home in Bali.

Her latest endeavour brings her into the spotlight with some amazing women who have built successful businesses and practices. The Witches of Wall Street is a talk show and reality television show scheduled to begin filming in the coming months.

"This is such a great thrill for me, we are all women who have created our success stories by following our belief systems. We have discovered our 'why' and I believe we can impact so many women with our inspiring stories," says Leah with a twinkle in her eye. She knows this is going to be a wild ride that promises to be as entertaining as it is fascinating. 

From where Leah is sitting in her sun-drenched home overlooking the ocean, life just couldn't be better. Her kids and her husband love it as much as she does, the family is thriving as is the business, and the satisfaction she derives from doing this work radiates from her. 

"This is what I was born to do, I serve so many women, when I see my graduates finding their way in life, there can be no greater satisfaction. It isn't easy to break the chains of generations, it takes courage, it takes work but the rewards are so big," says Leah. 
Everyone wins

The Wealth Witch is in good company, in a growing community of women who view success very differently than men. When women succeed, when they create full, happy, and balanced lives, everyone wins. 

"By nature, we are the caregivers, when women succeed and overcome their financial hurdles when they are guided by their truth when they wake up, everyone around them benefits. Their kids benefit, their communities benefit and they become guiding examples to the women around them."

From TV shows to coaching programs, books, and podcasts, Leah Steele leads a full life but she has found her divine purpose so rather than being burdened by her work, she enjoys every moment. 

The move to Bali was more than a geographical shift for this successful coach, the energetic shift placed her exactly where she needed to be, in line with all her beliefs and in the company of other amazing women. It has brought her the success she dreamed of, a story that aligns with her higher purpose and ultimately the contentment and freedom to be divinely herself.

 

 

 ⁣